(Senior Wednesday Night Dances)
A highlight of the Senior Wednesday Night Dances at The Lakes at Hemet West is the various themed dances: the attractive Clubhouse is decorated accordingly, while the dancers enjoy dressing according to the themes.
This year will feature themes such as Denim and Diamonds; Disco; Valentine's Day (celebrating couples that met at the dance); Mardi Gras; St. Patrick's Day; Cruise Night; Westerns; Cinco de Mayo; Safari Night; Flag Day (Senior Prom, semi-formal); Jump, Jive, and Swing; Sock Hop; Hollywood; Luau; Roaring 20's; Halloween; Veteran's Salute; and a Harvest Ball (semi-formal).
The Disco Dance originated in Discotheques, formed after the early 1940's in Nazi-occupied Paris where nightclubs (called "discotheque" in French) presented radio "disc jockeys" (or DJ's) who played jazz records when Nazi laws prohibited live musicians. Appearing in the United States, the music became popular with Jazz, Funk, Soul, Pop and Salsa type music fans (young men and women of minority races from different backgrounds). The term discotheque and disco also suggested a short dress worn in nightclubs, and by 1964, Disco-type music, popularized by Playboy magazine, was recognized in the United States and Europe between 1977 and 1979, lessening in the early 1980's. It has remained popular in aerobic exorcizes, theme parties and retro-themed nightclubs, with loud and energetic music, along with colored lighting effects.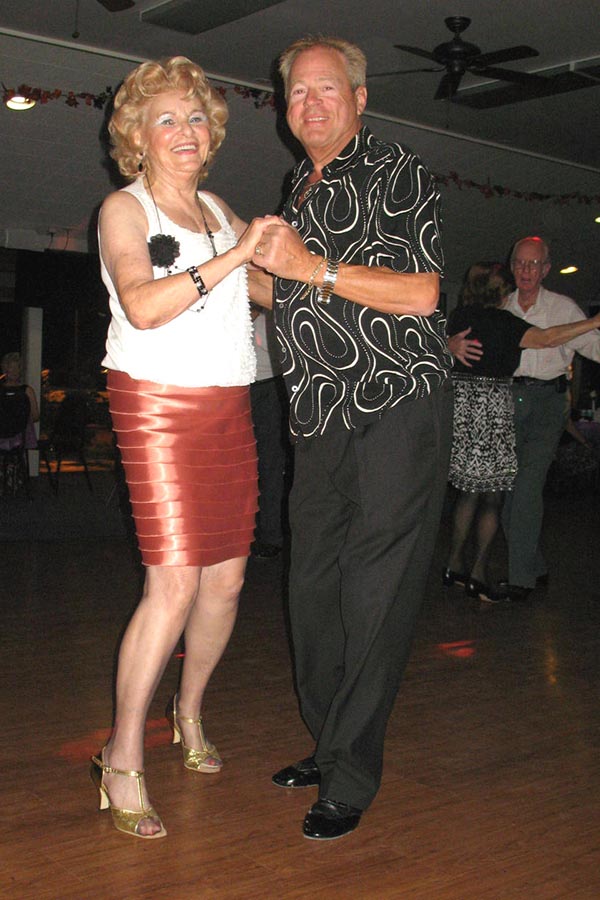 There are different, excellent dance bands each Wednesday. The ceiling lights dim, replaced by atmospheric multi-colored sparkling lights, and the fun-filled evening of dancing begins.
January 1 – Dark. No dance. Happy New Year !
January 8 – Rainbow Cottage.
January 15 – American Made, with a Denim and Diamonds theme.
January 22 – Country Sounds.
January 29 – E'klektik, with a Disco theme.
These dances, which are open to the public, are held from 6:30 to 9:30 pm, and continue throughout the summer. Admission is $6.00 per person: proper attire is required (no work jeans, tank tops, or shorts), and alcohol is not allowed. Opportunity drawings offer free tickets. Tables have snacks, and pitchers of water; and freshly brewed tea and coffee is available.
For further information about these popular senior dances at The Lakes at Hemet West, 5001 West Florida Avenue in Hemet, contact Kathy Perry at 951-692-0891.
Find your latest news here at the Hemet & San Jacinto Chronicle
Search: Senior Wednesday Night Dances