(Matt McPherson and The Farmers Market)
Actual Christmas Tree Lighting event to take place Saturday, November 30
Standing more than 17 feet tall at the corner of Florida Avenue on the east corner of Florida Avenue and Harvard St. a majestic Christmas tree now stands, donated by Matt McPherson, the McPherson family and the Farmers Market.

"This is our second year," said Matt McPherson. "It came together last year when we realized that there wasn't going to be a Christmas tree event downtown. We couldn't let that happen. True Value stepped in with heavily discounted lights, and we and the Yepremians made it happen."

Not only did everyone enjoy last year's beautifully-lit tree…others enjoyed the um, free electricity. "I used to take my dog for a walk at three or four in the morning, just to admire the tree. Well, a couple of nights after we first lit it up, I saw a group of homeless teens nestled at the bottom of the tree, huddled together. I thought for a moment that they were sleeping there, until I realized that they were all charging their cell phones because each light-socket had a USB port!!! They said, "Hey man, we're not vandalizing it…we're just chargin' our phones," McPherson laughs, adding, "We're hoping to out-do the five or six-thousand lights we had last year."

"The tree being unloaded."

"Artist Amber Spikerman."
And out-do it, they have. This year's tree will cost a total of $7,500 including lights and permits.

You simply cannot miss the massive pine tree on the East corner of Florida, but as if that wasn't enough…there is artwork a-plenty, supplied by local artist Amber Spikerman. "I've been doing this for some years, and I'm branching out to larger murals and works of art," says Spikerman.

"I think what Amber is doing is beautiful, and I think what Matt is doing with this whole event is a good thing. When the community can celebrate an event like this-together, in this fashion-you can actually see and feel it bringing our community together. It's good to see the community come together, even if it's just once a year. It would be nice if we could find other ways and other reasons to come together," said Eddie George of Hemet Eye News.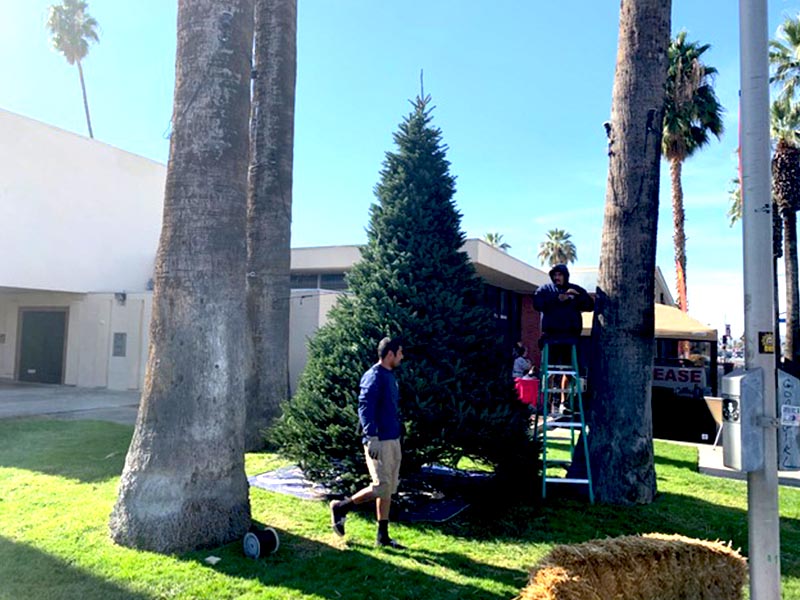 George's feelings were echoed by Hemet Eye News' Laurie Cain. "This time of the year is the most beautiful part of the year for so many of us. I think it's just the wonderful how Matt McPherson and his family have donated this Christmas tree as a symbol of solidarity for the whole community, young and old alike, so that we may come out every evening and stroll by this beautifully-lit Christmas tree and catch the spirit of the season. I especially love to see the glow of the little children with their happy faces, smiling when they see the tree and when they see Santa Claus."

No amount of "inner Grinch" can steal the glow you'll get by walking past a lit Christmas tree on a frosty holiday night while Christmas music plays in the background. Try it and see.
Find your latest news here at the Hemet & San Jacinto Chronicle
Search: Matt McPherson and The Farmers Market