(Let's not "get physical")
Hemet Coach Puts Hands On San Jacinto Player During Game
On October 19th, 2019, the last Battle of the Bell (for the foreseeable future) was played at Hemet High Stadium. Even though this was a rivalry game and was expected to be "chippy" based on the pregame antics of both schools, there's no excuse for what happened that night on the field. Early in the first quarter Kajiya Hollawayne (San Jacinto's quarterback) scrambled out of the pocket to the right side of the field (towards Hemet's sideline). Hollawayne was tackled out of bounds and was quickly surrounded by Hemet players. Hollawayne claims that players were, "Stomping me out" while on the ground. His offensive lineman rushed into the pile to pull him out. Junior center Nimo Alo was one of the first San Jacinto Tigers on the side to pull his quarterback to safety. While in the pile, Alo claims that a Hemet Coach punched him in the jaw. This is what he said about the play,

"Kajiya was running and I was following him. As he got towards their sideline Frankie (Frankie Castillo, cornerback from Hemet High) tackled him out of bounds. I fell over both of them. As I was trying to get up, someone was pushing my head down and I looked towards that direction and I saw the coach's shoes. I know it was the coach because the players wear cleats, not sneakers. Then things started to get heated with me and Frankie…"
Apparently, things got very heated.
"…Then I seen the coach's arm wrap around Frankie. Then the coach swung and hit me in the jaw. After we got separated, another coach just pushed me away. And if you watch the video, as I was walking away, the guy in the red (later identified as Will Dunn), said something like 'Watch who you're messing with MotherF*****," but I'm positive he also said 'Control yourself you dirty s***," and other negative things to me. All I was trying to do was get up but if he didn't push me down, the whole problem wouldn't have escalated."

Video has been obtained and enlarged, and you can clearly see the coach put his hands on Nimo Alo. It's hard to tell if it's a push or a punch, but either way, he is making contact with the San Jacinto player in an aggressive manner. Several players and sideline reporters also saw the coach, at minimum, shove Nimo Alo.

Iseiya Serrano (San Jacinto Lineman) was standing right next to Alo when the incident took place, "I was running down to help my quarterback as well as my center, and as I was helping them up, the Hemet coach took a shot at his (Alo's) face and then Hemet players joined in. We pulled out our players but then we got flagged for it," said Iseiya Serrano about the incident.

Noah Garcia (Owner and Operator of Noah's Edits, a Youtube channel that records and edits videos of local athletes playing sports) saw the encounter and said this about the event, "after the run, I seen one of the Hemet High's coaches shove a San Jacinto Player."

The HSJ Chronicle contacted Head coach Dennis Gregovich and he had this to say about the matter, "If there is a video, it will be dealt with. But I have no further comment until I see the video." Coach Gregovich reached out again, after seeing the video and said, "I don't see anything there." in reference to his coach making contact with the San Jacinto player.
(Let's not "get physical")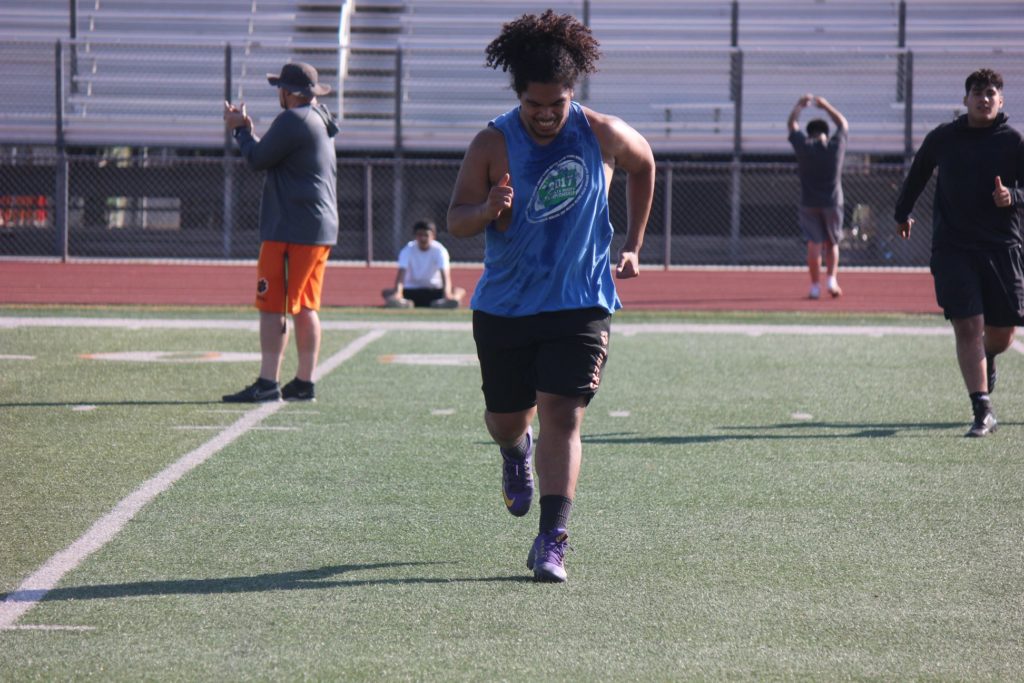 The behavior during this event goes against everything that the CIF (California Interscholastic Federation-the High School sports governing body) stands for.  
The following is taken directly from the CIF rule book & coaches handbook:
"Disrespectful Conduct — Seek to control the conduct of parents/guardians, spectators, coaches and players to prevent negative cheers, name-calling, insults, drinking or any other conduct inconsistent with a positive atmosphere of character development. Use proper authority to assure that rules against profanity, trash talking, taunting, arguing calls and other forms of bad sportsmanship are consistently and strictly enforced. Where appropriate, direct those responsible for game management to exercise control over spectators, bands and spirit groups."

"Self-Control — Exercise and demand self control. Do not fight, scream or otherwise demonstrate uncontrolled anger or frustration. Do not permit players, coaches or spectators to display inappropriate anger."

"PHYSICAL ASSAULT CIF State Constitution, Article 5, Section 522," states: "Any student who physically assaults the person of a game or event official shall be banned from interscholastic athletics for the remainder of the student's eligibility. A game or event official is defined as a referee, umpire or any other official assigned to interpret or enforce rules competition at an event. A student may, after a lapse of 18 calendar months from the date of the incident, apply for reinstatement of eligibility to the State CIF Commissioner. For this document, the Southern Section also includes coaches, administrators or other school personnel assigned to the contests or games as a game official."

It's important to note that all "Code of Conduct" policies apply to both players and coaches through CIF regulations. There is supposed to be no physical contact in an aggressive manner to players whether they are on your team or another team.

Hemet Unified School District's Official Statement on 10/20/2019 is as follows: "Hemet High staff is working with San Jacinto's staff to get a statement from the student who was involved and the Hemet resource officer is going to begin investigating the situation first thing Monday morning. HUSD doesn't condone violence of any kind and we are working hard to make sure this situation gets resolved." No further comment has been made by the school or district.
SJUSD's spokesperson Dawn Lawrence released this statement: "We are going to trust the process and hope that Hemet High takes a good look at the event, and the statement of the players, and makes a fair judgment. We understand that there is only one view of the video at this time and that it can be hard to see what really took place, but we trust that Hemet High and The Hemet Unified School District will make the right decision in the matter."

We will have to wait for the CIF governing board to review the footage and hear the accounts of the players to find out what kind of action will be taken to prevent this from happening in the future. Nimo Alo was simply playing the game he loved, and didn't deserve to be assaulted the way he was. There is no room for actions like this in High School Sports. 
Find your latest news here at the Hemet & San Jacinto Chronicle
Search: Let's not "get physical"