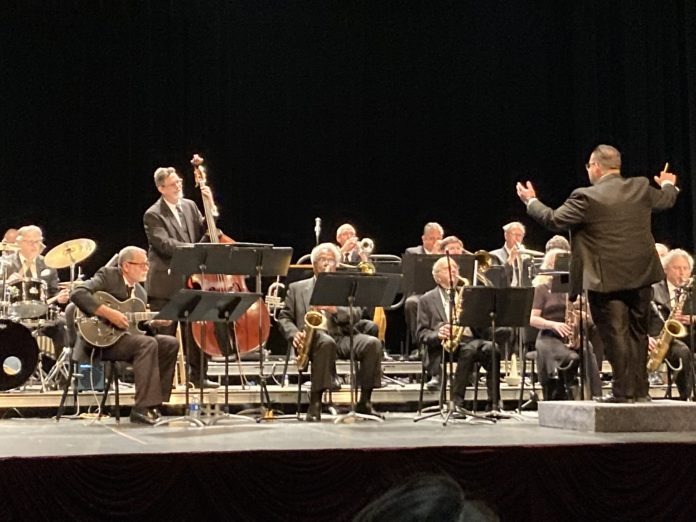 Music lovers are invited to Mt. San Jacinto College to hear a mixture of American swing standards, Christmas tunes and contemporary jazz songs when the Golden Eagles Jazz Ensemble plays its Swingin' Fall Concert 2022 at noon Saturday, Dec. 17. The event will be held at the San Jacinto Campus.
The group, Mt. San Jacinto College's community big band, will also perform arrangements by swing-era clarinet player and band leader Benny Goodman as well as arranger Sammy Nestico.
Members of the 18-piece Golden Eagles big band range in age from 22 to 84. The volunteer musicians come from throughout the Inland Empire.
"We have seasoned musicians who will be presenting a wide variety of music," said Associate Professor Jonathan Frias, the band's director, who has been pushing the big band to play more difficult pieces during intense weekly rehearsals. "I'm hoping to achieve a level of musical excellence that can be comparable to any professional ensemble."
Frias, who has led the group for three semesters, also directs the Menifee Jazz Ensemble, a 10-piece group of students from MSJC's Menifee Valley Campus. That group will perform at the start of the Swingin' Fall Concert.
"Come on out and support live music," Frias said.
When not teaching music or leading bands at MSJC, Frias plays upright bass with his group, The Jazz Cartel.
General admission to the fall concert is $6. Seniors and veterans pay just $5, and student admission is $4. The concert will be at the MSJC San Jacinto Campus Theater, 1499 N. State Street, San Jacinto. For more information or to purchase tickets, go to calendar.msjc.edu/event/msjc-golden-eagles-jazz-ensemble-swingin-fall-concert-445/