Want to change your thinking? Change your life? Tried churches that are more religious than spiritual. Try the Center for Spiritual Living in Hemet.
"We teach spiritual practices that will change your life," so says Senior Minister Reverend Rhonda Tretsven. The law of attraction, meditation, self-awareness, tuning in to your intuitions just to name a few. She goes on, "Learn to really love, accept, and forgive through God's love – not judgment, if you are a good person. That includes couples living together, members of the LGBT and 4-20 community, parents, etc. YES! You are welcome. Of course, folks living a 'traditional' lifestyle are welcome also. Please know, wherever you are on your spiritual path, you are welcome here."
That includes a broad spectrum of life.
I had the privilege of interviewing the good reverend while covering an upcoming event, which I will speak of later. I wanted to know more about such a welcoming, not judgmental organization.
Q. I'd like to know about the history of the church and what you do here today.
A. Because we are known for the science of mind, people confuse us with Scientology, a religion unto itself. We are not Scientology, although we do not condemn or criticize any faith because they all have beliefs and purpose. Back in the late eighties, the church was on Tahquitz Street in Hemet. They were growing at such a terrific rate they decided to purchase this property at Girard and Stetson. The two found ing ministers, who were part of that, in 1988 they broke ground to create a two-dome facility. Unfortunately, at the time, the county was not too happy about them building a round church. They may have been thinking Muslum – it wasn't square with a steeple. So the county began giving them a list of what to do and what not to do—a lot of hoops to jump through in order to complete construction. The last thing they were told to do in order to complete their wishes was that they had to plant over 30 trees. It didn't matter what kind of trees, just make sure there were thirty. Thus the church was born.
It was filled to capacity every single Sunday. In the eighties, when the positive philosophy was really going strong, this was part of that web. We are Christian-based, but we are what is called metaphysical, which means that we go beyond the norm. We accept you if you're gay, straight or whatever. We don't care who you are. We are more mental than denominational. Every Sunday, I get up and say, "I'm not going to ask you to give up your beliefs. I'm just going to ask that you go deeper with your God of understanding. We promote love by striving to create an atmosphere of being at home, no matter who or what you are or have been labeled to be. We do not persecute in any way. Whenever they come through our doors we don't ask where they are coming from – Catholic, Methodist or Fundamentalist – we want them to know they are welcome here and we're not trying to change their religious beliefs. We will never tell anyone that they can only know and practice any particular way. This is basically a Christian Valley and I understand and respect that.
I've been here almost fifteen years and a member of this church for 12 years and pastor for six. I belong to the Interfaith Council so I understand my fellow colleagues; if someone says, "I feel comfortable being Jewish," then I say, "yeah." Tell me about your being Jewish, tell me about your culture and what it means to you. We have Muslims and Hindus who come here I look at these beautiful faith traditions as cultures. Not only do they bring their understanding of God or higher power, but bur also they bring rich culture.
When we think of so many powers it is beautiful and it is rich. If we say, this is the only way we limit ourselves because there are so many other faiths. We should say, "I love you just the way you are." I want to know more about your understanding of who you are in this miasma of beliefs. What my goal has been as a minister here is explaining who we are because our church has been so misunderstood over time because we are round, not square. In that misunderstanding, people think we are connected to another faith, and we are not.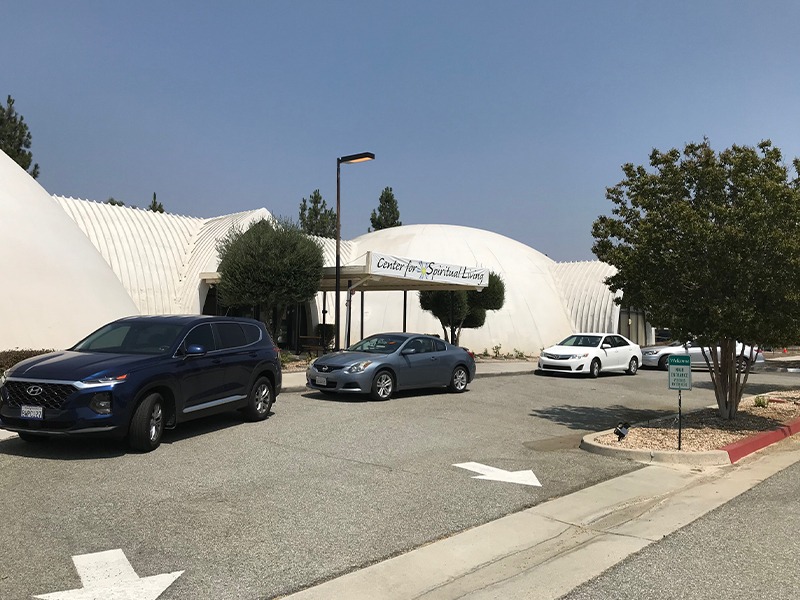 What has happened over time is there has been a disruption, so to speak. People see our sign and say, Oh, we don't want to go there because they are part of a cult. A cult can be defined by a leader and a dogma. Every religion is a cult or spin-off from something else. When people refer us to a cult, I think, so is the Christian religion – whatever religion might be the basis of their belief.
I've been wanting to reach the community. I also want to open up our church so that people can understand us and know who we are, that we are not judgmental; when you come through our doors, all we want to do is love you and share. What we have done over recent years becomes a cultural center with church on Sunday.
Q. What are some of the things you offer to people who visit here?
A. We offer the individual or group to be their expansive creative self. When the homeless come we find out their needs and refer them to a source that can fulfill their needs. We began as the center to help others. The reason that we want to build a cultural center is so that we can unite people. To create a way for the quilters, the painters, UAW – whoever you are to come together in a common purpose. We even have offices here. We have AA, UAW. We wish to become the cultural center of this community. When we help them, we are actually helping the City of Hemet. When we can help someone, it goes on like a ripple. For everyone that's here – Yoga or painting or whatever it is, people are encouraged to come in here and share their experiences with others. We're not only sharing our cultures but also letting others know who we are – that we are all somebody and important in our right. There's no religion in it. It is just kindness and love. People who come here are not required to be any way except who they are.
They have many upcoming events, anew of which are listed below:
Gigantic Rummage Sale (includes furniture) / Friday and Saturday, August 27th and 28th / 8:00am – 2:00 PM
Crystal Lotus (Spiritual-Holistic-Metaphysical Wellness Fair" /September 4th / 10 am to 2 pm
Holistic Registry / Third Saturday of the month at 1:00 pm / $13 cash at the door.
Women's Recovery Meeting / Every Saturday at 8:30 am
UAW Monthly Luncheon / First Thursday of the month at 11:00 am
Yoga Classes / Every Tuesday and Thursday / Class 1 11:00am – Tea Time / $10 fee per class
Trick or Treat October 21, 4:00 pm to 6:00 pm
Maze Stone Quilt Guild / In the Little Dome / First Wednesday of the month at 9:00 am
Hemet Valley Art Assoc., Inc / 2nd Wednesday of the month -1:00PM / In the Little Dome
Group Psychic Reading Experience / Saturday, September 18, 1:00 pm / $15 Event Fee
Located at 40450 Stetson Avenue / Hemet, CA 92544 / Phone: 951-658-5157
So if you are seeking a spiritual and sharing experience, there is something at the Center for Spiritual Living to offer something to everyone interested in Spirituality and seeking common ground for anyone who cares about life and higher powers.
Just sayin'
Ray Strait | Senior Reporter
Find your latest news here at the Hemet & San Jacinto Chronicle