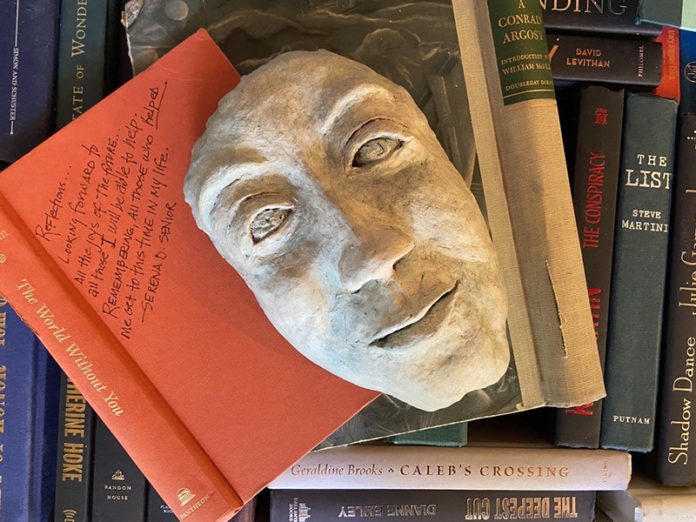 The Mt. San Jacinto College (MSJC) Art Gallery, California Family Life Center and Worth Visual Arts are pleased to present a.r.t.e.r.y.'s 2020-21 The Eclipse Project exhibit.
This free online exhibition at msjc.edu/artgallery launched Tuesday, Jan. 19, and marks the 14th collaboration between MSJC and California Family Life Center (CFLC).
"An eclipse takes place when one heavenly body such as a moon or planet moves into the shadow of another heavenly body," NASA notes. With lunar and solar eclipses, we experience the passing and alignment of our heavenly bodies creating a beautiful and miraculous encounter. Likewise, seniors, children and youth come together to share their past and present stories – an ecliptic encounter revealing life's experiences bridging generations. The Eclipse program focuses on youth mentors, seniors and children working together to create artworks, using mindful communication skills gaining mutual respect, trust, and friendship with one another.
This year's exhibition focuses on clay self-portraits created by multiple generations: the California Family Life Centers (Elsinore, Hemet, & Rubidoux) a.r.t.e.r.y art mentors, Stratton Community Center senior citizens, and Kin Care. Traveling into the future, mentors and Kin Care's (children) artists' express their projected age by 30-plus years, forwarding their physical appearance and life stories through the artwork.
Sculptural methods are taught by mentors to aid with the creative vision and stories of their participants. Through collaborative mentoring, seniors and a.r.t.e.r.y mentors alike think about their lives in new ways, including seniors experiencing a sense of rejuvenation and inspiration to share their life stories with youth.
Likewise, as a.r.t.e.r.y mentors worked with seniors and children, it inspired youth mentors to think beyond their current lives, further motivating them as to how they can be of service to others. Overall, their collaborative exchange and artwork has brought a sense of understanding and appreciation between all generations.
Mentoring, art and community service are key elements to CFLC's a.r.t.e.r.y. programs. CFLC and Worth Visual Arts were awarded the 2015 Americans for the Arts, National Association of Counties (NACo) and Honorable Mention from the Association of Counties Arts & Culture. The Eclipse Project exhibit emphasizes mentoring skills, focused on the transference of creative energy, and goals through art in the community. A.r.t.e.r.y. offers future career paths to youth, while bridging program objectives to positive endeavors within the community. By exhibiting the artwork at the MSJC Art Gallery, youth are exposed to college as a more attainable path for their future while assimilating comfortably into a college atmosphere.
The show has been made possible by the cooperative efforts of the MSJC Art Gallery, Worth Visual Arts Programs, Michele Worth, California Family Life Centers (CFLC); Planet Youth, Empower Youth, Rubidoux YOC. Participating collaborators are Stratton Community Center & KinCare.
For more information, please visit www.msjc.edu/artgallery or contact MSJC Art Professor John Knuth at jknuth@msjc.edu.
MSJC • Contributed
Find your latest news here at the Hemet & San Jacinto Chronicle