The Soboba Band of Luiseño Indians hosted Native American football players. Coaches and referees from 12 states and Manitoba, Canada, spent a few days at the Soboba Indian Reservation near San Jacinto. The all-star athletes participated in a training camp leading up to the second annual 7G Foundation Indigenous Bowl. Two teams were formed after about 40 players were evaluated during a combine, where they completed various tests and drills to showcase their abilities.
Coaches drafted players for their teams based on the combine and other information they had from each player's past football experience. 7G Foundation's Cassie Molkentin said players were chosen based on the desire to keep the teams as balanced and fair as possible.
Bellingham, Washington residents and teammates Arthur Felix and Watiko Leighton said the experience had been fantastic. Both are from the Lummi Nation, which has about 6,500 members.
"I'll be starting as a free safety, but I've played running back and wide receiver before." Said Felix, who played football in eighth and ninth grades, and then returned to the sport in his senior year. "I love the feeling of being in the game and making plays; I love the atmosphere."
He said members of the newly-formed team got close during the few days leading up to the big game and felt like they had known each other for a long time.
"I came from practically nothing, and my childhood wasn't so great. This experience has taught me that anything's possible if you work hard," said Felix, 19.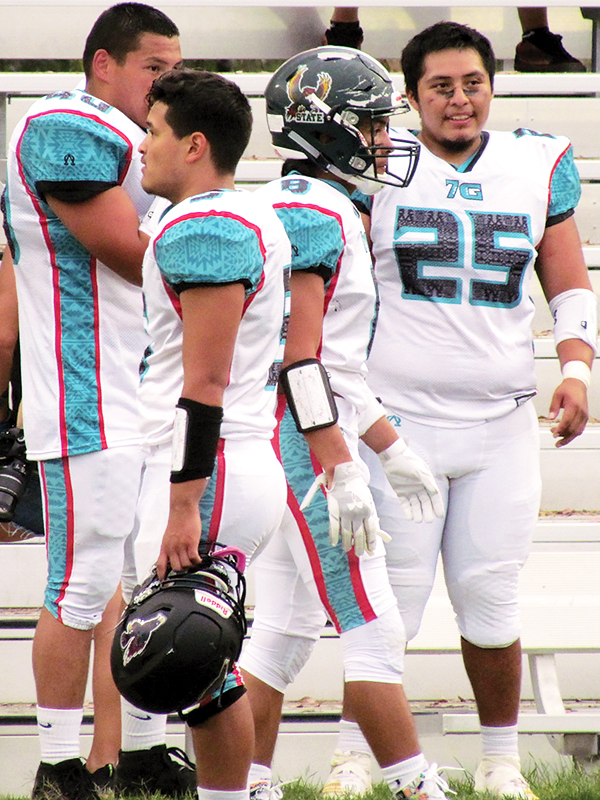 Leighton has been playing football since second grade and will be playing for Southern Oregon University in the fall. He said he has never lost his passion for the game.
"We have all had a connection from the get-go here," said Leighton, 18. "I've never been on a team of all-natives before – it felt like home."
He said the days consisted of an early breakfast and then off to the football field at The Oaks to practice plays, formations, and techniques for the game.
When they were not practicing, players relaxed at the nearby Soboba Casino Resort's hotel or took short road trips to see some SoCal sights. Team Wagon Burners and Team Hy'shqe faced off at the game that began about 6 p.m. on June 29. They were introduced to the spectators by an announcer who also told them: "You not only represent your tribe but Native Americans everywhere. We are proud to have you honor us in this field."
The 7G Foundation is based on the Pauma Reservation, south of Temecula. It provides the youth of indigenous communities with the tools necessary to translate their athletic dreams into tangible, real possibilities. It offers leadership skills, community development capabilities, and a dependable, truly native network/framework of real-time support. To this end, the Indigenous Bowl provides a great opportunity, whether it is the recent high school graduate's final game or a preview of what they can expect when they enter college in the fall.
"We have some amazing talent within our own communities that have volunteered their time to share with these athletes, and help propel them to the next level, which includes pairing their athleticism with scholastic goals." Said Bennae Calac, Executive Director and President of the Board of Directors for the 7G Foundation.
The greatest purpose of 7G is to build a bigger future for young people. Youths are taught to transform their success into progressive, multi-generational change for themselves, their families, and their tribes.
Molkentin said the Foundation's long-term goal is to have the Indigenous Bowl be the go-to event that college and professional sports scouting agents will attend to recruit players. There were 54 Tribes/Nations represented by the athletes at this year's event.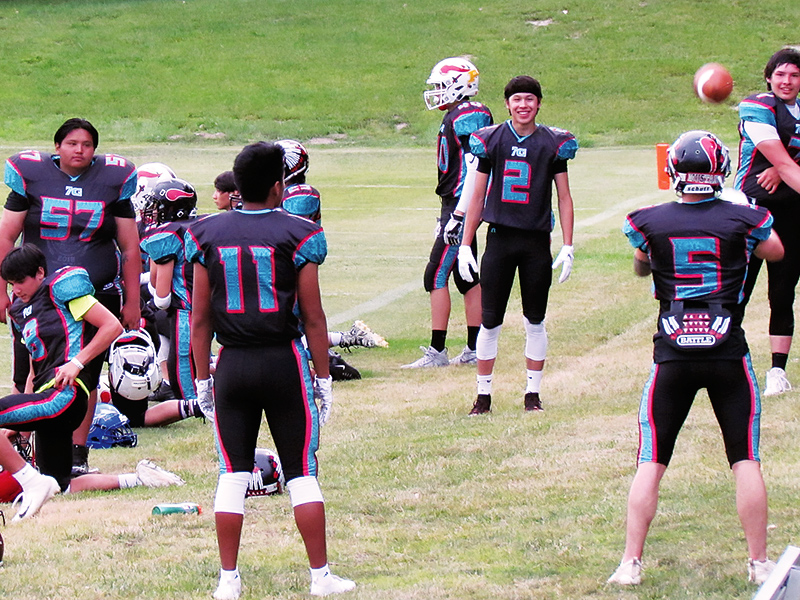 Team Wagon Burners players and their tribal affiliations were: Lane Allen (Assiniboine/Gros Ventre), Demarius Benson (Navajo/Southern Paiute), Brant Bremner (Blackfeet), Clayton Franklin (Kashia Pomo), Tristan Hall (Blackfeet), Jevon Heard (Dry Creek Rancheria), Edward Hill (Luiseño/Creek/Cahuilla), William Keller (Blackfeet), Keaton McBride (Yankton Sioux Nation), Notah McCabe (Apache/Navajo/Comanche), Quillie Morgan (Kashia Pomo), Drake Olivar (Apache), Ethan Rogers (Picayayune Rancheria), CJ Smith (Blackfeet), Tyson Sutherland Assiniboine/Sioux/Chippewa Creek), Terrell Toledo (Navajo), Jacob Waiter (Choctaw), Jhadi Harjo Nick Wkaos (Pasqua Yaqui), Ethan Wolf (Luiseño) and Casey Young (Gros Ventre).
Team Hy'shqe players and their tribal affiliations were: Demetrius Begay (Navajo), Tyrell Boyd (Navajo/White Mountain Apache), Mondo Calderon (Tule River), Jacob Castilleja (Warm Springs/Nez Perce), Arthur Felix (Lummi), Raynathan Foolbear (MHA Nation), Stanley Holder (Wichita), Tyrrell Holiday (Navajo), Kiezer Johnson (MBCI Choctaw), Jacob Lablanc (Dakota), Watiko Leighton (Lummi), Antonio Marquez (Dry Creek Rancheria), Silas Miles (Cheyenne), Kyal Shoulderblade-Sampson (Yakama/Cheyenne), TJ Talamoni-Marcks (Upper Lake Tribe), Jeremy Tallsalt (Navajo/Hopi), Jermaine Toby (Lummi) and Corbin Wabasha (Dakota).
Information, www.7gfoundation.com