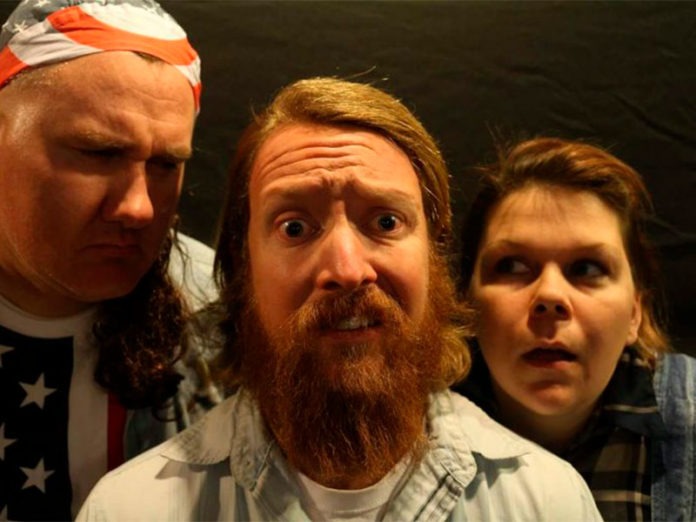 Play With Your Food
PWYF | Contributed
Play With Your Food is back with a new refreshing comedy to make us laugh and play with our food! Written by Billy Van Zandt and Jane Milmore and directed/produced by Michael Tennant, Playing Doctor promises to make us forget about life and work to give us a fresh breath.
What is Playing Doctor about?
Rob Brewster's parents are very, very proud of their son the doctor. What they don't know is that Rob has used all the money they gave him for medical school to live on as he as has pursued his fledgling writing career. Inevitably, Rob's day of reckoning comes when his parents arrive for a visit. Quickly, he enlists the help of his secretary to be his nurse and his roommate Jimmy to round up his actor friends to pretend to be patients. Complications ensue when Jimmy decides he is such a good actor that he can impersonate all the patients, with the help of a trunk of costumes and bad dialects! The authors have written some zany farces but this one may just be their zaniest. It is great fun to perform, and great fun to see.
About the Characters:
ROB BREWSTER – early 30's and simply gorgeous to look at; a struggling writer, fast-talking and oozing with charm, convinced he is the only sane man left on Earth.
JIMMY CARMICHAEL – late 20's, early 30's; a starving actor by way of being an atrocious actor, is so earnest and dedicated that you want to see him succeed; best pals and roommates with Rob.
MAX BLAKE – mid-20's, dumber than the dumbest dumb blonde; also a brunette; lives in her own world of logic, but she tries, works four times as hard as anyone else and is still behind; adorable and sexy, child-like and fragile, but very strong-willed and manipulative underneath.
ROBERT BREWSTER III – 50's, an overbearing, pompous millionaire; has time only for crippling businesses and chasing women, too busy for his wife and son; reeks of money, dresses impeccably.
JANET BREWSTER – 50's, a scatterbrained society wife; loves her son but never sees him not speaks with him; subservient and repressed, hasn't used her mind in years; looks the typical dowager.
CHUCK MURDOCK – 30's, the jack ass from next door; psychotically jealous of his ex-wife, who dates Jimmy, but is nevertheless a buffoon; a tennis pro.
MAUREEN – early 30's, a nymphomaniac; was married to Chuck but left him for obvious reasons; possessive and jealous, currently trained on poor Jimmy, totally innocent and naive, tries to please; a beautiful blonde with great legs.
UNCLE HAROLD – the ultimate hypochondriac, a big fat sweating man in his late 50's; an obvious case of nepotism, being Robert's Vice President; wears a bow tie.
CAST
Colby Banks as Max Blake
Jonah Ledesma as Jimmy Carmichael
Michael Tennant as Robert Brewster III
Frank Jaramillo as Chuck Murdock
Kris Ourth as Rob Brewster
Stephanie Parshall as Janet Brewster
Melanie Rose Johnson as Maureen
How to assist
Performances are on October 7th, 8th, 14th, & 15th, 2022 at 6:30pm and October 9th & 16th, 2022 at 1:30pm. For reservations and Tickets, you can call (951) 663-8491.
All seats are $45 and include a three-course dinner. Group discounts are available for groups of eight or more. Dinner options include your choice of Oven-Baked Salmon, Lasagna, or Oven-Roasted Chicken. Vegetarian and Vegan options are available upon request.
Find your latest news here at the Hemet & San Jacinto Chronicle