(A Slick Move)
Hemet Valvoline joins Chamber of Commerce, holds Ribbon-Cutting
Approximately 50 people showed up at noon, Tuesday, October 29 to welcome Valvoline Instant Oil Change 532 W. Florida Avenue in Hemet, into the Hemet Chamber of Commerce family of businesses.

"Though we've been here for about a decade, we feel that our joining the Chamber of Commerce is an excellent opportunity for us to grow our customer base in the community of Hemet and allow the public to see all that Valvoline has to offer, the see what Valvoline does for our customers and also for them to find out how we're giving back to the community," says manager Sam Ciurar.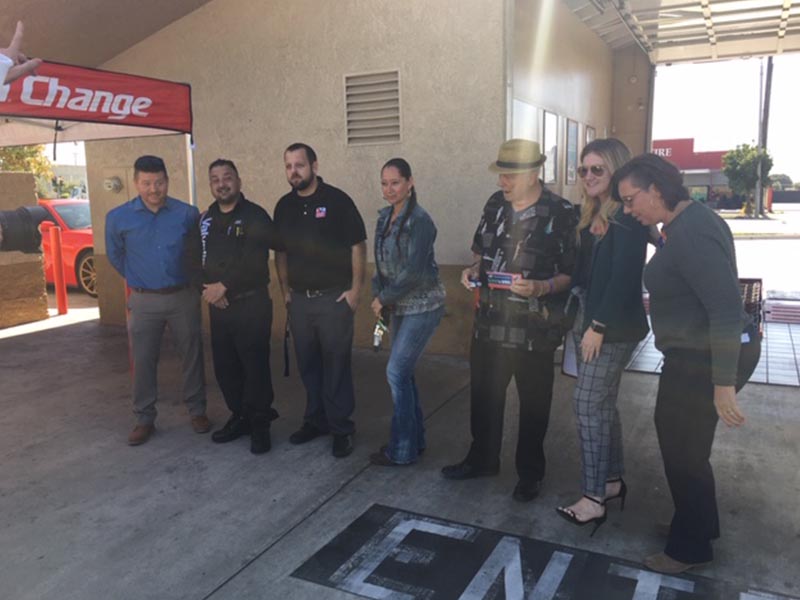 Visiting customers were interested to hear about the 15-minute race-car pit-stop-like oil change offered at Valvoline.. "It only takes about 15-minutes, and the customers can literally just sit in their car. They can hold a meeting or do whatever they want. It's also a great way for busy parents to entertain the kids while taking care of a vital car-care function. They can see everything we do. It's revolutionary."

"This Valovoline compliments our other location at the Target Plaza at 3527 W. Florida Avenue," said Rich Berling, area manager, adding, "All our Certified Technicians have more than 270 hours of professional training. You stay in your car, so you can see the job done right, right before your eyes."

The facility is clean, bright and inviting.

As manager Sam Ciurar got in place to cut the Ribbon, Chamber of Commerce Executive Director Cyndi Lemke said, "We are so grateful for a business like Valvoline. We'd like to welcome you to the Chamber of Commerce family and we want you to consider us a resource. We want to give you the opportunity to share your services with the public. The public at large doesn't realize how many services the Chamber has to offer: we offer a monthly mixer and our monthly magazine called, "CHAT," as well. We offer our members a chance to get together at our "First Friday" event where they can discuss the products and services they bring to the community, and we help them forward their message and their mission statement here in the community. We are here to help you grow your business and become a part of Hemet itself."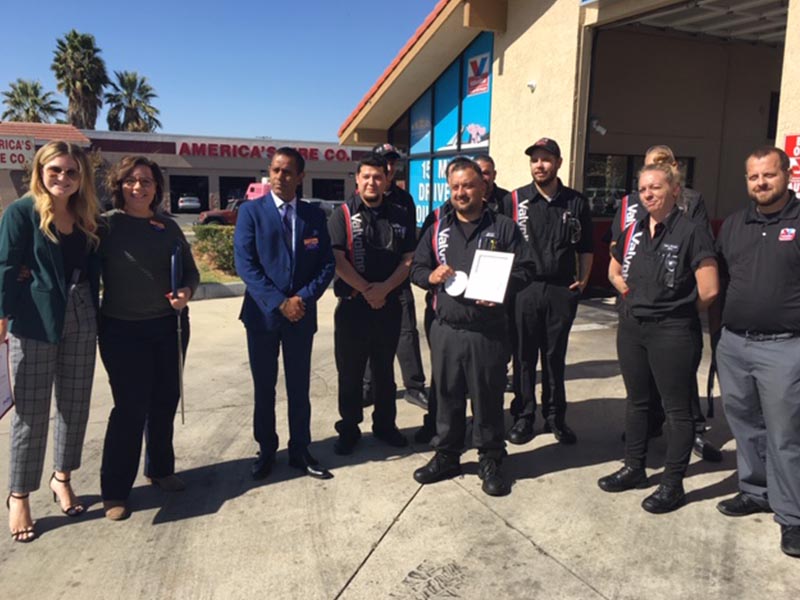 Those interested in pricing or stopping in may reach Valvoline at (951) 766-1996.
Find your latest news here at the Hemet & San Jacinto Chronicle
Search: A Slick Move