Bernice had a difficult choice to make.
The Clairemont resident works in a food manufacturing lab, so back in February she knew she would be near the front of the line for a COVID-19 vaccine. But Bernice, who is not using her real name for privacy reasons, has multiple sclerosis. And at the time her symptoms were flaring up.
She had numbness on one side of her body, difficulty holding her young son and problems typing on a computer. There are drug treatments that alleviate these symptoms, but they suppress the patient's immune system, making the vaccines far less effective. So, if Bernice were to take the treatments she couldn't take the vaccine for six months.
But she really wanted a vaccine. She tried to hold on, dealing with the pain and numbness.
"I always feel like I'm pretty comfortable being uncomfortable because I'm a runner, so I was thinking, how much discomfort was I willing to accept?" she said. "And then at one point I was like, 'I can't do this anymore.'"
So she got her treatment. Two weeks later, food workers were granted authorization to get vaccines.
"It was very poor timing," she said. "My coworkers were starting to get it. It wasn't immediately frustrating, I feel like it's more frustrating now that people are back to normal."
Tuesday marks the state's official reopening. Occupancy restrictions inside offices, stores, restaurants, bars and stadiums are gone and mask requirements greatly relaxed. Californians are celebrating their rediscovered freedoms. Except for Bernice and others who are in similar circumstances.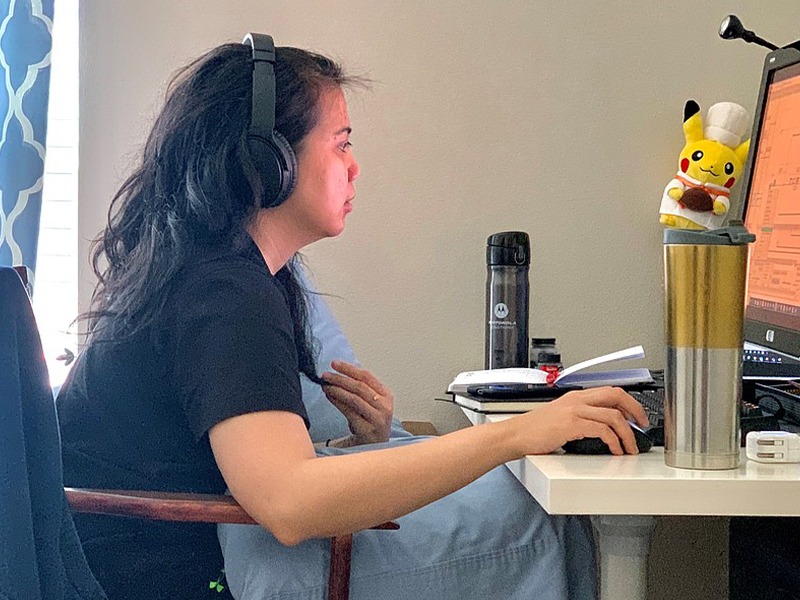 It's already been difficult for Bernice, who won't be able to get a vaccine until her course of treatments ends in August. Her company went back to in-person work a few months ago, and even with the guidelines that have been in place, almost all of her co-workers aren't wearing masks.
She's had to ask that all team lunches be held outside and was forced into an uncomfortable conversation with a maskless coworker during a recent training.
"He kept on coming over and looking at my computer, standing right over me," she said. "I don't know why it felt hard to have that conversation with him, but on the second day, I did ask him to put on a mask."
Ignoring the most vulnerable
California is among the nation's leaders in vaccination rates, with nearly 55% of adults fully vaccinated. But the state is still recording nearly 1,000 COVID-19 cases a day and public health experts say the realities facing Bernice and other chronically ill people aren't getting enough consideration.
"We have not done a great job thinking about people with disabilities, we've only thought about the able-bodied throughout this pandemic, and that isn't changing now," said Rebecca Fielding-Miller, an epidemiologist at UC San Diego.
She said loosening mask rules in stores and workplaces put unfair burdens on people, further limiting the accessibility of public spaces for people who are already disabled, immunocompromised, or otherwise at higher risk.
"What it means is for everyone to be able to go into Target, buy a carton of ice cream and not have that be a terrifying experience," she said. "So that means continuing masking rules. COVID is an occupational risk, so if people are forced to be indoors, then it's the employer's responsibility to create the healthiest possible workplace."
Han Koehle, a health equity advocate at UC Santa Barbara, said ideally, policy decisions would focus on people with the least protection.
"Start with the most vulnerable in mind," they said. "Keep the most at-risk person safe, then use that as the standard."
They said people who are not vaccinated for medical reasons might be able to sue workplaces or stores under the Americans with Disabilities Act.
"People have the legal right to access public spaces, and as policies continue to unfold, there could be a civil rights recourse," they said. "But that can take a long time. In the short term, people can also speak up in their own community and say we're not leaving people behind. Vaccines are a community strategy, not an individual strategy."
Fielding-Miller said while there are conflicting numbers for what percentage of people need to be vaccinated to achieve so-called "herd immunity," there is no achievable number for full protection of everyone.
"People are so obsessed with herd immunity, but it's a concept not a number, and it's hard to calculate," she said. "If we are using herd immunity as synonymous with eradication of COVID, that will never happen. We've eradicated one human disease ever, and that was smallpox, and it took years and years. With COVID, the best we can hope for is to keep it to a tolerable level while prioritizing people who are most likely to get very ill."
Better than nothing
But that may not happen, which leaves people like Stacy Hall in North Park fearful about their health, and potentially their finances. Hall is on immunosuppressive medications to help with an autoimmune disease called eosinophilic fasciitis, and was told by her doctor to wait to get a COVID-19 vaccine.
But she works as a caretaker for elderly people and is worried people won't want to hire her because she's not vaccinated. She recently stopped working for one woman because she couldn't visit her in an assisted living facility.
"I'm going to be a social pariah for not being vaccinated," she said. "Recently I went to an outdoor party and the host met everyone out front. He asked, 'are you vaccinated?' I said, 'no,' so they wanted me to sit in the corner by myself with a mask."
However, Dr. Davey Smith, an infectious disease specialist at UC San Diego, said people on immunosuppressive treatments should probably still get COVID-19 vaccines even if they won't be as protected as a healthy person. The only people who should not take a vaccine are those with documented allergies to a vaccine ingredient, he said. For example, some people are allergic to polyethylene glycol, an ingredient in the Pfizer vaccine. Others have documented bad reactions to the adenovirus vector used in the Johnson & Johnson vaccine. "But other than those very, very rare cases, everyone should get the vaccine," he said.
However, Smith does stress that the vaccines likely won't produce a strong antibody response in the millions of people on immunosuppressive treatments. This group includes people with HIV or inflammatory diseases like rheumatoid arthritis and Crohn's disease and with those who are undergoing chemotherapy or had an organ transplant.
"It dampens the immune system, so it dampens the response to vaccines, but does that mean they shouldn't get them at all? Not at all, because we still hope they get some protection," Smith said. "What I say to my patients is, 'I'm going to give you the vaccine, but it might not work as well, so you need to go out into the world and be careful.'"
That's the attitude taken by Bianca Santos, who had a kidney transplant four years ago and continues to take immunosuppressive drugs. She received both doses of the Moderna vaccine, but knows they may not be as effective on her, so she doesn't feel the freedom many others experience post-vaccine.
She works at home and doesn't shop in person. "I never get out of my car, the most I do is drive-thru," she said. As a young person, Santos said it's depressing to look at her friends' social media accounts.
"While everyone else is thrilled about opening up, I still stay home and plan to stay home," she said. "It's very unclear to me when I'm free to be honest. Occasionally I feel sad and there are many moments when I do envy people with normal immunity after seeing their posts on social media."
Claire Trageser | Contributed
Find your latest news here at the Hemet & San Jacinto Chronicle