Reporting Deputy: Sergeant Mariano Matos III
File # Y221680024
Details:
On June 17, 2022, at 11:36 A.M., patrol deputies assigned to the city of Coachella and the Coachella Community Action Team (CCAT), responded to a shooting which occurred at an okra ranch located in the 46-300 block of Dillon Road. While deputies were responding, they received information the suspect shot at workers in a field. Members of CCAT arrived and detained the suspect, who was identified as Eduardo Pantaleon, a 19-year-old resident of Coachella. A loaded handgun was located and seized. The victims were not injured during the shooting. Pantaleon was booked at the John Benoit Detention Center in the city of Indio for attempted homicide and negligent discharge of a firearm.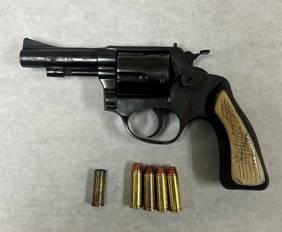 Anyone with any information regarding this incident is urged to contact Deputy Molina or Deputy Piscatella at the Thermal Station by calling (760) 863-8990 or Crime Stoppers at (760) 341-STOP (7867).
For media inquiries regarding this incident please contact the Media Information Bureau.
Find your latest news here at the Hemet & San Jacinto Chronicle