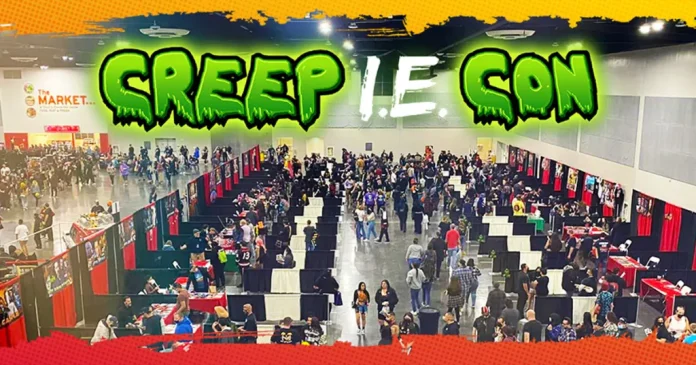 Events & Atractions
Mike Wilton | Contributor
In 2022 Southern California's Inland Empire became home to an all-new horror convention: Creep, I.E. Con. In February, the convention will make its return to the Ontario Convention Center for two days of horror-themed fun, complete with celebrity photo ops, vendors, and all-new spooky experiences.
While the event's first year amassed quite the roster of horror celebrities, including original Michael Myers actor Nick Castle, Laurie Strode from Rob Zombie's "Halloween" films, Scout Taylor Compton, and a "Killer Klowns From Outer Space" reunion complete with filmmakers, cast, and composer. This year's lineup is headlined by a "Scream" reunion that includes actors Matthew Lillard, Skeet Ulrich, Jamie Kennedy, and Lee Waddell.
Lillard and Ulrich, of course, played the original Ghostface killers Stu and Billy in the 1996 film "Scream," while Kennedy famously played movie geek Randy, who was fortunate enough to make it to the 1997 sequel before being offed. Though uncredited, Waddell was the actor behind the Ghostface killer dawning the mask and robe in both "Scream" and "Scream 2."
For fans of more modern horror, Creep I.E. Con is also bringing several members of the cast from "Terrifier 2" together, including Art The Clown himself, David Howard Thornton. Other "Terrifier 2" cast members, including Lauren LaVera, Elliott Fullam, Leah Voysey, and Felissa Rose will also be on hand at the event.
In all, Creep I.E. Con will feature over 20 horror celebrities who will be on hand signing autographs, taking photographs, and meeting with fans.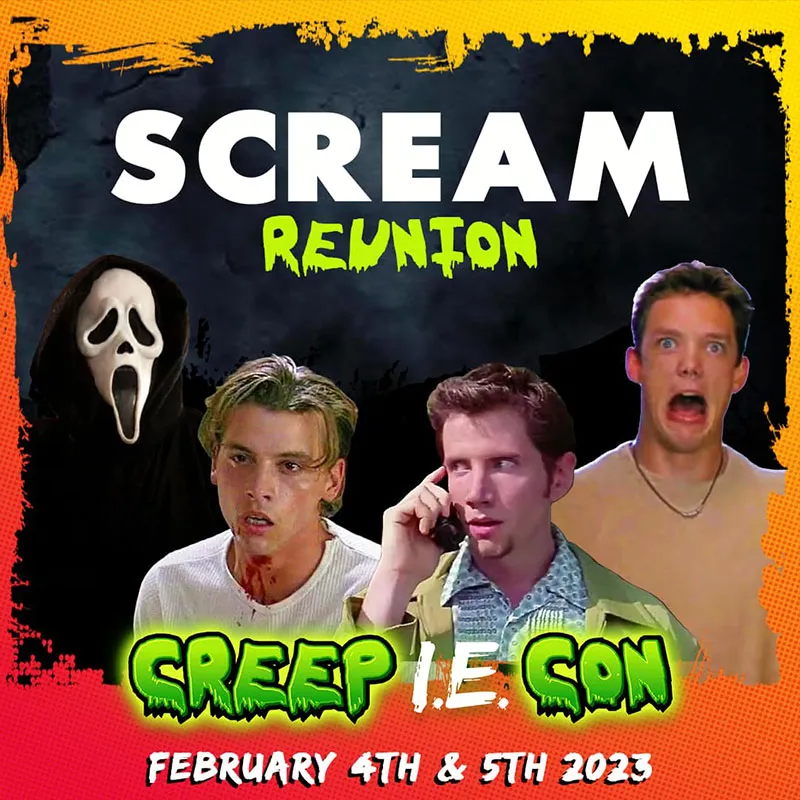 In addition to celebrity appearances, Creep I.E. Con will again feature plenty of spooky shopping opportunities, with over 150 vendors selling their horror and Halloween-themed wares on the event show floor. Other returning experiences include Horror Speed Dating, Inked in the I.E. tattoo opportunities, and an immersive display from Art's Sideshow.
New for 2023, Creep I.E. Con will have a mini haunt experience from the Inland Empire's own Fear Farm. Based in Phelan, CA, Fear Farm has become synonymous with Halloween in So Cal thanks to its annual haunt and recent installations at events like Season's Screamings, Creep It Real FESTIVE, and Midsummer Scream.
This year's event will also feature an expanded Creep I.E. Arcade, which will feature several horror and sci-fi-themed pinball, arcade, and 8-bit gaming, provided by Pixel Vault Games and RetroVolt Arcade, so be sure to bring your quarters.
Creep I.E. con will take place at the Ontario Convention Center on February 4-5, 2023. Tickets start at just $25, with single-day and weekend passes available. VIP Weekend passes have already sold out, but General Admission weekend passes are still available. Advance tickets for the professional photo op experiences are available through the Creep I.E. con website. For a complete guest lineup, more information, or to buy tickets, visit creepiecon.com.
Find your latest news here at the Hemet & San Jacinto Chronicle