This week's Alumni is DeShawn Smith from The San Jacinto Valley. DeShawn graduated in 2006 He was a three-sport athlete at SJ and was recently inducted into the San Jacinto High School Hall Of Fame. After high school, DeShawn played football college but struggled to find a situation that was good for him.
DeShawn never stopped playing football though, as many know it's hard to quit on something that has been such a major part of your life for so long. DeShawn continued his playing career with the Socal Coyotes and only recently retired in order to follow his dream of being a difference-maker in the community.
DeShawn started Camp All-In an athletic training camp for all ages to enhance their speed, power, and agility. He is on a path with Camp All-In to encourage local youth to never give up on their dreams and develop habits that will guarantee success in their future rather that's in sports or education. DeShawn's mission is to help support kids who may not get much support in their everyday lives. He wants them to know that they aren't alone and not to give up on their dreams.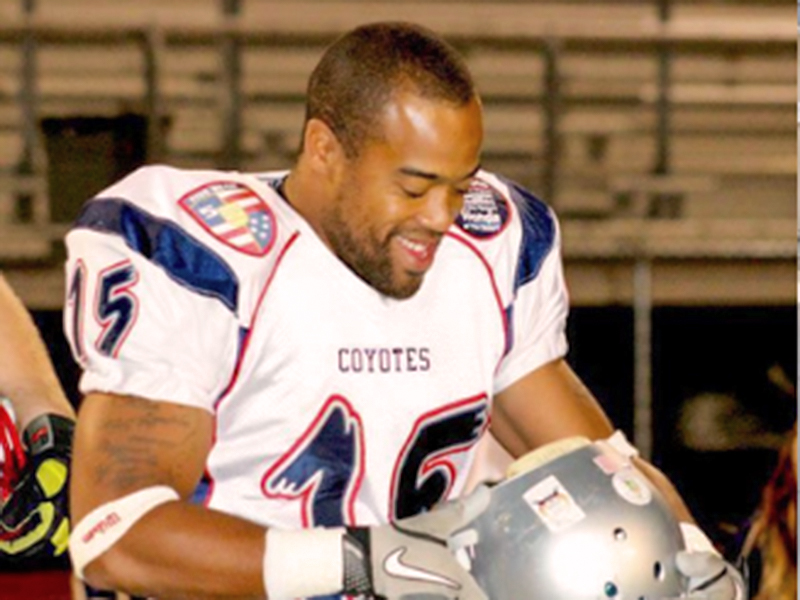 DeShawn has a very special way of putting himself on their level so that they can relate with him and is honest that maybe growing up he didn't make the best decisions, but that's why he is here to help make sure they don't follow that same path.
As much as DeShawn pushed excellence on the field, he also pushes excellence in the classroom. He wants his kids to develop a work ethic that they can use in school and sports.
Never be outworked by someone in the same room as you and hard work beat talent when talent doesn't work hard. It's DeShawns dream to have a 100% success rate of all his athletes going to college and graduating with Bachelors, Masters, or Ph.D.'s. DeShawn Smith is quickly becoming a positive influence on our community and is hoping that by investing in these kids, they will grow up to do the same thing. If you are interested in signing your kids up for Camp All-In add DeShawn Smith on Facebook.
DeShawn hopes to build a top of the art training facility for local athletes to get their work in. He believes that college athletes and professional athletes from the inland empire need a place to stay in shape during the offseason and wants to be the number one place they think of. As well as using the facility to help the youth take their game to the next level.
Do you know any alumni highlight from one of the local high schools? Send me an Email and tell me a little bit about them.