Reporting Deputy: Sergeant Robert Grmusha
File # MV222000235
Details:
On July 19, 2022, about 6:42 PM, deputies from the Riverside County Sheriff's Department, Moreno Valley Station, responded to the report of a major-injury traffic collision near the intersection of Perris Boulevard and Filaree Avenue, in the city of Moreno Valley. Deputies arrived on-scene to find the collision involved, a silver, 2010 Nissan Altima and a white, 2012 Kawasaki Ninja 650 motorcycle. The rider of Kawasaki was found lying in the roadway without a pulse and suffering from traumatic life-threatening injuries. Despite the life-saving measures attempted by CalFire, the motorcyclist was declared deceased at the scene. The driver of the Nissan, identified as 23-year-old Byron Alexander Cifuentes Saucedo of Hemet, was located uninjured near the scene and detained by deputies for further investigation.
The Moreno Valley Sheriff's Station Traffic Collision Reconstruction Team responded to the scene and assumed the investigation. The preliminary investigation revealed the Nissan was traveling eastbound on Filaree Avenue when it entered the intersection with Perris Boulevard without first stopping for a red signal light. As the Nissan continued through the intersection, the Kawasaki motorcycle collided with the Nissan's driver side, causing the rider to be ejected forward from the motorcycle, subsequently causing the life-threatening injuries. Directly following the collision, several bystanders reported that Saucedo attempted to flee the collision scene by running into a nearby neighborhood, but he was unsuccessful after several witnesses physically restrained him until deputies arrived.
Following the collection of evidence and receiving additional information during the investigation, alcohol and drugs were considered to be a suspected factor in the collision. Byron Alexander Cifuentes Saucedo was subsequently arrested and booked into custody at the Robert Presley Detention Center for Felony Vehicular Manslaughter and for Felony Hit and Run. The identity of the other involved parties will not be released pending further investigation and notification to the next of kin.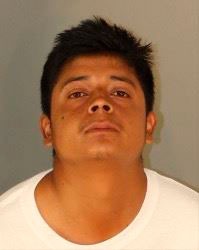 The collision investigation required the closure of Perris Boulevard, between John F. Kennedy Drive and Gentian Avenue, for scene processing and evidence collection.
Anyone with information about this incident is encouraged to call Deputy Jonathan Glass of the Moreno Valley Sheriff's Station at 951-486-6727 or the Riverside County Sheriff's Department at 951-776-1099
For media inquiries regarding this incident please contact the Media Information Bureau.
Find your latest news here at the Hemet & San Jacinto Chronicle