In celebration of its 100th anniversary, the Historic Hemet Theatre will hold a Century Celebration on Wednesday August 25th at 5:30 pm.
The event will be a special chamber mixer, hosted by the Hemet San Jacinto Valley Chamber of Commerce and the Greater San Jacinto Valley Chamber of Commerce. This will be the first time an event has been hosted by both of the Chambers of Commerce in the valley. Admission is free and open to the public.
Festivities will include awards by both the City of Hemet and the City of San Jacinto, as well as presentations by local dignitaries.
There will also be a raffle with prizes donated by local businesses and a live auction of a signed print by Thomas Kincade. Proceeds will benefit the HHT Building Fund.
Light appetizers and beverages (including beer and wine) will be served.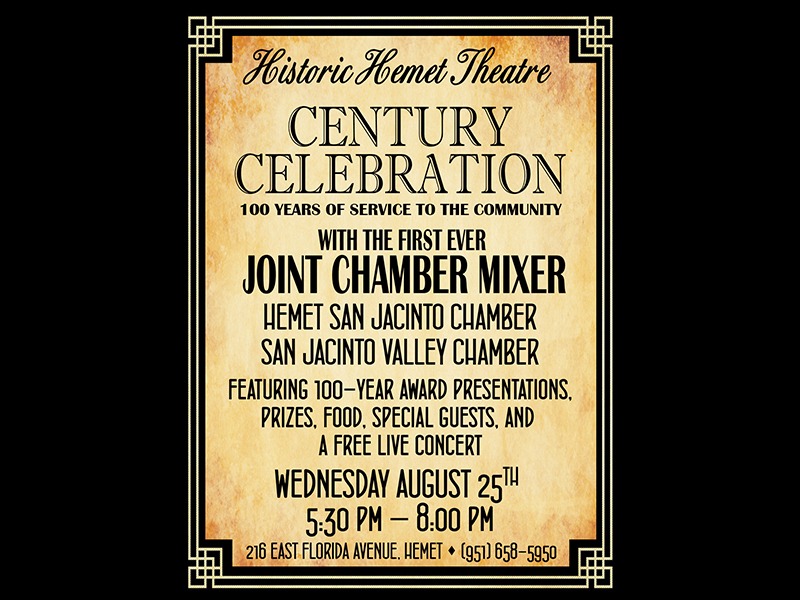 The Century Celebration will conclude with a live performance by "Pure Bread," performing their Tribute to David Gates and Bread. The group was one of 5 bands that played for last month's Celebration of Life, with rave reviews.
There are 8 shows remaining in the 2021 Tribute Mania Concert Season: Tribute to Santana, with Smooth Sounds of Santana (Aug 7), Tribute to Tina Turner, featuring Debby Holiday (Aug 14), Tribute to Neil Diamond, with Hot August Night (Aug 21), Tribute to Led Zeppelin, with Led Zepagain (Sept 4), Tribute to Bob Seger, with Turn the Page (Sept 18), Tribute to Foreigner. featuring 4NR (Oct 2), Tribute to The Beatles, with Hard Day's Night (Oct 16), and Tribute to Fleetwood Mac with Mirage (Oct 23).
Tickets for Tribute Mania are $25, general admission. Showtime is 7:00 pm, with doors open at 6:15 pm.
Information on all theatre events is available at www.HistoricHemetTheatre.com or by calling the ticket office, (951) 658-5950. You can subscribe to the HHT email blast by enrolling on the website.
Event tickets are available at the theatre Box Office (Monday thru Friday 11 am to 5pm) or online at www.PurplePass.com.
Tickets are also available at the Downtown Deli, 113 N Harvard St and the Harvard Street Music Exchange, 134 S Harvard St.
Emily Rand | Contributed
Find your latest news here at the Hemet & San Jacinto Chronicle