Soboba Band of Luiseño Indians | Contributed
Noli Indian School on the Soboba Indian Reservation held its Class of 2023 commencement ceremony at the Soboba Casino Resort Event Center on May 30. The room was filled with family, friends, teachers, staff and other well-wishers who enthusiastically showed their support of the 14 graduates with applause, cheers, confetti, flowers and oversized balloons.
After the students entered the room, they paused in the aisle. Then, one at a time, they walked to the stage to be seated as a pre-recorded introduction they had prepared was played. In their own words, each thanked their loved ones, teachers and others for their support along with sharing a favorite quote or school memory. Twelve of them have already committed to a four-year university, two-year college or trade school and many shared their future plans.
Sienna Goff recited a quote from Chief Joseph: "It does not require many words to speak the truth." She is headed to the University of Redlands to major in Business Administration. Faith Vega will also attend the University of Redlands to study nursing. "I know it will be difficult but I'm up for the challenge," she said. Her favorite quote is one by Eminem: "Dealing with backstabbers, there was one thing I learned. They're only powerful when you've got your back turned."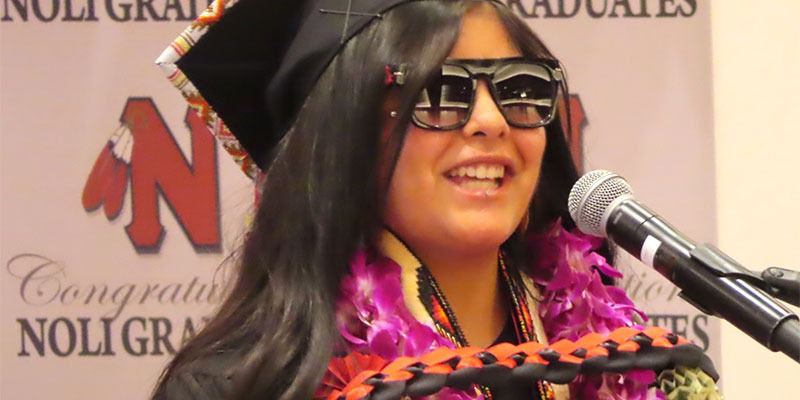 Once all the students were seated, Principal Donovan Post welcomed everyone and explained the memory chair that was in front of the stage, draped in white and adorned with flowers.
He said the classmates of Beto Arres wanted to take time to remember a friend who is not forgotten. Beto, who was part of the class of 2023, passed away as a freshman. A framed photograph sat on the chair in his place. Post asked for a moment of silence before introducing members of the Soboba Tribal Council and Noli School Board who were on hand to congratulate each student as they received their diploma.
Damon J. Miranda Jr. provided a blessing before guest speaker Richard Moreno took to the podium. A former teacher at Noli Indian School, which serves grades 6-12, Moreno had taught many of the graduates who have been attending the school since sixth grade, the year he began teaching there. When he left at the end of last year, he told the students he would return to celebrate their graduation.
"This is a momentous day for me as an educator to see the true value of the work we do on a day-to-day basis in our classrooms," Moreno said. "It was a sincere privilege to stand before you to present a lesson to you each day. Think big, dream big and don't forget you are somebody."
Sisters Iyana Briones and Tatianna Briones were this year's valedictorian and salutatorian, respectively. Their mother, Tracy Briones, said the girls are 11 months apart in age and only became competitive towards the end of high school. Both enjoyed some of the same activities, such as serving on the Soboba Youth Council and being part of the Beading Club.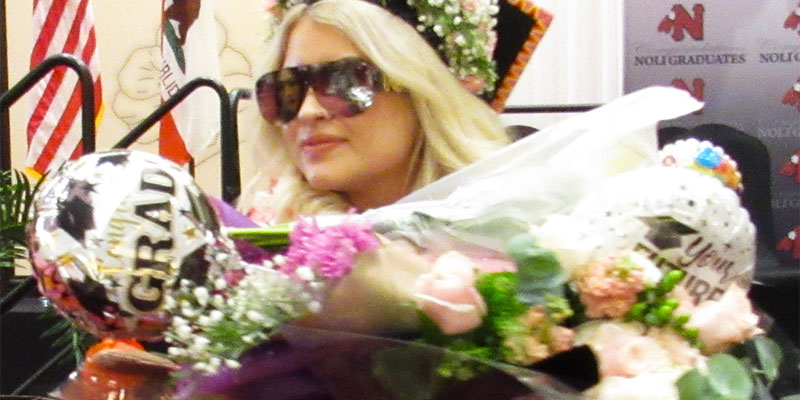 "Iyana is very social and likes to help and be involved, sharing what she knows," Tracy said. Iyana, 18, has received a full-ride scholarship to the University of Hawaii where she will major in Business Administration. Her mother said she mentioned possibly returning to the reservation to serve as Soboba Tribal Chairwoman one day.
"Tatianna likes to do her own thing, her own way," her mother said. While both have expressed a desire to go places and try new things, Tatianna, 17, will be attending San Joaquin Valley College to study in its Dental Hygiene program.
Iyana and Tatianna grew up with 13 older siblings and Tracy said now that they have graduated from high school she and her husband Julian are looking forward to traveling and continuing to enjoy life.
In her speech Tatianna, who goes by "Roo," congratulated her fellow classmates and said, "Remember what J cool said: 'there's beauty in the struggle and ugliness in the success.'" Iyana, known as "Tot," said she was grateful to be Noli's valedictorian. "I am proud of the hard work that was put in, like earning honor roll throughout high school." She thanked those who have helped her on her academic journey.
"I encourage all my peers that will walk across this stage tonight to live in the moment and live your best life to the fullest. Let's go make the best of our lives. J Cool once said, 'There's no such thing as a life that's better than yours' and that is just a simple reminder to never compare your life to anyone else's. There's no comparison between the sun and the moon; they both shine when it's their time. Class of 2023 – our time to shine is right now."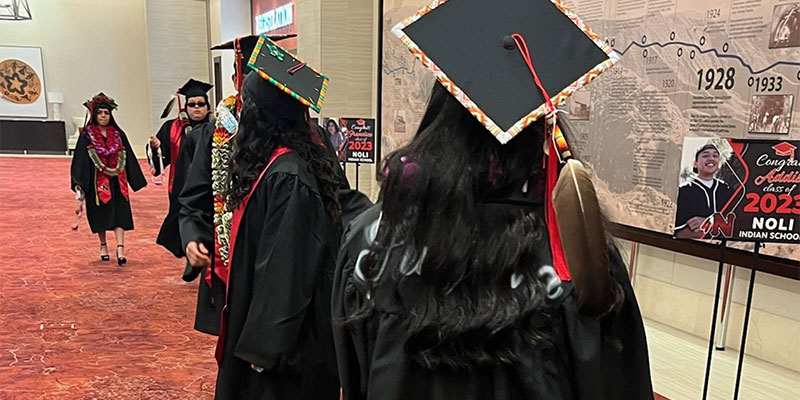 Graduates, with their Tribal affiliations, are Iyana Briones, Soboba Band of Luiseño Indians; John M. Briones, Soboba Band of Luiseño Indians; Tatianna Briones, Soboba Band of Luiseño Indians; Debra Chapparosa, Los Coyotes Band of Cahuilla Indians; Anthony Contreras, Los Coyotes Band of Cahuilla Indians; Sienna May Goff, Pauma Band of Luiseño Indians; Angelo Leivas, Chemehuevi Indian Tribe; Addis Martin, Morongo Band of Mission Indians; Javier Martinez, Cahuilla Band of Indians; Ciara Ramos, Soboba Band of Luiseño Indians; Isabella Resvaloso, Soboba Band of Luiseño Indians; Nashashuk Resvaloso, Soboba Band of Luiseño Indians; Francisca Rivera, Soboba Band of Luiseño Indians; and Faith Vega, Soboba Band of Luiseño Indians.
Find your latest news here at the Hemet & San Jacinto Chronicle