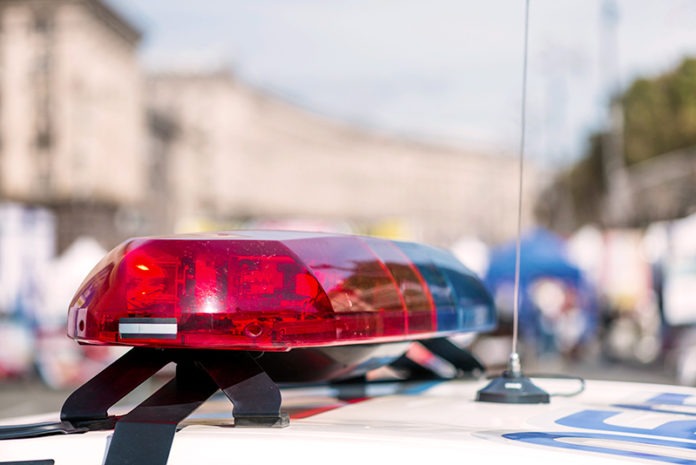 Details:
The Riverside County Anti-Human Trafficking Task Force (RCAHT) in partnership with the La Quinta Special Enforcement Team, Palm Desert Special Enforcement Team, Lake Elsinore Special Enforcement Team, Temecula Special Enforcement Team, Riverside Police Department and Murrieta Police Department effected sixty-four arrests during a nearly week-long proactive enforcement operation that targeted online prostitution and those whose demand for these unlawful activities fuels an illicit underground economy, both locally as well as across the State of California. Riverside County's role in this operation, dubbed Operation Reclaim & Rebuild, ran for four consecutive days before concluding on January 28, 2021. Operation Reclaim & Rebuild is an annual multi-agency statewide initiative that focuses on rescuing victims of sexual slavery and human trafficking, identifying and arresting their captors, and disrupting demand for these vulnerable victims. Operation Reclaim & Rebuild is timed to coincide with National Human Trafficking Awareness Month and serves as a reminder that human trafficking will not be tolerated in California.
Last year's "Operation Reclaim & Rebuild" included participation from over 70 law enforcement agencies statewide and resulted in 76 adult and 11 minor victims being recovered; 266 males arrested for the charge of Solicitation; and 27 suspected traffickers and exploiters arrested. In total, 518 arrests were made.
For this year's operation, RCAHT task force members and our allied Riverside County law enforcement partners held operations in the cities of Lake Elsinore, La Quinta, Murrieta, Riverside, Palm Desert and Temecula. Over the span of four consecutive days, the task force arrested 61 males and one female for solicitation of prostitution, one male for soliciting a minor for lewd purposes, and one male for supervising/aiding a person to commit prostitution.
RCAHT Task Force members also made contact with two adult females believed to be victims of sex trafficking. Initial investigations led the task force to believe these subjects were being forced to engage in acts of prostitution against their will. The identity of these victims will not be released pursuant to state confidentiality laws. The victims were referred to victim services for assistance as the investigation into their sex trafficking continues.
RCAHT Task Force members placed decoy advertisements on popular classified advertisement web sites commonly used for the solicitation of prostitution. These RCAHT Task Force members then responded to prospective customers who replied to these advertisements. Once an agreement for prostitution was brokered, the customers were arrested upon their arrival at a pre-determined meeting location. Concurrently, other task force members negotiated agreed upon acts of prostitution based upon other escort advertisements that were posted online in the area. In these instances, females who responded to the undercover task force members posing as customers were directed to meet. After their arrival and an interview, if the females were determined not to be victims of human trafficking, they too were arrested.
Arrested during the operation for Soliciting a Minor for Lewd was:
Issac Mciver, 26 of Lakewood (Not Pictured)
Arrested during the operation for Supervising/Aiding a Person to Commit Prostitution was:
Corey Wiggins, 20 of Moreno Valley
Arrested during the operation for solicitation of prostitution were: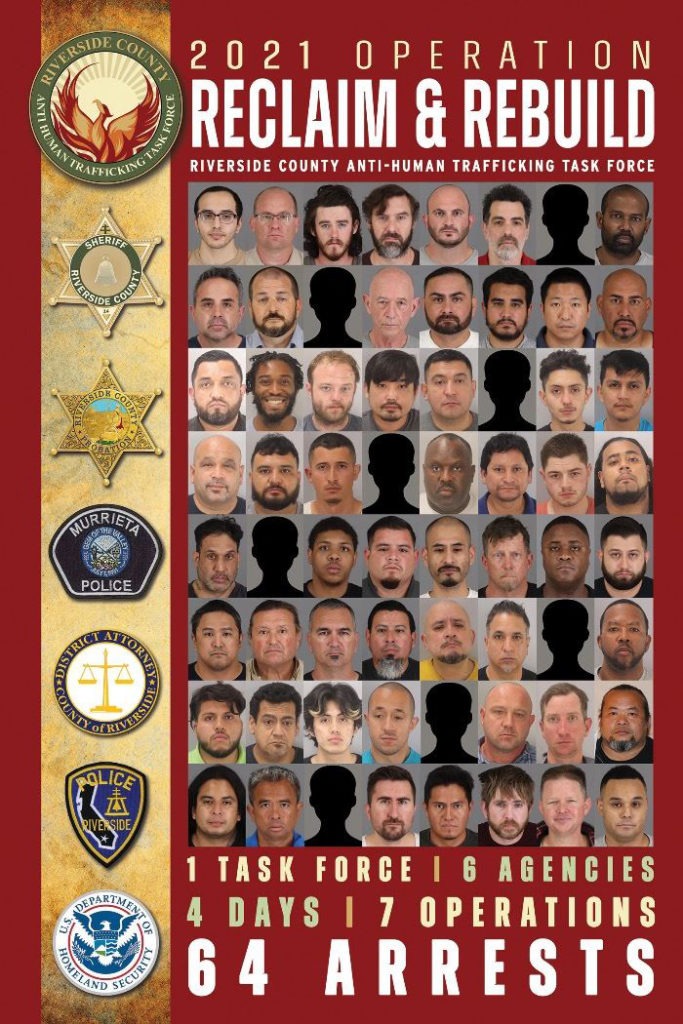 Audon Aguilera-Cortez, 26 of Riverside (Not Pictured)
Ian Alexander, 51 of Long Beach
Gabriel Alvarez, 28 of Coachella
Ethan Andrews, 29 of Menifee
Daniel Arriaga-Diaz, 27 of Ontario (Not Pictured)
Douglas Ayala, 43 of Twentynine Palms
Matthew Babb, 26 of Bishop (Not Pictured)
Monte Bertoldo, 53 of Palm Springs
Kivanc Bilgin, 36 of Murrieta
Scott Borel, 42 of Murrieta
Anousack Bounyadeth, 47 of Menifee
Rutilio Brito, 33 of La Quinta
Eduardo Calderon, 32 of Los Angeles
Sergio Castaneda, 37 of San Bernardino
Wilson Chen, 33 of Lake Elsinore
Dak Chim, 37 of Rosemead
Rodolfo Cortez, 37 of Riverside
Anthony Dagnenica, 52 of Menifee
Andrew Diaz, 23 of Lake Elsinore
Michael Eder, 45 of Murrieta
Margarito Escobar-Orozco, 34 of Lake Elsinore
Bryan Gaboury, 45 of Chino
Armando Gatewood, 32 of Murrieta
Anthony Gonzales, 43 of Chino
John Hald, 50 of Hesperia
Donovan Heard, 42 of Huntington Park (Not Pictured)
Stefan Hyatt, 34 of Apple Valley
Robert Johnson, 72 of Winchester
Nathan Keys, 23 of Bellflower (Not Pictured)
Gari Leal-Vallejo, 35 of Menifee
Alberto Leon-Lopez, 26 of Vista
Florencio Lopez, 50 of Thermal
Randall Lopez, 65 of Azusa
Roberto Lopez, 47 of Bermuda Dunes
Rodrigo Macias-Leal, 21 of Cathedral City
Quincey Morton, 41 of Los Angeles
Hai Nguyen, 50 of Mission Viejo
Wesley Orta-Marcano, 26 of Menifee
Daniel Martin, 42 of Murrieta
Ricardo Pachuca, 23 of Indio
Justin Parish, 46 of Murrieta
Juan Poblano-Martinez, 48 of Thermal
Goldsborough Purnell, 62 of Palm Springs
Eliuth Ramirez, 22 of Thermal
Enrique Ramirez, 23 of Thermal
Travis Risner, 41 of Murrieta
Lenard Rodriguez, 25 of Harbor City
Guadalupe Rosales, 44 of Perris
Adam Sambrano, 39 of Indio
Francisco Scott, 38 of Coachella
Marius Simmons, 47 of Temecula
Anthony Smith, 26 of Palm Desert
Kyle Smith, 26 of Palm Desert
William Spicknall, 37 of Palm Desert
Thomas Stanford, 42 of Indio
Christopher Stiles, 26 of Moreno Valley
Christopher Teague, 23 of Aguanga
Geoffrey Torres, 53 of Lake Elsinore
Mason Tubiolo, 27 of Temecula
Manuel Vega, 44 of Thermal
Gilbert Vita, 27 of La Habra (Not Pictured)
Ivory Woodly, 21 of Lynwood (Not Pictured)
Subjects arrested during this operation were transported to the detention center in closest proximity to the operational area(s) each day. During this multi-day operation, bookings occurred at the John B Benoit Detention Center in Indio, Cois M. Byrd Detention Center in Murrieta, and the Robert Presley Detention Center in Riverside. Following booking, each arrestee was ultimately released upon their written promise to later appear in court.
The RCAHT Task Force extends its sincere appreciation to the Southwest Sheriff's Station, Lake Elsinore Sheriff's Station, Palm Desert Sheriff's Station, Thermal Sheriff Station, Riverside Police Department, and Murrieta Police Department for their support in conducting these joint operations. Without the commitment of personnel and resources from each of these participating agencies, these operations would not have been met with the same level of success.
Prostitution is not a "victimless" crime. Ninety-five percent of sex trafficking victims are women or children. Those victimized by commercial sexual exploitation frequently have long histories of emotional, physical, and/or sexual abuse or trauma in their backgrounds. The National Center for Missing and Exploited Children estimates 1 in 6 endangered runaways reported are likely victims of sex trafficking. Sex trafficking victims are often subjected not only to severe forms of emotional, physical, and sexual abuse at the hands of their trafficker but are also frequently physically and sexually assaulted by those that solicit them for prostitution.
The Riverside County Anti-Human Trafficking Task Force seeks to disrupt and dismantle sex trafficking rings operating within Riverside County and will aggressively identify, pursue, and apprehend those who seek to exploit those who are most vulnerable. Through proactive enforcement operations such as Reclaim and Rebuild, RCAHT works to reduce future demand for sex trafficking by identifying and arresting sex buyers.
Anyone with questions about this operation can contact Sergeant Eric Menchaca or Sergeant Jose Tijerina of the RCAHT Task Force at (951) 955-1700.
The Riverside County Anti-Human Trafficking Task Force was formed in 2010 and the eastern Riverside County Anti-Human Trafficking Task Force was formed in 2020. Both address crimes involving the exploitation of victims via force, fraud, or coercion. These cases often involve the commercial sex trafficking of children, as well as incidents of forced labor, indentured servitude, debt bondage, or slavery. The RCAHT Task Force is a multidisciplinary task force that combines the investigative resources of both local and federal law enforcement. The RCAHT Task Force also provides victim services and education/outreach through partnerships with the non-profit groups Operation SafeHouse, Rebirth Homes, Run 2 Rescue, and Million Kids. The law enforcement component of RCAHT is currently composed of the Riverside County Sheriff's Department, the Riverside County District Attorney's Office Bureau of Investigations, Homeland Security Investigations, the State Department's Diplomatic Security Service, the Federal Bureau of Investigation, the Riverside County Probation Department, along with part-time participation of the Hemet Police Department, Riverside Police Department, and Desert Hot Springs Police Department.
For media inquiries regarding this incident please contact the Media Information Bureau.
Find your latest news here at the Hemet & San Jacinto Chronicle