Reporting Deputy: Sergeant Carlos Garcia Villa
File # L231860099
Details:
On Wednesday, July 5, 2023, at 7:05 PM, deputies from the Lake Elsinore Sheriff's Station responded to the 18000 block of Collier Avenue, in the city of Lake Elsinore, reference a robbery that had just occurred at a business.
Three male suspects wearing face masks entered the store, forced employees to open the secure inventory room, and took numerous mobile devices before fleeing the location in a vehicle. A description of the vehicle was obtained, and the vehicle was last seen heading northbound on Interstate 15.
Lake Elsinore Sheriff's Station deputies, along with deputies from the Lake Mathews Sheriff's Station, coordinated a quick response and the suspect vehicle was subsequently located driving northbound on Interstate 15. Lake Mathews Station deputies attempted to perform a traffic stop, but the vehicle fled at a high rate of speed and a pursuit ensued. Numerous outlining agencies assisted with the pursuit until its conclusion in the unincorporated area of Highland, in San Bernardino County.
Three suspects were detained at the conclusion of the pursuit and identified as Kentrel Forby, a 23-year-old resident of Rialto, Tyler Vansickle, a 27-year-old resident of Highland, and Handy Nathaniel Blocker, a 19-year-old resident of Highland. A fourth suspect is outstanding. A search warrant was authored and approved for the suspect's vehicle. During the service of the search warrant numerous electronic devices related to the robbery were recovered.
Kentrel Forby, Tyler Vansickle, and Handy Blocker were transported to the Cois Byrd Detention Center and booked in for robbery, conspiracy, felony evading, and organized retail theft.
This is an ongoing investigation. Anyone with additional information is encouraged to contact Deputy Noel of the Lake Elsinore Sheriff's Station at 951-245-3300.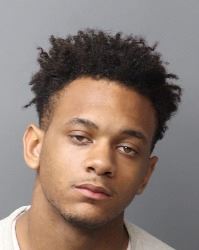 As a reminder, "Community Policing" involves partnerships between law enforcement and community members. Business owners and residence are encouraged to report criminal activity directly to law enforcement by calling Sheriff's Dispatch at 951-776-1099, or by calling 911 if the matter is an emergency.
For media inquiries regarding this incident please contact the Media Information Bureau.
Find your latest news here at the Hemet & San Jacinto Chronicle