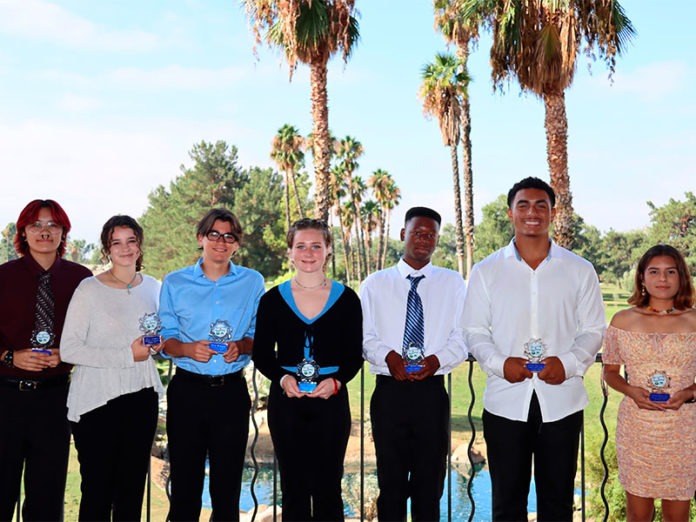 Diane A. Rhodes | Contributed
The Hemet/San Jacinto Student of the Month program held its most recent recognition event at the Maze Stone restaurant at Soboba Springs Golf Course, Sept. 15. Seven local high school seniors were recognized and honored for their character, love of learning and commitment to academics in addition to their involvement in school and community activities and their ability to overcome difficult life challenges.
And they do this all in a setting that honors God, America, family, community and free enterprise. Students are nominated by teachers or other school personnel for making a difference in their homes, schools and communities. Program founder and event facilitator Karena Zermeno also represents one of the sponsors, Altura Credit Union. Backpacks filled with gifts, a Student of the Month award, certificates of recognition and much more were donated by the program's sponsors to the award recipients.
Each student was invited to the podium to share their personal story, past challenges and future goals with a room full of supporters that included principals, teachers, peers, family members as well as community and school district dignitaries. September's students of the month from Hemet Unified School District schools are Alyssa Gandara, Xavier Gonzales, Stephanie Martinez Anaya, Owen Newborn and Kylie Wallace. San Jacinto Unified honorees for September are Jonte Cooley and Aro Rodriguez.
Hemet Unified School District Alyssa Gandara from The Academy of Innovation was adopted by her aunt and uncle at the age of five which she said gave her a new and better family to be by her side. She said school was always a challenge for her because she wasn't motivated. After getting involved in school activities and engaging with teachers and classmates at AOI, she started looking to her future and keeping her mind on the right things.
She volunteers at the San Jacinto Wildlife Refuge and wants to work for a degree in criminal justice and/or psychology at college. Tahquitz High School's Xavier Gonzales was nominated by his CIF Championship Cheer Squad coach Sarah Peterson. He takes Advanced Placement courses, is on the football and track and field teams and participates in AVID. Peterson said Xavier is an excellent student and superior athlete who selflessly leads by example and is a wonderful mentor for the younger students. "At Tahquitz we have a statement, 'Always show that Titan Pride' and pride at our school stands for more than just one's accomplishments," he said. "The P stands for passion and I'm passionate about my academics as well as my involvement in all of the extracurriculars outside of school. I also look for the kids that don't have friends and try to be that for them because at one point, I was that kid that didn't have friends.
R is for respect and I have profound respect for all of my teachers." He said I is for integrity, which means not to expect to have anything handed to you and D is for determination, admitting that the past few years have really tested his. His grandmother, who he was very close to and was always in his corner, passed away from COVID-19. After his aunt was diagnosed with Stage 4 cancer and moved in with his family, Xavier took care of her. Through it all, he maintained his grades and tried to be a good example for his younger siblings. "E is for excellence and I want to be the best that I can be. The last year and a half have been very difficult, but I let pride surround me," Xavier continued. "I plan to study engineering and business at the University of Hawaii. I want to thank all the sponsors and supporters here today for letting us be a change in this world." Stephanie Martinez Anaya is Hamilton High's choice for September.
Very active at her school, she serves as class president, is captain of her cross country and track teams among many other activities. She has received two national recognition awards from the College Board. She hasn't confirmed a career choice but is considering becoming an architect or a math teacher. What she does know is that whatever she chooses, she wants to be successful. "My community at Hamilton and my family play key roles in my life," Stephanie said. "I feel like being a good friend is the greatest of my achievements and contributions to my community. Being somebody that can be trusted and confided in is what I base my character off of." She said the most significant life lesson she's learned is that everyone is going through their own struggles in life so at the end of the day being a decent human being and treating others with respect is the most honorable thing we can do as people. "Knowledge is power and so is one's voice," Stephanie said. West Valley High School singled out Owen Newborn to be recognized this month. His English teacher described him as having an incredibly unique personality with a sparkle that fills up a room.
As a student of the arts, he has already read most of classics that have been assigned to the class. He writes poetry and his own plays and exerts a positive energy. "Optimism is the main trait that I've always tried to keep," Owen said. "I want to go to a good college like UCLA. I want to be a part of film and writing and I want to be able to live out my dreams of telling these stories that I write and make." Like many others, 2020 was a difficult year for Owen and not just because of the pandemic lockdown. He lost two pets, his best friend moved away and his parents got divorced. With all those challenges he felt like giving up but said he knew he had to look at all the positives in his life such as his brother, theater, friends and his connection to the community.
Hemet High's Kylie Wallace is an outstanding student and a cancer survivor. She was nominated by counselor Dawn Sonnier who described her as the definition of courage, strength, determination and joy. Kylie was diagnosed with Stage 2 Hodgkin's lymphoma last year and endured tests and treatments that didn't deter her from maintaining a 3.9 grade point average. She plans to attend Grand Canyon University's kinesiology program. "I feel that my greatest contribution to my school and my community is that I love helping people in any way that I can. Seeing people happy makes me happy," Kylie said. "As of yesterday, I'm six months cancer free. I beat cancer and am now stronger. I'm unable to play sports but I want to be an athletic trainer. I'm going to take to college the life lesson of always having a positive mindset. I love to make people happy and to make people smile and I will continue to do that because I feel a smile can go a long way."
San Jacinto Unified School District Jonte Cooley from Mountain View High School is a standout student who earned the respect of all the staff and made some great friends on campus. Principal Ken Swanson said the young man always accepts people as they come to him. After a challenging childhood where his parents were in and out of jail and he was raised by grandparents since he was four years old, he said change is possible if you are determined to make a difference. He experienced social anxiety and untreated ADHD throughout elementary school. Once he went to live with his aunt and started attending Mountain View, he began to focus on his studies to make himself proud. "Hard work doesn't go unrewarded.
I plan to go to Cal Poly and become a civil engineer to change things," Jonte said. "I plan to give back to the community by building more homes and workplaces in the valley." San Jacinto High School chose Aro Rodriguez as its outstanding student for September. Their plan is to major in biology with the goal of becoming a medical assistant. Their AP English teacher Richard Burton said, "I have been lucky enough to teach Aro in AP Language and AP Literature. For that, I am grateful and humbled, and here is why. In my teaching career, I have yet to meet a young person with as keen an intellect as Aro, a desire to inaugurate substantial change in their world as Aro and a tireless will to protect and advocate for the most vulnerable of our students as Aro.
To look in the eyes of another and try to discern their response to our conduct is the most accurate way to understand who we are in the world and the impact we make. Aro, I hope you know that we can only respond with deference, awe and admiration. I speak for so many when I say we are better for knowing you as you've imparted a portion of your unflagging spirit to each of us; the world is undoubtedly a better place with you in it. Thank you for allowing us to be a part of your life." Aro said, "I started to realize I was trans in the middle of my sophomore year. I felt very confused and had low self-esteem because I didn't feel sure of myself. When I expressed these feelings to my closest cousins and friends, I was met with validation and open arms.
With their support I felt safe enough to live as my true self and I realized how good it felt to not force myself to be someone I wasn't. I try to pay it forward by advocating not just for myself but for others as well." Closing remarks SJUSD superintendent Dave Pyle said at each monthly Student of the Month breakfast, a different theme resonates with him and this month it appears to be the true meaning of friendship, both giving and receiving. "I highly encourage you, after checking with your parents first, to find one another on your social media accounts so you can connect and fill yourself with positive information from one another.
Make this group and continue this group and encourage each other, as you're all part of this same stage of life." For more information, www.studentofthemonth.net.
Find your latest news here at the Hemet & San Jacinto Chronicle