The Hemet/San Jacinto Student of the Month program presented its annual "Night of the Stars" on May 13, to announce its Student of the Year scholarship recipients. Chosen from those who had previously been honored as a Student of the Month during the 2020-2021 school year, one overall winner from each school was chosen to receive a $2,000 scholarship. Other nominees received a $100 gift card, and all got a keepsake box engraved with their name, the program's logo and lots of goodies from program sponsors.
Due to the COVID-19 pandemic's limitations regarding public gatherings, the event was held virtually. More than 75 participants logged in to the Zoom meeting to watch a video created by John Hess of Creative Industries Media Group and FilmmakerIQ.com that highlighted past interviews before showing the Student of the Year winner from each school. Program founder and emcee for the event, Karena Zermeno, also represented Altura Credit Union, one of the sponsors.
"You are all winners in our eyes; you have all overcome a challenging year, to say the least," Zermeno told the students who had logged in. "Your applications were an inspiration to all our judges."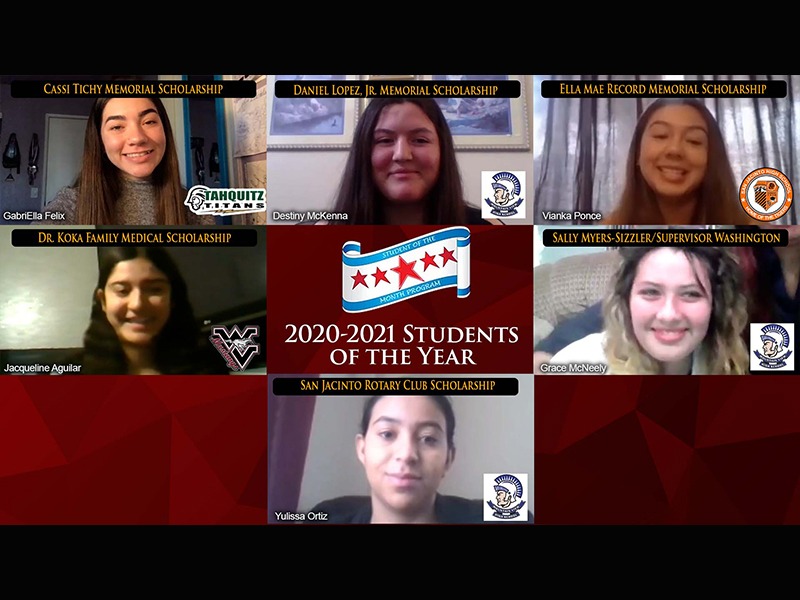 An introductory videotaped message from Dr. Edwin Gomez, Riverside County Superintendent of Schools, was shown and he stated he wished everyone could meet in person to celebrate the students' achievements.
"It is my honor to be with you tonight to honor all the shining stars in the San Jacinto and Hemet unified school districts," he said. "I'd like to congratulate all of the student of the month recipients from this last year as well as the supporters of this important program that elevate the inspiring voices and experiences of our students every single month."
Gomez said that even though Riverside County has the highest graduation rate among all the large counties in California, the numbers don't tell enough of the story.
"We also want our students to have the highest rate of graduation from colleges and universities and return to our region to help build up the next generation of leaders who take the time to lift up others along their journey," he said.
The seven students of the year are Brooklyn Bush, Paola Gutierrez, Vanessa Hinojosa Contreras, Gerardo Mateo Calel, Jasmine Resvaloso, Aurora Thomson and Emily Ward.
Hemet High's Brooklyn plans to major in art history and minor in life sciences before entering medical school to become an obstetrician. Paola of Tahquitz High School plans to become a doctor. Vanessa, from West Valley High, plans to return to Hemet Unified School District as a teacher once she completes her higher education. Mountain View High School senior Gerardo plans to attend trade school so he can have a successful career in the trucking industry. San Jacinto High's Jasmine plans to major in political science before continuing her education at law in her pursuit of a family law career. Aurora, from the Academy of Innovation (one of three HUSD alternative schools that rotate students of the month throughout the year), said she felt her greatest contribution to her family and her school was her dedication. When Emily was chosen as Hamilton High's student of the month in January she said, "I plan to give back to my community by using my skills to help lead young people down the right path and be there for them and do all that I can to help them, like the community did for me."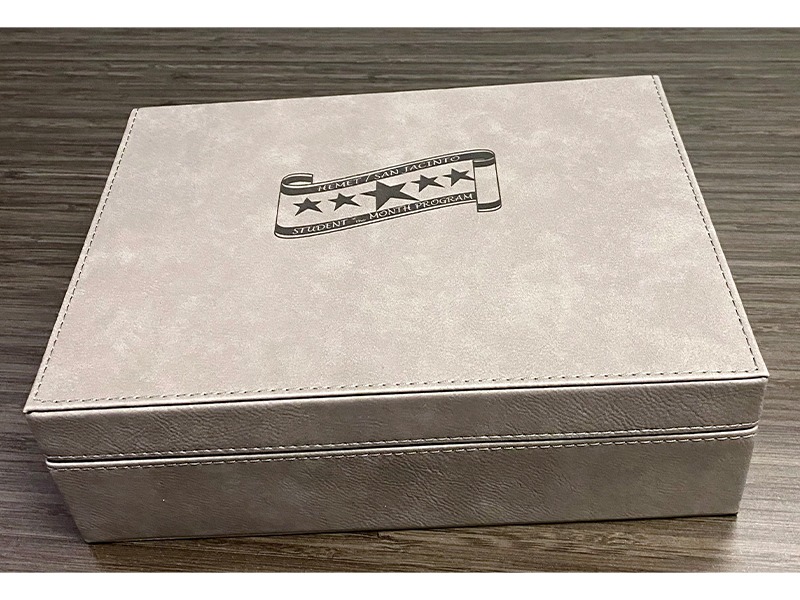 Six additional scholarships, at $500 each, were awarded to students who met the criteria set by the individual donors. Recipients were GabriElla Felix, Tahquitz High, Cassi Tichy Memorial Scholarship; Destiny McKenna, Mountain View High/Mountain Heights Academy, Daniel Lopez Jr. Memorial Scholarship; Grace McNeely, Mountain View High/Mountain Heights Academy, Sally Myers-Sizzler/Supervisor Washington Scholarship; Yulissa Ortiz Antunez, Mountain View High/Mountain Heights Academy, San Jacinto Rotary Club Scholarship; Vianka Ponce, San Jacinto High, Ella Mae Record Memorial Scholarship; and Jacqueline Renteria Aguilar, West Valley High, Dr. Koka Family Medical Scholarship.
Mountain View Alternative Schools Principal Ken Swanson said he is thankful to the Hemet/San Jacinto Student of the Month program for honoring Destiny, Gerardo, Grace and Yulissa with scholarships to further their education and achieve their goals.
"It is an amazing group of people who choose to honor our students in the valley who have succeeded in the face of hardships," Swanson said. "Recognizing and honoring students who have chosen to attend an alternative school goes a long way toward changing perceptions about alternative education."
The program's goal of recognizing and inspiring academic excellence was met, according to HUSD Superintendent Christi Barrett when she addressed the students at the conclusion of the event.
"I am filled with pride and joy this evening," she said. "In the midst of so much uncertainty over the course of this past year, you have provided a lot of certainty in the lives of those around you. You are changemakers."
Information, www.studentofthemonth.net
Diane A. Rhodes • Contributor
Find your latest news here at the Hemet & San Jacinto Chronicle