Soboba Band of Luiseño Indians | Contributed
The 12th annual Relay For Life of Riverside County East and Soboba Foundation event to recognize cancer survivors and their caregivers was held July 29 at the Soboba Casino Resort Event Center. The nautical theme tied into the message of hope for survivors and that caregivers often serve as an anchor for them.
Emcee Bob Baker was also honorary Captain for the evening's voyage. "We've all come here tonight in hope. Hope that anyone facing cancer will find the care and the support they need. Hope of a cancer-free tomorrow," he said in his welcoming comments. "Cancer survivors are the living proof that we're making a difference in the fight against this disease. Never lose hope."
Cathi Hill-Baker, Senior Development Manager for the American Cancer Society, plans the annual event with help from many volunteers, friends and family members such as her husband, Bob.
"Having the support of the Soboba Foundation is priceless," Hill, of Banning, said. "The partnership that has grown over the past 15 years since our first time on their Lip Sync Contest stage has grown into an amazing relationship. The Foundation has been there to support the Relay For Life event each year for the past 15 years. They also have supported our many feeder events such as golf tournaments, casino nights, 5k mud runs, annual cornhole tournaments and our upcoming ugly sweater 5K in December, which is a first-time event for us."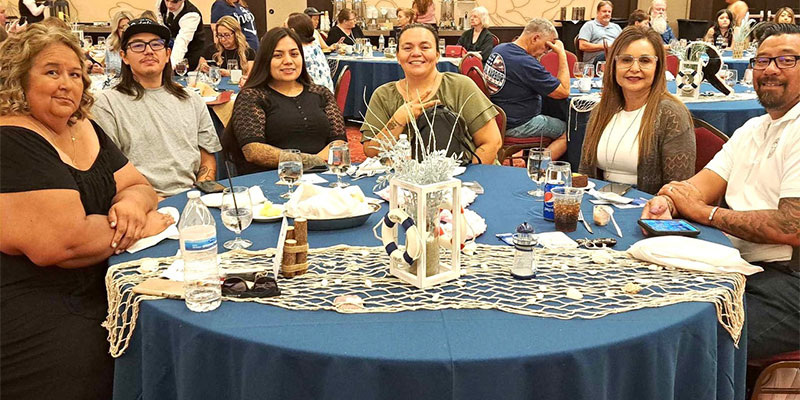 Attentive servers treated more than 100 invited guests to a delicious sit-down dinner which was preceded by a blessing from Miriam Meza, who was attending the event with her sister. A dessert buffet offering a variety of sweet options followed. Invitations were sent to all cancer survivors that registered for the most recent Relay For Life of Riverside County East event on June 24 in Beaumont and were able to bring a guest.
For Lupe Bañuelos of Banning that guest was her daughter Rosemary Bañuelos, who stepped in as her caregiver after Lupe's breast cancer diagnosis about 10 years ago. During her routine mammograms, abnormal findings led to needle and surgical biopsies that doctors continued to watch for changes. Eventually, it advanced to early-stage cancer on one side but because the other side also had abnormal findings, Lupe opted for a double mastectomy.
"My recovery was hard; at least four to five months," she said. Although she had the summer off from her job with the San Bernardino County Head Start program, she had to take additional time to heal. She was grateful to have Rosemary there all the time, plus her other two children and grandchildren who rotated shifts to cover her needs 24/7.
"Everybody helped," Lupe Bañuelos said. "It took a family to get through this and they carried me through it. For others that don't have that support system, I'm glad to know that the American Cancer Society provides services that can help them."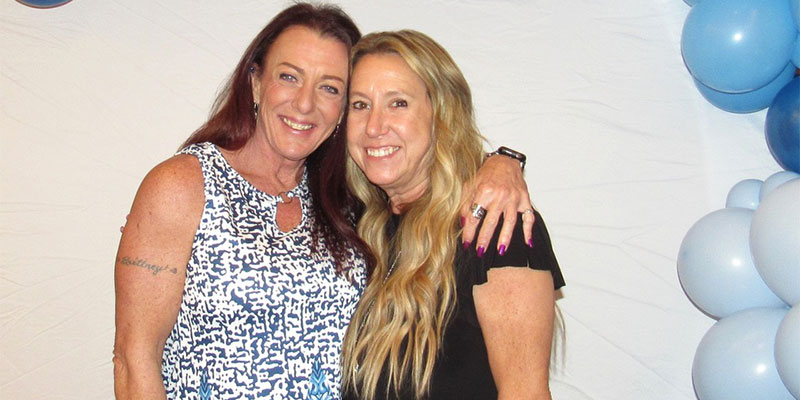 The Bañuelos family enjoys attending the Relay For Life events. Lupe said seeing everybody supporting each other and meeting others going through the same thing helps everyone lift each other up.
Mickey McRay of Hemet underwent a radical vulvectomy after her diagnosis of vulvar cancer was discovered during a pap smear in 2015. Her difficult recovery included three months of drainage tubes running the length of her leg to her feet. During this time, McRay's older sister was diagnosed with adrenal cancer and died less than a month later. McRay was unable to travel to Colorado to say goodbye to her.
"I've had multiple surgeries, chemo, radiation and biopsies for a few more growths but last week was the first time since 2015 that I was told I don't have to return for a year," McRay said. "I'm finally getting there. It was very exciting news."
An adventurous and free-spirited redhead, McRay is a U.S. Air Force veteran who came to California 20 years ago after learning how to hop a freight train through a "hobo connection in Idaho."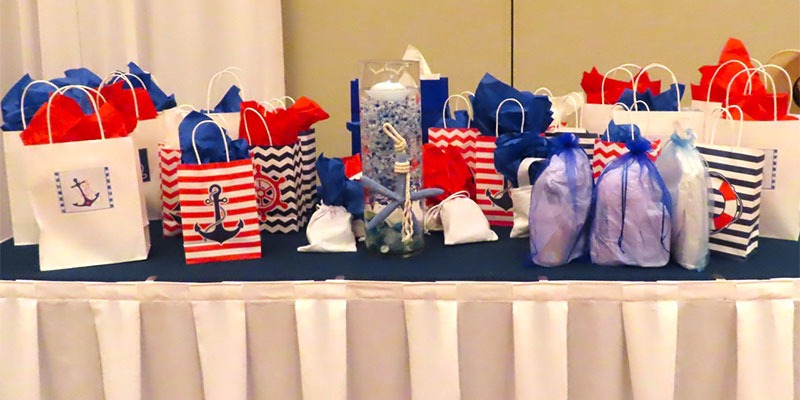 She met Mary Reuland at Bible Fellowship Church in Hemet shortly after moving there and said she has been a constant source of support. Reuland sent flowers and took food to McRay during her recovery and still drives her to any appointments and procedures when she needs it.
"That's kind of what friends do," Reuland said. "Everybody does what they can do; it's never an imposition."
McRay said Mary is very patient, caring and kind and added, "She's gone out of her way so many times."
Music by Tom The Guitar Player punctuated the event as well as emotional personal stories shared by guest speakers Dyanne Blevens and Janet Howe.
Blevens, of Fallbrook, was diagnosed with Stage 4 pancreatic cancer in March. She had been experiencing some back pain which was what led to an MRI of her spine that showed a mass on her liver. She has been very athletic most of her life and has been a competitive bodybuilder for the past nine years, turning professional three years ago. She worked out six days a week and consumed a 90% completely clean diet.
"I was the epitome of health; my body was in pristine shape – or so I thought," she said. "To say this diagnosis was a shock is a huge understatement. It was beyond comprehension. How could someone as healthy as me possibly have this life-altering disease?"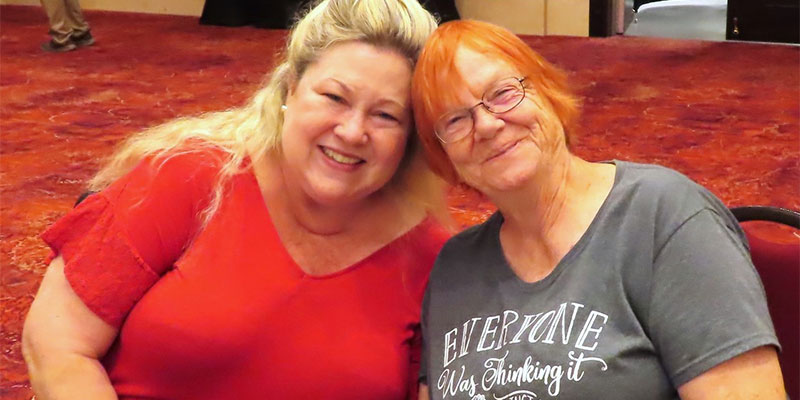 As a personal trainer, she shared the news with her athletes and some of her co-workers but said it was harder to share her diagnosis with her daughter and best friend, Donna Nichols of Wildomar, who has provided unwavering support and has never left her side. Blevens, 58, just completed her seventh round of the most aggressive chemotherapy for her kind of diagnosis.
"Ninety-nine percent of the time I'm super positive and say 'let's fight this thing,' but I have those moments when I don't want to be positive anymore. I don't want to get up and be happy and I don't want to be an inspiration. I just want to stop," Blevens said. "We have to deal with all these feelings and emotions. This is the path we are given. This is not where we lie down to die; it is where we stand up to fight together. Stay grateful for every day through each passing situation for there is something to learn, to gain, to overcome. We are all born fighters, we just need to dig deeper inside of us and say, 'yes, this I can do.'"
Janet Howe created a campaign she calls "More Than a Ribbon" that helps remember the person behind the colored ribbon that signifies the type of cancer their loved one battled or is currently fighting. When her mother was diagnosed with breast cancer shortly after moving to Alaska, Howe was on the next plane to help her through the journey. Unfortunately, the cancer returned more than once and each time Howe was there to do what she could to help. When her mother developed bone cancer, she did not recover and experienced other health issues such as pneumonia. She eventually passed away from lung cancer.
"I wear a ribbon every single day for breast cancer (awareness)," Howe said. "When I get up every morning and put that ribbon on, I feel like it's my mom; it's more than a ribbon."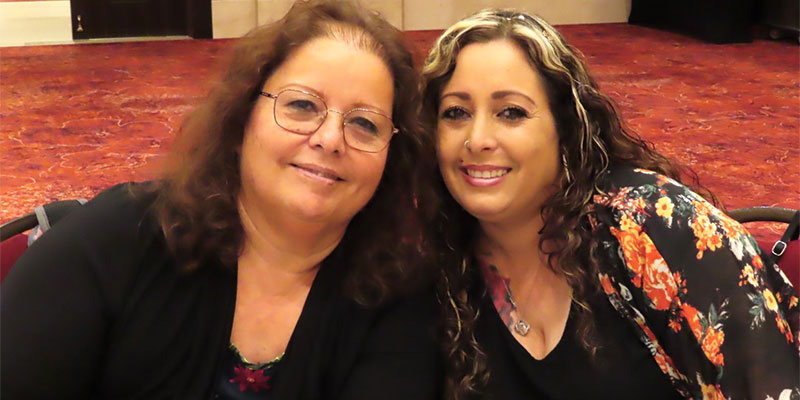 Howe's father recently passed away from lung cancer so she now wears a white ribbon as well. "Cancer ribbons are about so much more than just awareness or finding a cure," she said. "When you see a ribbon, it represents an actual person or cherished memory."
Hill admits that all events that support the American Cancer Society's many programs are only possible with the support and dedication of many, such as the Soboba Band of Luiseño Indians.
"My lead volunteer is Billie Jo Williams, a 14-year ovarian cancer survivor," Hill said. "She joined Relay 17 years ago when her best friend's brother passed away from cancer. Her goal was to fight back and help fund research. She then faced her own cancer and has been Relaying ever since."
Williams has been volunteering to assist Hill for the past 15 years.
"She is my ride or die and my Relay partner in crime," Hill, a 21-year cancer survivor herself, said. "Billie Jo has also become family to me. A true cancer-fighting warrior. Billie Jo has led the Riverside event for the past three years and is now the lead for the upcoming 5K in December. She also helps on the committee for the Route 66 event in San Bernardino County. She works full time and lives in Perris with her husband and daughter. Even with her busy life she always finds time to fight cancer and give of her heart and time to the American Cancer Society."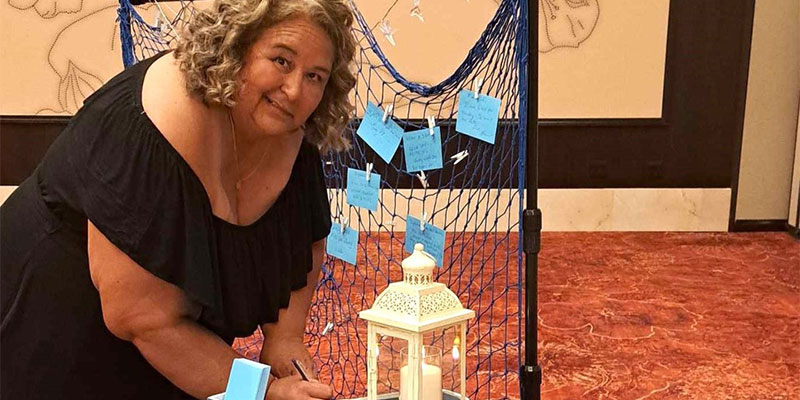 Lauri Morris, a personal styling consultant better known as Diversified Diva (www.linktr.ee/divagirl), is also a cancer survivor and caregiver. In keeping with the theme of the evening, she created and presented a fun and informational fashion show of cruise worthy outfits. Modeled by volunteers, some cancer survivors and others whose family members have been touched by the disease, the audience had a lot of fun with the presentation.
A video slideshow honoring and remembering loved ones touched by cancer with photos submitted by those attending the recent Relay For Life event was a somber reminder of why everyone was there and why the fight against cancer is so important.
Relay For Life events are held once a year, countywide. There is a feeder event coming up on Dec. 2 that supports the Riverside County East relay. The Reindeer Dash and Ugly Sweater Bash 5K will be held at the Jurupa Valley Sports Park. The event's presenting sponsor is the Soboba Foundation.
The Relay For Life of Route 66, which is a San Bernardino County event, will be on Saturday, Aug. 26 at Cal State University, San Bernardino.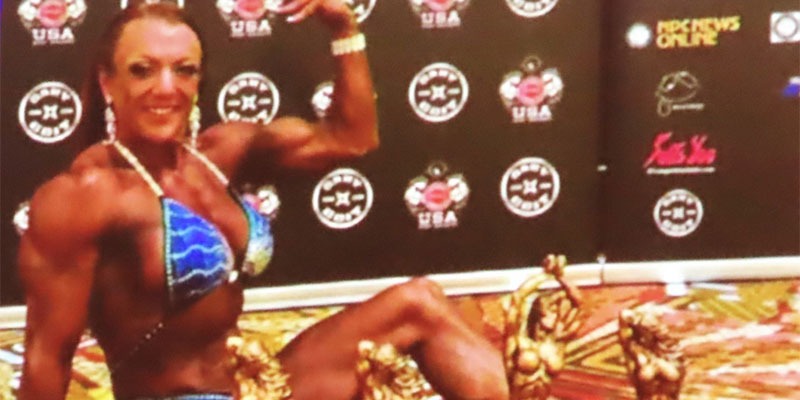 American Cancer Society programs have touched more than 55 million lives. ACS continues to be the largest nonprofit funder of cancer research in the United States outside of the federal government, investing more than $5 billion over the past 75 years. Fundraising is having strong impacts on the community for those who seek information, programs and services.
For more information, contact Cathi Hill at [email protected] or call the ACS 24-hour call center at 800-227-2345. There is always someone there to answer any questions for cancer patients, caregivers and others.
Find your latest news here at the Hemet & San Jacinto Chronicle