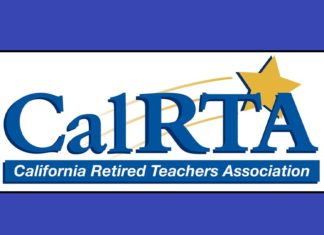 Sue Breyer received the prestigious Ed Ely Award for Communications and Technology, May 14th at the annual CalRTA Convention in Sacramento. Sue serves as Vice President and Newsletter Editor for Division 33, and is the state Communications and Technology Chair.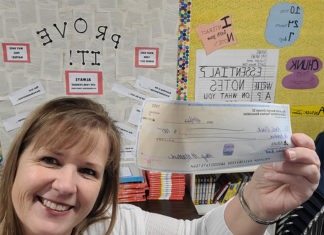 The students of five local teachers will see some new gadgets, games and gizmos in their classrooms before the school year ends, thanks to the California Retired Teachers Association's State and Division 33 Teacher Grant programs.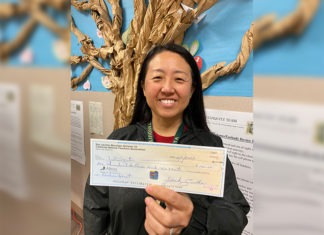 For the third time this school year, CalRTA Division 33 randomly drew the names of three lucky teacher grant winners at their February 8th general meeting. Each local educator will receive a $100 check to be used in their classrooms.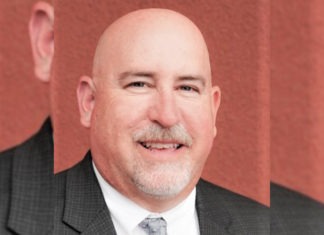 Mt. San Jacinto College Superintendent/President Dr. Roger Schultz addressed CalRTA Division 33 members at their February 8th general meeting and shared the extensive growth and improvements made since 2001 when he first joined MSJC as a Vice President of Student Services. Schultz now oversees approximately 24,000 students at four MSCJ campuses in its 1,700-square-mile district, including the San Jacinto, Menifee Valley, San Gorgonio Pass, and Temecula Valley campuses. In the fall of 2022, a new Beaumont Middle College High School campus is due to launch under a partnership between Mt. San Jacinto College and the Beaumont Unified School District.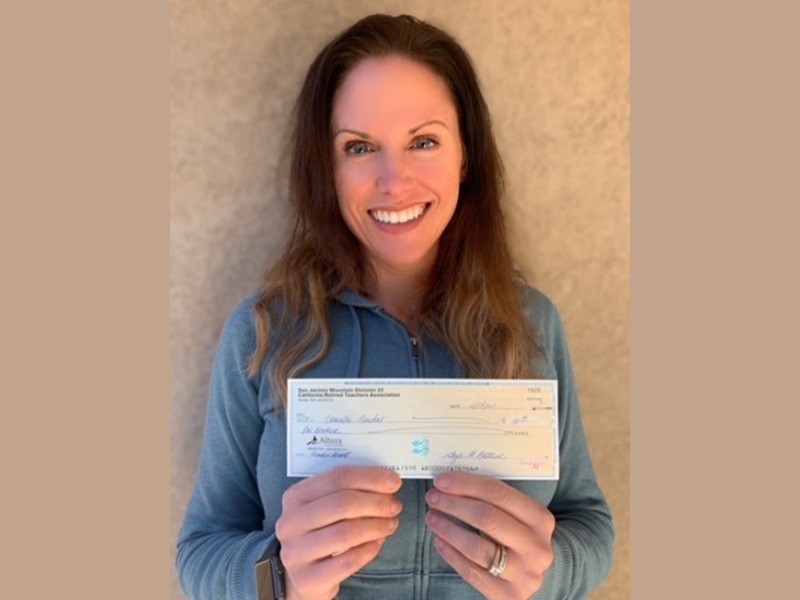 Call it a late Christmas present or a "Happy New Year" gift, but four local educators are celebrating their random selection as recipients of CalRTA Division 33's $100 Teacher Grants. Division 33 of the California Retired Teachers Association conducts random drawings five times each year, awarding 3-4 $100 teacher grant checks to local teachers who complete the short application, no strings attached, via an online form they receive in their school email inbox or by accessing a link on the CalRTA Division 33 website or Facebook page. Chauntai Marchal, a TK (transitional kindergarten) teacher at Ramona Elementary School in Hemet, says, "My students love dramatic play." She plans to purchase "more toys such as dress up clothes and a pretend cash register for them to play with.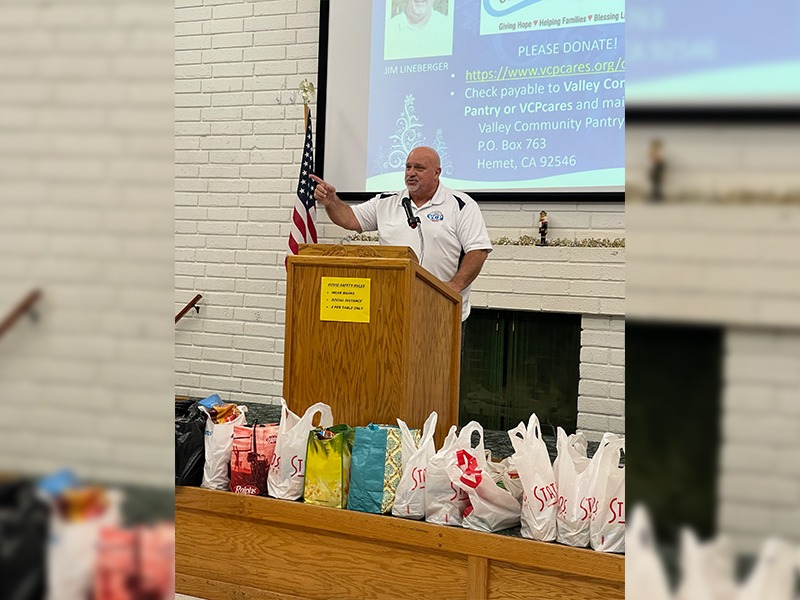 Fifty members and friends of the California Retired Teachers Association Division 33 (Hemet, San Jacinto, and surrounding areas) gathered together December 14th at the Seven Hills Members Club to celebrate the holidays, reconnect with former colleagues and help spread a little holiday cheer and goodwill in the process. With a desire to help fill the great need of local families and struggling seniors in our community, especially over the holidays, Division 33 members donated bags, boxes and wagon loads of food and toys to the Valley Community Pantry in Hemet. As a bonus, Jim Lineberger, Executive Director and CEO of the Valley Community Pantry, was CalRTA's guest speaker for the event and reflected on the many trials and triumphs the Pantry has experienced over the past 57 years.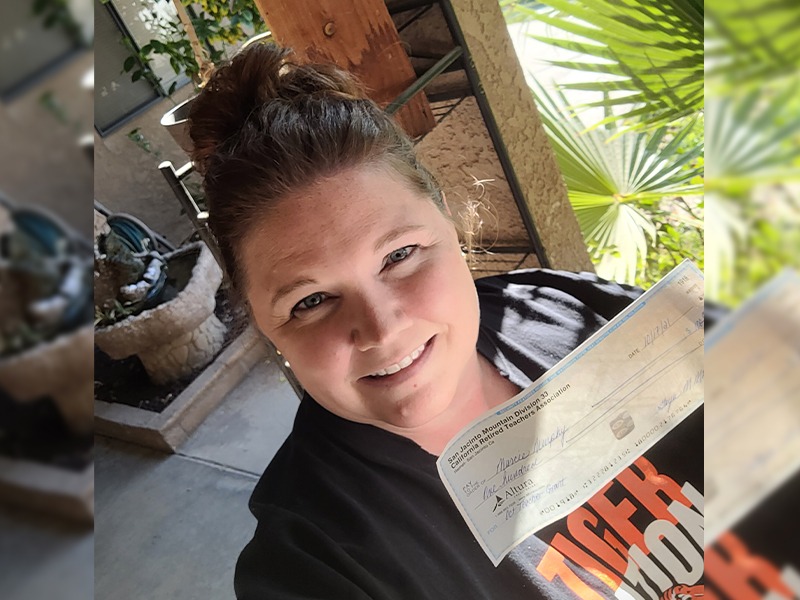 Fulfilling its mission to "support public education in our communities," the State California Retired Teachers Association awarded 40 $100 teacher grants to California public school teachers – including two local educators – randomly selected from over 40,000 applicants in their recent October drawing. Amanda Weden, a fifth-grade teacher at Taawila Elementary School in Menifee, and Tahquitz High School Special Education teacher, Odalmy Cecala, were announced as grant recipients. As an added bonus, both teachers also received a matching $100 from CalRTA Division 33, for a total of $200 each to use in their classrooms. Weden plans to use the $200 to buy supplemental materials to help her students with hands-on classroom experiences. Ms. Cecala says the $200 will go a long way in purchasing sensory equipment for her many Special Education students. The next CalRTA statewide teacher grant drawing will be held in March, with online entry forms available between February 16, 2022 and March 9, 2022. To access the entry form, go to www.calrta.org/teacher-grants or check out CalRTA's Facebook page: www.facebook.com/CalRTA.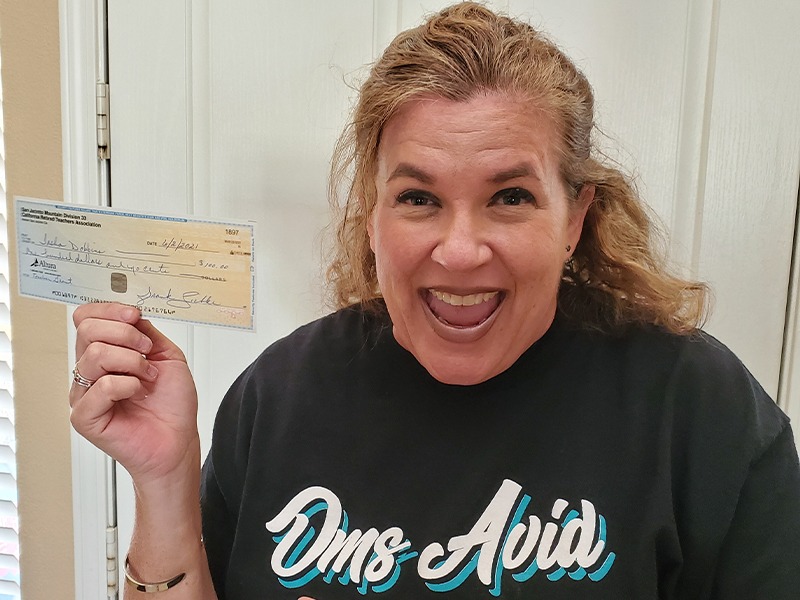 Scrolling through Facebook posts and reading those pesky forwarded emails that fill up our Inbox has paid off for three local educators in the Hemet Unified School District. Division 33 of the California Retired Teachers Association (CalRTA) held its final teacher grant drawing on Tuesday, June 1st during their last membership meeting before breaking for the summer, with retired NBC4 newscaster, Fritz Coleman, randomly drawing the names of winners.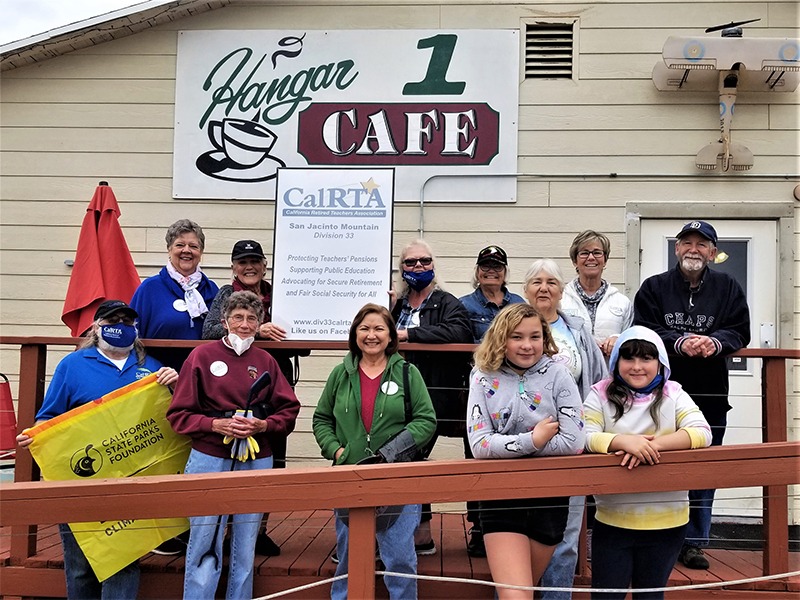 In honor of Earth Day 2021, fifteen members and family members of Division 33 (Hemet/San Jacinto) of the California Retired Teachers Association spent a cold, drizzly morning scouting the grounds surrounding the Hemet-Ryan Airport in southwest Hemet for trash, packing at least fifteen Earth Day plastic bags with bottles, cans, fast food packaging and a variety of miscellaneous refuse tossed along the roadway.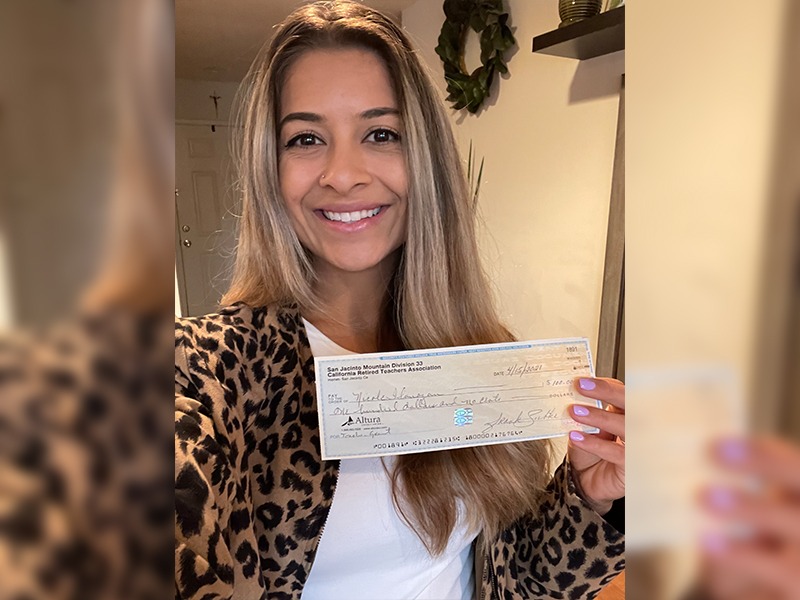 A high school math teacher from Lake Elsinore and a first grade teacher from Hemet were each selected to receive a $100 Teacher Grant from Division 33 of the California Retired Teachers Association (CalRTA). John Chung, who teaches math at Ortega High School in the Lake Elsinore Unified School District, and Nicole Flanagan, a teacher at Hemet Elementary School in the Hemet Unified School District were each randomly selected from nearly 40 applicants to receive the grant money.