Soboba Band of Luiseño Indians | Contributed
As Soboba Tribal Council Vice Chairwoman Geneva Mojado welcomed hundreds of guests to the annual Lip Sync Contest presented by Soboba Casino Resort and the Soboba Foundation, she reflected on how it all began. "None of this would be possible without Rose Salgado who started this event 15 years ago and was one of the first performers, lip syncing to a Supremes tune," she said.
Soboba Foundation President Dondi Silvas echoed the tribute to Salgado by saying she had the vision to support many nonprofits in the valley that needed help with funding for their services and support. "Rose envisioned bringing the community together for a fun, friendly night of lip-sync competition," Silvas said. "Organizations could compete for cash prizes and bring awareness to the community of the services they have to offer."
In the beginning, the event was held at AC's Lounge at the old Soboba Casino. Rose entertained everyone with memorable performances and co-hosting antics with her friend Andrew Vallejos, who co-hosted this year's event with Soboba Foundation Vice President Catherine "Cat" Modesto.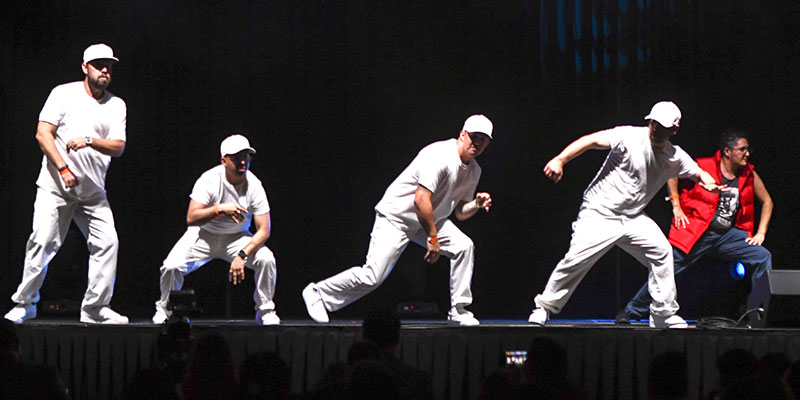 A dozen nonprofits got to show off the culmination of hours of rehearsal in front of a packed Soboba Casino Resort Event Center and four judges. Julie Arrietta-Parcero serves as Soboba Foundation treasurer and has always been passionate about giving back to the community. Soboba Casino Resort Assistant General Manager Jason Cozart was looking forward to seeing which nonprofit would come out on top. Soboba Tribal Executive Officer Steven Estrada appreciates the creativity demonstrated by the performers. Michelle Modesto returned by popular demand as one of the most charismatic judges in Lip Sync Contest history. Having previously served on the Soboba Foundation board, she knows the importance of community involvement.
Participants were American Cancer Society-Relay for Life, Boxing for Christ, EEK Fitness, EXCEED, Global Society for Female Entrepreneurs, Greater San Jacinto Valley Chamber of Commerce, Hemet-San Jacinto Chamber of Commerce, Let Them Be Little Feline Rescue, MilVet, San Jacinto Education Foundation, San Jacinto Unified School District and Valley Community Pantry.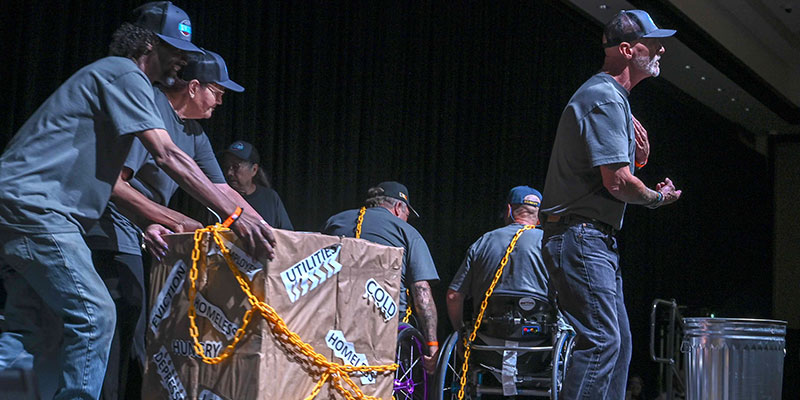 To add to the evening's excitement, 15 lucky audience members won cash when their ticket numbers were randomly called during the night. They won $100 to $500 each, based on their blind envelope selection. As in previous contests, there were many raffle prizes available but this year, drawn numbers were posted in the lobby and winners picked up their prizes at the SCR Gift Center.
Each organization performed in random order and gave their all during their time on stage. The first-place winner of $10,000 was American Cancer Society-Relay for Life. The popular group also earned the $1,000 Crowd Favorite award, voted on through QR codes available at each table.
Cathi Hill, Senior Development Manager for ACS-Relay for Life, said her heart skipped a beat with the greatest feeling ever when the announcement was made. "I truly believe that being named people's choice is by far the top award a team can win; such an honor."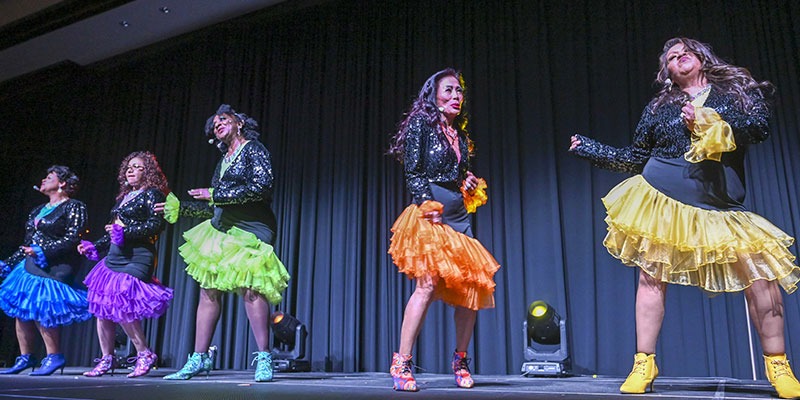 The group put together an intricate and fun skit that featured several music genres from the past and played homage to the "Back to the Future" film franchise. The act was created by Daniel Aponte, who "retired" his "boy band" routines that consistently placed first through the years. This year, the foursome included Ralph, Samuel and Travis but the overall skit showed the added talents of Roman Gutierrez as Dr. Emmett Brown and Fel McCoy who played Marty McFly.
Judge Modesto said, "I love to laugh and I'm literally in tears right now – you did a great mash-up of songs with movie moments in between." Arrietta-Parcero said, "You brought a great act back and you are always entertaining."
Hill said when Daniel decided to retire the act last year, she just couldn't let him and the boys go. "With a lot of pleading and his big heart for the American Cancer Society, Daniel made the decision to come back in a different way, and that he did," she said.
Aponte said the decision to retire was because he didn't want people to get tired of the act and it takes a lot of time and work to put these shows on. "I decided to come back because I love performing and being creative and most of all the feeling of helping American Cancer Society raise money is priceless," he said. "I have lost family members to cancer, so this means a lot to me personally."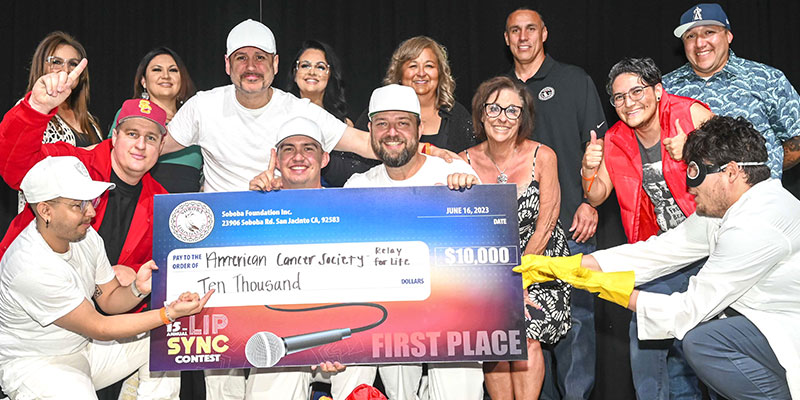 Hill said the group's winnings will go to the mission of the Society for research, education, patient services and advocacy.
Second place and $5,000 was awarded to MilVet, a nonprofit that provides resource information, veteran assistance and military care packages to deployed troops. Performing "The Greatest Showman," Daniel "DJ" Aponte took the role of ringmaster and led this group as well. Others were Jackie Aponte, Danny Kessler, Aika Kessler and Mayra Lewis.
Modesto said, "Every single one of you owned your spot; this is what we came for." Estrada said from their costumes to their facial expressions, everything was on point and Cozart said it was amazing and they just set the bar for the evening.
Raven L. Hilden, MilVet Founder and CEO, said the winnings will help the organization continue shipping military care packages to deployed men and women serving our country overseas. "We send care packages every month to more than 100 individuals in all branches of the military, filled with special request items and letters from youth and the community," she said.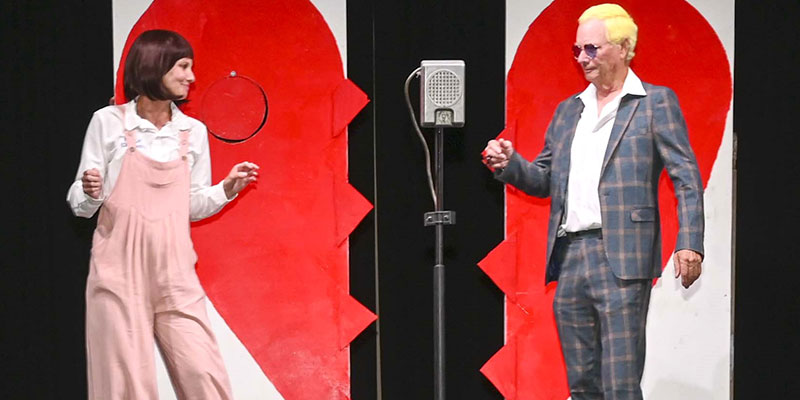 This was the nonprofit's third year competing in the contest, which placed fourth during their first and second appearances. Hilden said they look forward to doing even better next year.
"I love that Soboba supports local nonprofit organizations through this event. All of the performers are always so entertaining, and we appreciate the opportunity to take part in such an amazing event," Hilden said. "We all had a great time while supporting such important causes in our valley."
Third place and $2,500 went to Let Them Be Little Feline Rescue who performed a steamy version of "He Had it Coming" from the musical "Chicago." Diane Hockenberry, Christine Bauder, Diana Serrano, Maria Serrano, Dina McLain and Carol Orozco each took a front-and-center solo. Orozco said Diane Hockenberry loves the song and thought it would wow the crowd, which it did. "As for the props and dancing, others within our group were giving us ideas on props, Dina worked on our moves to sync to the song at the end, and each performer came up with their own moves during their part," she said.
Once they decided on the song, they rehearsed twice a week after work. Orozco said the winnings will be used to spay and neuter felines within the rescue to get them ready for adoption. This is the group's third year competing and first time making the top four.
"The highlight for us is getting together as a group to raise money for the rescue that we all are involved with and having family and friends supporting us," Orozco said. "After we performed, we all thought, this is something we never thought we would do for our foster kittens – being up on stage and performing for over 600 people. As for most of us, it's out of our comfort zones, but we will continue to submit every year. We all love the energy from all nonprofits and the overall show. Every group brings everything to the stage."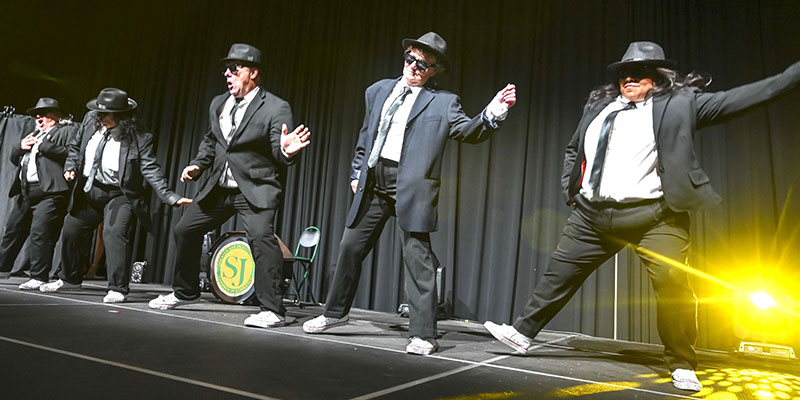 Fourth place and $1,500 was earned by the Greater San Jacinto Valley Chamber of Commerce. Taking on Bruno Mars, they brought their "Uptown Funk" to the stage and wowed the crowd. There were eight performers in all: Rick Baker, Valerie Vandever, Sharon Durbin, Veronica Hawkes, Gerry Castro, Clarisa Sanchez and the husband-and-wife team of Ed and Brenda Krietz.
Rehearsing the moves crafted by Baker, the group spent 125 hours rehearsing every Wednesday night since January. "We plan on using the $1,500 towards office supplies and scholarships for local high schools for 2024 graduates," Vandever said.
Judge Arrietta-Parcero said they "brought a lot of energy to the room" and Cozart commented they "blew it out of the water" with their performance. "We loved the audience response to our song and enjoyed the judges' reaction and positive feedback," Vandever said. "We are already putting together 2024's lip sync act, so watch out! We plan on going from fourth place to first!"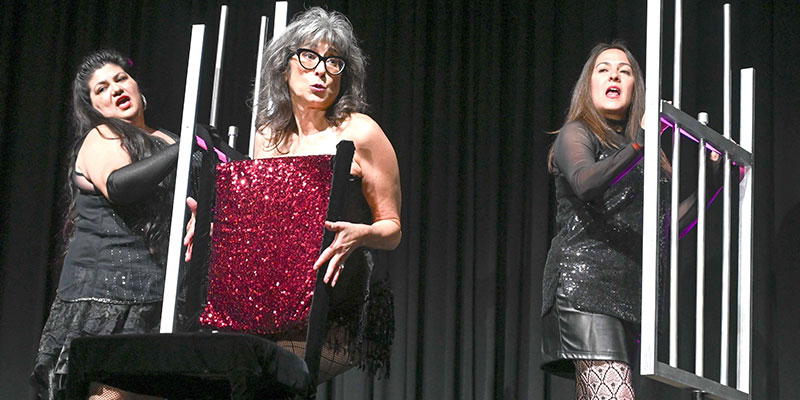 Those who didn't place in the top four received $500 and a certificate for what made them stand out. Boxing for Christ, Most Entertaining; EEK Fitness, Best Song; EXCEED, Most Original; Global Society for Female Entrepreneurs, Best Choreography; Hemet-San Jacinto Chamber of Commerce, Most Creative; San Jacinto Education Foundation, Best Props; San Jacinto Unified School District, Best Costumes; and Valley Community Pantry, Most Dramatic.
The Hemet Concert Association submitted an application to appear in the Lip Sync Contest for the first time, but President Tom Garnella said two ladies who initially were interested and willing to perform decided it was more than they would feel comfortable doing once they realized all that was involved – choreography, props, costumes, etc. "The HCA is busy preparing for its 50th Anniversary season with our first 2023-2024 concert on Oct. 15," he said.
This goes to show the dedication of all the organizations that were able to put in the time and effort to entertain everyone at the 15th annual Lip Sync Contest.
Find your latest news here at the Hemet & San Jacinto Chronicle