(The Island of Grand Comoro)
The Indian Ocean, off the East African coast, has many exotic islands, such as the beautiful Comoro Islands, 300 miles northwest of Madagascar. Each of the four islands, Grand Comoro, Moheli, Anjouan, and Mayotte, is different. We traveled to each of them except Mayotte, which had no hotels to overnight in. Mayotte, and the islet of Dzaouozi, with their ragged shorelines, are encircled by a coral reef, creating one of the world's most exquisite lagoons.
Our South African Airways aircraft landed safely on the island of Mahe, Moroni being the capital. We saw extensive stretches of sandy beaches, and secluded clusters of coconut palms or mangrove trees. Coral reefs offered random barriers to the ocean's rolling seas, along with some of the world's best diving areas.
Volcanic action caused the Comoro Islands to emerge from the floor of Indian Ocean's. We saw coastal stretches, notable for harsh, dark jumbles of fresh lava flows, and others with smoothly rounded rocks, corroded reminders of ancient volcanic activity. The volcanic islands of the Comorian archipelago were called the "perfumed islands" because of their aromatic plant life. The four main islands merge African, Arabic, Malagasy, and French influences, formerly being significant in the valuable Indian Ocean trade between East Africa and Asian ports such as India and Japan.
The four islands have an astonishing diversity of amazing garden-like vegetation, fragranced by vanilla and jasmine, and other plants noteworthy for their exquisite scents. Local men with dexterous fingers bag the vanilla beans, seed pods of the climbing orchid vanilla planifolia, orchids that mostly grow on the rugged mountain slopes.
Animal life, like in Madagascar, incorporates land birds (guinea fowl and egrets), lemurs and fruit bats unique to the Comoros. The lemurs have large eyes, foxlike faces, monkey-like bodies, long hind limbs, and have lengths from about 3.5 inches to nearly 28 inches, excluding the tail. The islands are also home to civets, small lizards and giant land crabs. Turtles flourish alongside the coasts and are exported. The Comoran waters are one of the locales of the coelacanth, a rare fish that once was thought to have been extinct.
Aircraft coming in for a landing at Moroni, Grand Comoro.

Sea wall, and mosque.
The Comoro Islands probably were initially populated by individuals from the Red Sea, around the time of King Solomon. Later migrations brought about an assorted population, residing mostly on two of the larger islands.
The Comoro Islands were put under French administration in 1841 for Mayotte, 1886 for Moheli, and 1909 for Grand Comoro and Anjouan, and made into a separate entity in 1912, attached to the administration of Madagascar. The domain was given sovereignty in 1947, with its own administration and financial arrangements, and became a French territory in 1963.
The Comoros have been politically volatile since they gained independence from France in 1975. French troops arrived in December 1989, and took jurisdiction of the Comoro's security, a military undertaking that was requested by the Comoran government. The Comoros have a small army, along with an agreement with France, which provides a presence.
The generally Muslim island of Mayotte voted in March 2009, to integrate completely with France, giving financial advantages to residents; in exchange, inhabitants agreed to forbid polygamy, early marriages, and other practices. Over 95 percent of voters said "yes" to becoming the 101st department of France. This meant that the inhabitants of Mayotte will increasingly receive the right to social benefits.
Female roadside vendors.

Boat on shore, and steps to beach at Hotel Issandra.
Traditional Comoran women adorn themselves with multi-colored sari-like dresses called shiromani and ornament their faces with a paste of ground sandalwood and coral called msinzano. There are some weddings that last close to three weeks. Normally, the mergers are pre-arranged, and it is the responsibility of the groom to pay for celebrations, as well as providing the dowry.
The Comoros have a departure of educated and skillful workers to France, and a continual decrease in gross national products. The capital, Moroni, has most of the up-to-date commercial and manufacturing services in the country. Because there is a scarcity of other economic possibilities, most of the islanders count on maintenance farming.
We went to our Hotel Issandra, and our rooms overlooked our private beach, where excellent French food was served in their restaurant, situated up above their beach. Some hotels on the two larger islands provide for a small tourist industry, which is linked to the island's record of political problems. This impedes tourism. Tourists, attracted to the miles of gorgeous beaches and beautiful scenic areas, come mainly from France, Reunion, South Africa, and the United Kingdom.
Almost all the inhabitants are Islam, and there are about 670 mosques in the Comoros. Mohammedan events are celebrated, with men wearing embroidered cloaks, and going to the mosque to pray and rejoice. Sometimes, during a significant marriage, you can see the sword dance, a reminder of when wars between inhabitants of the same island were common.
Music is an extensively shared usage of cultural communication, and public squares or tiny plazas (which are the centers of daily life), and other congregating places, showcase local groups and artists. Comorian standard music combines Arabic, African, Indian, and Western inspirations, which create a driving dance sound with lyrical, harmonized vocals. Customary instruments incorporate accordions, guitars, drums, gongs, and rattles. Many successful musicians have moved to France, and others have found sizeable followings among European audiences.
Hoel Maloudja bungalow on beach.

Our open-air restaurant at Hotel Maloudja.
Our beach had too strong an undertow, so we moved to the Hotel Maloudja, also owned by a Frenchman. Our bungalow, right on the beach, was cozy inside, and much bigger than it looks from the outside. This hotel is rather new, as the gardeners are still planting grass, shrubs, and trees. We enjoyed a delightful swim in the clear waters of the Indian Ocean before breakfast every day. There was some welcome shade between our bungalow and the waters itself, and we enjoyed hearing the waves gently lapping up on the beach every night.
Our open-air lounge and restaurant had spectacular views of the beach. The food, prepared by the French chef, was excellent and abundant. The tablecloths and napkins were for breakfast and lunch too, not only for dinner. Comoro cuisine is a mix of East African root-based stews and Indian Ocean (specifically, South Asian and Indonesian) rice-based curry dishes, along with French styles. Locally grown spices such as vanilla, nutmeg, coriander, and cardamom, are used frequently in regional cuisine, along with fresh fish and mutton. The islands thrive with tropical fruits, such as bananas, lychees, mangoes, paw-paws, and pineapples.
Grand Comoro is dominated by a dominant volcano, called the Kartala, which rises to 7,400-7,746 feet, and boasts the widest crater in the world. Continually in our vision, Karthala is an active volcano, which has erupted more than a dozen times in the past two centuries. The fluctuating altitudes of the island, the jagged coastlines, the luxuriant vegetation, and the color of the sea, afford us pleasing scenes.
Local craftsmen are skilled at traditional arts, such as elaborate embroidery on clothing and hats with silver threads, and ceremonial cloaks; wood carvings, mostly doors and furniture; jewelry-making in gold and silver filigree; dug-out canoes; basketwork; and sandals.
Chris and his flippers, on our beach.

Raised pathways nd bungalows.
Although there are hydroelectric power plants, the islands still have an undependable source of water and power. Manufacturing usually is confined to the processing of agricultural produce (mostly vanilla, essential oils, cloves, and copra) for export. Subsistence agriculture yields bananas, cassava, sweet potatoes, but much of the country's food must be imported. Cattle, chickens, goats, and sheep are also raised. Cacao, cloves, coffee, and other crops significantly cover much of the islands.
Because the Comoros are islands, fishing should be a substantial part of the market economy, since the waters are quite rich in fish, but its capacity is not abundantly recognized. The industry survives only on a insignificant measure, and the copious tuna that populate Comorian waters have been fished mostly by E.U. countries. Fossil remains of the extremely rare coelacanth fish of the secondary era, and once thought to be extinct, have been seen in deposits that date back to about 400 million years.
We took a boat out, and playful dolphins surrounded us, there being perhaps 45 species of dolphins and porpoises. Most dolphins, with their far-ranging territory, have a beak and conical teeth, while porpoises have a somewhat flattened head and spade-shaped teeth. Evaluations of average brain weights in dolphins, chimpanzees, and men, shows that we humans come in second. Along with spectacular tropical beauty, the Comoro Islands are well-known for marine life, and host many deep-sea creatures. In the coral reefs around Grand Comoro and Mayotte, the waters are astonishingly clear, due to the absence of rivers.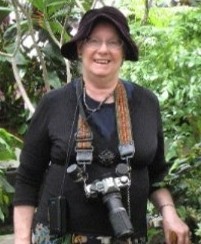 Far away, in a remote of the world, hundreds of miles off the East Coast of Africa, are numerous exotic large and small islands, where we saw waterfalls tumbling from soaring mountains, and thousands of orchid variations emerging wild in luxuriant forests bursting with exceptional birds.
My journey in this fascinating part of the world continues to Moheli and Anjouan, the Seychelles, and Madagascar, before returning home to South Africa (where I lived for seven years) with many fond memories.
Find your latest news here at the Hemet & San Jacinto Chronicle
Search: The Island of Grand Comoro