(holiday spirit)
On Monday December 23rd, at the San Jacinto Health Center, approximately 60 people turned out to take part in the Seventh Day Adventist Church's Sock Ministry, a program in which donated socks are distributed to the less fortunate.
On a cold and wet morning, residents and guests were welcomed and warmed by the loving and giving spirit of those involved in the Sock Ministry's purpose. Spearheaded by retired Loma Linda University professor and PhD, Ramona Greek, the idea of the Sock Ministry came while researching the needs of those residing in homeless shelters. "The number one need, for the homeless in theses shelters, especially this time of year, is socks," says Greek, who pitched the idea of running sock donations through the church and was pleased with the generosity of the community, saying, "Our initial goal was six-hundred pairs of socks. We received well over a thousand, and now we have four facilities we distribute from."
Most may not think about the importance of socks, but cold feet can invite a number of health problems. With the Winter season upon us, those who are less fortunate are hit hardest by the dropping temperatures.
Monday's distribution was about more than just simply handing out socks, it was an opportunity to bring the spirit of Christmas, now, and throughout the year…and in bringing the celebration of Jesus to the residents of San Jacinto Health Care facility.
Standing next to a brilliantly lit Christmas tree, Greek humbly welcomed everyone in attendance, which was followed by an opening prayer and the reading of The Birth of Jesus by Pastor Rad Milosavljevic of the Seventh Day Adventist Church.
Newly elected Mayor Russ Brown was present and was warmly welcomed. He expressed his appreciation for the community, the Ministry, and its Christmas spirit saying, "That's what this is all about. This is a wonderful opportunity to be here with these good folks who, through their generosity, are giving to you and to those in need in our community. It is my honor to be here . . . and I wish you all a Merry Christmas and happy holidays."
Everyone in attendance joined hands as Pastor Rad led in singing "Silent Night." Church members then continued Christmas carols throughout the halls of the facility, echoing holiday melodies as socks were hand-delivered to the rooms of those in need. The simple act of giving, even something as simple as a pair of socks, was enough to evoke grateful smiles.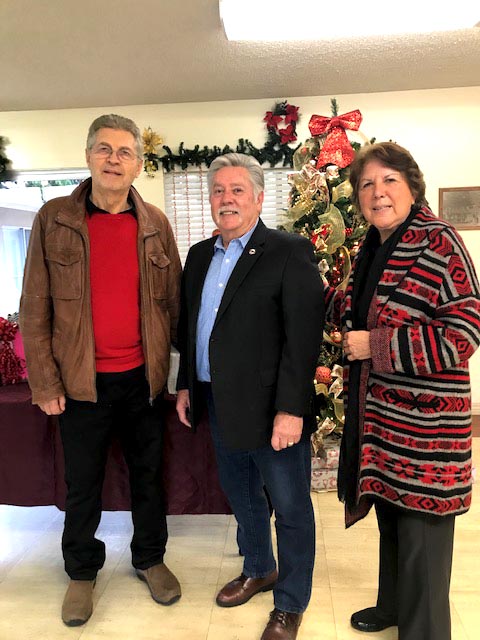 The Sock Ministry will hold its next distribution January 6th at Hemet Community Pantry: 191 S. Columbia St, Hemet, CA 92544 from 9:30 – 10:30 am.
If you are interested in being a part of the Sock Ministry team or other service positions through the Seventh Day Adventist Church, please call (951) 929-2632.
For information on volunteering and helping through Valley Community Pantry, visit https://www.vcpcares.org/get-involved/
Find your latest news here at the Hemet & San Jacinto Chronicle
Search: holiday spirit