After a 15-month closure, the Historic Hemet Theatre is set to resume its popular Tribute Mania Concert Series beginning in June – just in time to celebrate the theatre's 100th anniversary year!
This week, HHT announced the schedule for a 12-concert season stretching from June thru October.
The season starts on June 12th with a Tribute to Bruno Mars performed by Bruno and the Hooligans. This show was one of the most popular shows in 2019, but the Covid shutdown blocked their encore performance in June 2020. In fact, the entire 2021 season is filled with shows that sold out in their last appearance at HHT.
Over 1,000 tickets for 2020 shows remain outstanding and are eligible for exchange for the new season. Patrons holding tickets for last year's shows need to exchange them at the ticket office during normal business hours, Monday thru Friday, 11 am to 5 pm.
This year, ticket prices have increased to $25, to help the theatre manage additional expenses for safety and sanitation protocols. The increase does not apply to exchanged tickets. The theatre will again offer special Season Tickets with the purchase of 4 or more concerts in the season. Season Ticket holders are given VIP seating 15 minutes before general admission.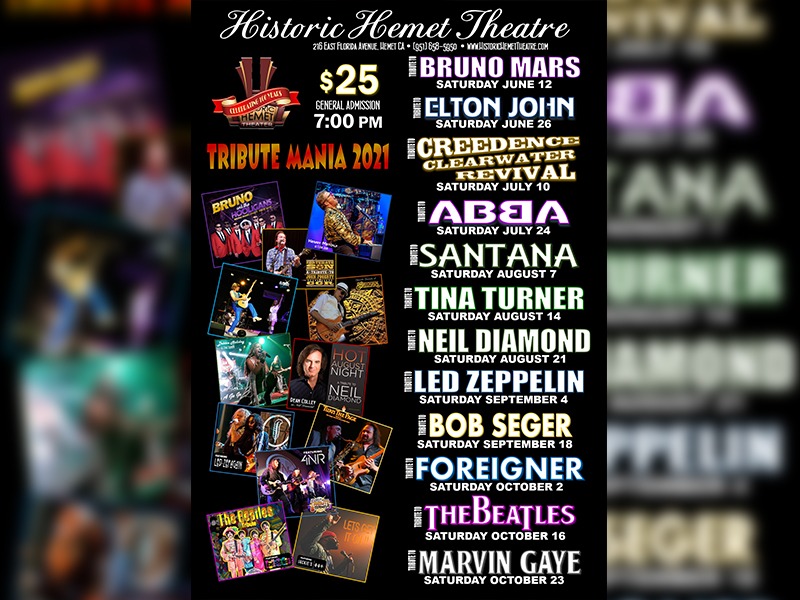 The theatre will be utilizing special Covid restrictions, including limiting use of the dance floor to patrons with wrist bands indicating that they have presented a vaccine card at the door. Masks will be required in the lobby and aisles, but not required when seated. Tickets will be limited to 50% of capacity for at least the month of June.
2021 TRIBUTE MANIA SEASON
Saturday June 12 – Tribute to Bruno Mars, with Bruno & the Hooligans
Saturday June 26 – Tribute to Elton John, featuring Kenny Metcalf
Saturday July 10 – Tribute to CCR, featuring Brad Ford and Fortunate Son
Saturday July 24 – Tribute to Abba, with Abba Fab
Saturday August 7 – Tribute to Santana, with Smooth Sounds of Santana
Saturday August 14 – Tribute to Tina Turner, featuring Debbie Holiday
Saturday August 21 – Tribute to Neil Diamond, featuring Dean Colley and Hot August Nights
Saturday September 4 – Tribute to Led Zeppelin, with Led Zepagain
Saturday September 18 – Tribute to Bob Seger, with Turn the Page
Saturday October 2 – Tribute to Foreigner. featuring 4NR
Saturday October 16 – Tribute to The Beatles, with Hard Day's Night
Saturday October 23 – Tribute to Marvin Gaye, featuring Jackie's Boy
Showtime is 7:00 pm, with doors open at 6:15 pm. Information on all theatre events is available at www.HistoricHemetTheatre.com or by calling the Ticket Office, (951) 658-5950.
Susan Carrier • HHT
Find your latest news here at the Hemet & San Jacinto Chronicle