(Veteran Warriors)
Name Change reflects the spirit of our Veterans!
At the start of 2020, our local Veteran Warrior wheelchair soccer team decided to "rebrand" itself, becoming Warrior Veterans Adaptive Sports Club (WVASC), This reflects our Veterans' spirit and the importance of the camaraderie among the veterans, a camaraderie that includes language and shared stories singular to their own experiences and the collective whole.

The name change really reflects the passion of these guys. Johnny Sandoval has competed in table tennis, basketball, 9-ball, power soccer and he just learned how to ski. He also has competed in the National Veteran Wheelchair games since 2001 and has many medals. Willie Hendrickson is also an avid sportsman: he has competed in discus, javelin, shot put, motor rally, relays and power chair soccer. He also has competed in the National Wheelchair games the last 14 years and has won the gold medal in slalom every year, so it was perfect to add the word "adaptive sports" to the name. Stay tuned later…you will hear more great stories of these terrific athletes.
The name change was just one of the reasons I got so excited to write this story: the other is Jonny Sandoval, the captain of the team. Another reason was Willie Hendrickson an Army Veteran, the assistant and also an ambassador for Invacare Corporation and an advocate for Cloverlane Foundation and Veteran Mobility Projects. You can see these two guys living this spirit everyday and always sharing their stories with fellow veterans around town so they will come back and check it out.
These two are like brothers. They have put together a five-man team: Johnny Sandoval Navy Captain, Willie Hendrickson Army Assistant, Al Marconi Navy team mate, Richard Galindo USMC team mate, and Glen Bryant Navy teammate and all from the Inland Empire . The Warrior Veterans Adaptive Sport Club is the first of its kind. They are like a family that loves to practice and play expo games. They will tell you that it's not about wining, it is about getting out and having fun, and these guys know how to have fun! If you are a veteran and would like to learn how to play power chair soccer, contact me, Sandy Dee at, 562-719-6826 and I will put you in contact with Johnny Sandoval. It is a great way to get out of the house, meet great veterans, and their families and have fun.
(Veteran Warriors)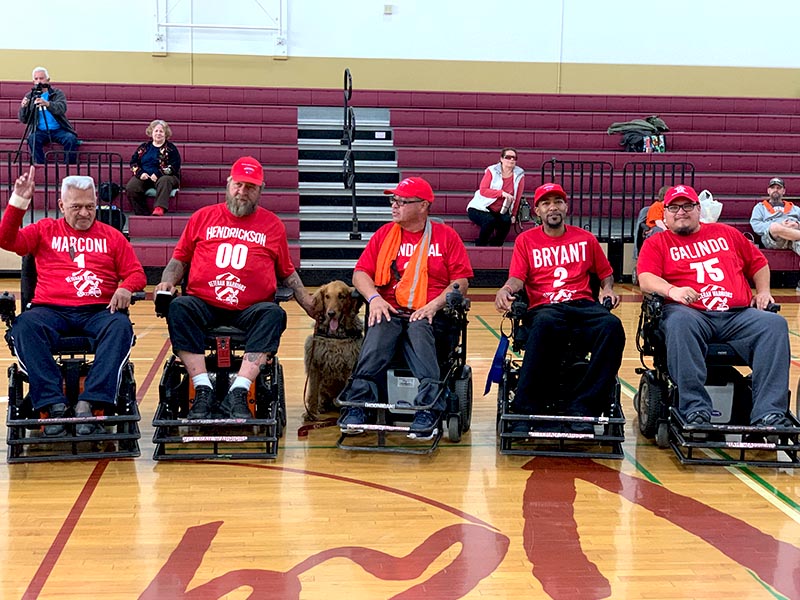 Spending time with these guys, filming, taking their pictures, and getting to know them, lead me to get more involved with the team, and, being a disabled veteran myself, I have the pleasure and opportunity to learn something totally new: how to be a soccer coach! I am the coach for this great team. I am having so much fun learning how to be a coach, and the guys make me feel so good. I love their positive energy and I enjoy watching them play and cheering them on. You can see Johnny always giving the opposing team tips and words of encouragement. It really isn't about winning or losing, it's about having fun: it's a totally different mind set…everyone is a winner .
The team is getting ready to go the National Veterans Wheelchair Games in Portland, OR., July 3 -8, the "National Veterans Wheelchair Games 40 years of Excellence." This is the largest annual wheelchair event in the world. It is co-presented by the VA U.S. Department of Veterans Affairs, Paralyzed Veterans of America. The athletes come from nearly every generation of veterans and they participates in all kinds of sports. Johnny Sandoval's favorite saying is "I can do anything you can, I just do it from a chair."
If you would like to get involved, volunteer or make a donation to get these guys to go to the National Veterans Wheelchair Games in July, check out their facebook page Warrior Veterans adaptive sports club or contact me. Keep an eye out for the posting of soccer practice and games coming to town.
Find your latest news here at the Hemet & San Jacinto Chronicle
Search: Veteran Warriors