Only non-humans could be on the ballot in the Idyllwild, an unincorporated community in Riverside County, Calif.
Sydney Page | Contributor
There's been nepotism and vote buying in the town of Idyllwild, Calif. The "mayor" sometimes chews up his neckties. Only pets were allowed on the ballot — which is why the elected leader in this unincorporated community near Palm Springs is a 1-year-old golden retriever named Mayor Max III.
His predecessors were the late Mayor Max II and Mayor Max I, both of whom were golden retrievers from the same blood line. "They have all been excellent leaders," said Phyllis Mueller, Mayor Max III's self-proclaimed chief of staff, and the owner of all three Idyllwild mayors. Idyllwild is technically under the jurisdiction of Riverside County District 4, but it has no formal local government — apart from a few pets.
The town had its first mayoral election in 2012 and drew 14 dogs and two cat contenders. The election was run by a local rescue organization, Animal Rescue Friends of Idyllwild (ARF) to raise funds. The election in the town — which has about 3,000 residents — yielded more than $31,000 for the rescue organization. Each vote cost $1, and people could vote as many times as they wanted.
Mueller and her husband wrote a $20,000 check. "It was promoted as the election you could buy," said Mueller, who moved to Idyllwild in Riverside County with her husband and their dog Max the year prior. "We campaigned hard." "We won that election in a landslide victory," she said. While the election was intended to be a lighthearted fundraising drive, Mueller and her husband, Glenn Warren — who run a marketing company together — decided to take their dog's time in office seriously. "I didn't take it as a joke.
I saw it as an honor and an opportunity to really do something great," said Mueller, 72. "This is an opportunity to be the real mayor of Idyllwild and do the real job, but without politics," said Mueller. "He loves everybody unconditionally. It's nonpartisan; it's nonpolitical. I'm going with it." And she did. Mayor Max I became a local celebrity, making appearances at weddings, schools, hospitals, birthday parties and nursing homes, and partaking in various charity initiatives, including for ARF. "The community overwhelmingly agreed that a canine mayor or a feline mayor is better than any human," said Janice Murasko, the director of operations at ARF. "We never expected it would turn into this." Local shops started selling Mayor Max merchandise — such as T-shirts that say: "the paw is the law."
Beyond coming to see the San Jacinto Mountains, which surround the town, Mayor Max became a tourist attraction. "So many people come from all over the world to see the mayor," said Mueller. Just nine months into his two-year term, Mayor Max I died of cancer at age 11. The town was devastated. Rather than running another election, Mueller — with the blessing of the town — decided to get another golden retriever, who automatically became Mayor Max II. That's when residents agreed mayors should remain in office for life, and the mayor's office would essentially operate like a monarchy, with family successors. At least for now. Max II was the town mayor for nine years and two months. After he died, the next in line, Mayor Max III, was sworn in on Dec. 10, 2022.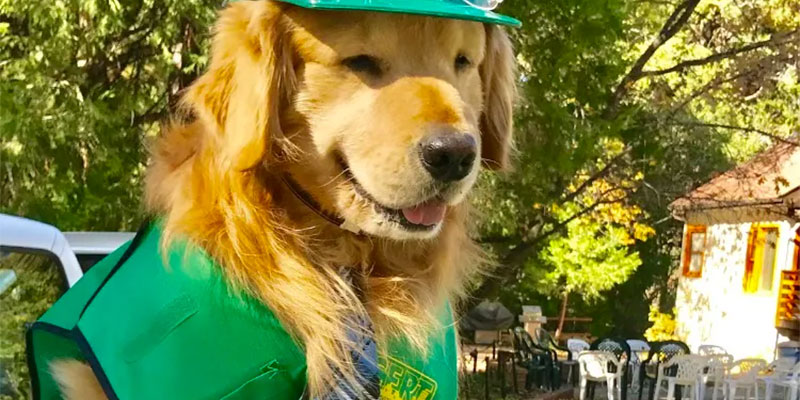 Despite his young age and lack of political experience, he immediately got to work. "People ask me if the dogs know that they're the mayor, and they absolutely do," Mueller said. Mayor Max III has a small staff, consisting of two "deputy co-mayors" — both golden retrievers named Mitzi and Mikey — who act as the mayor's entourage and security team, as well as a "vice mayor," also a golden retriever named Meadow. Mueller and her husband own all four dogs. During frequent town appearances, the dogs dress the part, often sporting customized harnesses and neckties — which they all have a habit of chewing. "I'm dangerously low on ties right now, because they keep eating them," said Mueller. Mueller got her first golden retriever in 1984 and stuck with the breed from then on because "they love love," and "they're so good in public service." Mueller's dogs have all done well in their respective leadership roles.
The cast of golden-haired pet politicians travel together in what Mueller calls "Mayor Mobiles" for their daily downtown visits. They also attend various town gatherings, including annual tree-lighting events, Halloween parties and Fourth of July parades.
During the pandemic, Mueller facilitated more than 1,400 private visits with the pups in an effort to keep the residents' spirits up, she said. "Mayor Max is a full-time job," said Mueller, adding that the dogs seem to enjoy their work in the community and are especially energized when interacting with people. "I never say no to an event. If the mayor gets invited, we go. The mayor is very accessible to his constituents." "We do every kind of event you can conceive of," she said, adding that she and her husband cover all costs associated with running the mayor's office. "We're constantly helping the community. It's a lot of fun and it's a lot of work." Mueller also manages the mayor's social media profiles, including his Instagram page, which has nearly 100,000 followers.
The posts are flooded with comments from constituents and strangers, expressing their admiration for Mayor Max III and his dedicated doggy staff. "People can't get enough of being with the dogs and getting pictures of them and petting them," said Mueller. "It just makes them very happy, which is the payback for doing it." Mayor Max — whose full name is Maximus Mighty-Dog Mueller III — has a website and a mention on Wikipedia.
Idyllwild's canine government has been covered locally in hometown media such as the Idyllwild Town Crier, and it has also attracted international attention from publications such as the Guardian. Max is in good company as an elected dog — others include a French bulldog named Wilbur who is mayor of Rabbit Hash, a community in Boone County, Ky. Every year, Mueller creates a Mayor Max calendar, which she gives away for free to locals and visitors.
Last year, she said, she gave away 10,000 copies and shipped the calendars to 33 countries. "We've done extraordinary things with the mayor's office," Mueller said. "Mayor Max is our gift to the community."
Find your latest news here at the Hemet & San Jacinto Chronicle