Reporting Deputy: Sergeant Krysti Bellavia
File # JV232960019
Details:
On Monday, October 23, 2023, at 07:15 a.m., deputies from the Jurupa Valley Sheriff's Station responded to a business in the 10000 block of Bellegrave Avenue, in the city of Jurupa Valley, regarding an armed robbery. The victim advised three unknown males brandished a handgun and took cash and tobacco products. The suspects fled the scene in a black Jeep. Jurupa Valley Station investigators responded to the scene and assumed the investigation. One of the suspects was identified and located at a residence in the 2700 Block of Eagle Creek Place in the city of Ontario. A short time later, deputies conducted a high-risk enforcement stop on the suspect vehicle as it left the residence, and the occupants were detained without incident. Investigators served a search warrant at the Eagle Creek Place residence and located two additional suspects. As a result of the search warrant, investigators recovered stolen cash, tobacco products, and four firearms.
Investigators arrested Tommy Rojas, an 18-year-old resident of Rancho Cucamonga, Umar Syed, a 19-year-old resident of Pomona, and a 17-year-old male juvenile for robbery, conspiracy, and weapons charges. Rojas and Syed were booked into Robert Presley Detention Center, and the juvenile was booked into Riverside Juvenile Hall. This investigation is ongoing.
Anyone with additional information is urged to contact Investigator Passalacqua at Riverside County Sheriff's dispatch at (951) 776–1099 or the Jurupa Valley Sheriff's Station at (951) 955–2600. As a reminder, "Community Policing" involves partnerships between law enforcement and community members. Business owners and residents are encouraged to report criminal activity directly to law enforcement by calling Sheriff's Dispatch at (951) 776–1099 or 911 if the matter is an emergency. Criminal activity can also be reported through the We-Tip Crime Reporting Hotline, (909) 987–5005.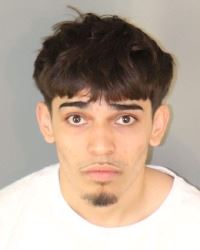 For media inquiries regarding this incident please contact the Media Information Bureau.
Find your latest news here at the Hemet & San Jacinto Chronicle