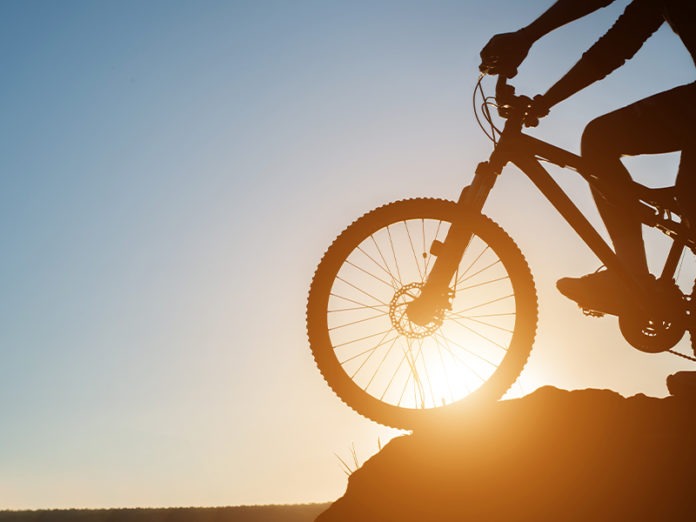 Although I am sixty years old, I am doing it! I heard somewhere that our bodies need at least forty-five minutes of cardio-vascular exercise for optimal results. The same study claimed, however, that should we exceed forty-five minutes, no additional benefit accrues! Being somewhat of a slacker myself, I try not to exceed forty-five minutes. The Diamond Valley Lake circuit requires MORE than forty-five minutes, as I found on a recent ride around the lake.
Western Center to Diamond Valley Lake. I had no idea how this would be—I used to go fishing at the lake when my fishing-crazy brother, Lewis, lived in town. I recalled nothing but a long, curvy rise from the Western Center up to the lake. The prospect of a workout and the view ought to be rewarding. I did once circle the entire lake on an earlier occasion—again, with John Carter—which took us hours to do some twenty-one miles or so. Spring would be best for this as wildflowers and birdlife are in profusion. Somehow, I talked another bicycling enthusiast, Brian Bailey, into a lake circuit.
We scheduled our ride on the day before Thanksgiving. It was perfect weather for bicycling and got no warmer than seventy degrees. Once, along the East Dam, I noticed a large bird of prey perched on a pole on my right. As I approached and examined it closely, I think that it was an osprey, curved beak, white and black striated tail feathers. It cried five times, then flew away, a bluegill clearly in its talons.
I was able to keep up with Brian by encouraging him to talk, which he did at length and for nearly two hours. The fact of the matter is that in order to do so, he necessarily slowed down. So, I could eventually pedal in at the end with head held high. In fact, I zoomed down the hill toward the Western Center, near where we had parked, in the lead. By Brian's calculations, it took us less than two hours to cover the twenty-one odd miles—no more than 1:59:00, in fact. It depends upon you include the ride up from the parking lot at the Western Center. If not, then it was a 1:45:00 ride. One highlight was when we saw a hawk alight upon our arrival around a curve. We both stopped talking and examined it as it flew away. "Black shouldered hawk!" Brian exclaimed. I had never heard of one. I thought that red-tailed hawks were all that we had in the valley.
Although it is true that my legs were sore at the end, I suffered no ill effects from the ride, nor did my bike when I woke up on Thanksgiving Day. In fact, I did better as a sixty year old man than I had when I was in my thirties, which was the last time I had done it with John Carter.
Other possibilities: descent from Idyllwild. This is not for the faint of heart! My friend John Carter and I did it many years ago by driving up the hill with our bikes in the back of the truck. His wife Sue was in Idyllwild and had agreed to drive the truck back. Although it was a warm (ninety degrees) day, we didn't mind, as the wind of our descent down the 74 Highway continually refreshed us. If I recall correctly, it was about forty-five minutes in total from the outskirts of the town to the outskirts of Hemet. Like some more experienced bicyclists that I had seen before, John's helmet had a little, rear-view mirror affixed with which presumably he could view cars as they approached behind him. I prefer not to see cars that are about to mow me down. As it happened, however, we both made it safely down.
For the REALLY determined bicycle enthusiast, I recall that a man used to bicycle up Lamb Canyon to Beaumont—then down on a regular basis. I don't hear of him doing so anymore, nor have I seen anyone whenever I have to leave town that way. But it sounds fun!
Recently, the State of California decided—against the protests of the Hemet City Council—to 'improve' Highway 74 (Florida Ave.) by installing cement islands–center dividers—in the middle of the road. The State apparently believes that since it is the proper custodian of highways in the state, that it may do whatever it wishes to the travel arteries where people live and breathe and commute. This brought traffic briefly to our valley —something with which we are unaccustomed. It also brought construction on Florida Ave and we valley denizens had to choose between waiting in traffic or else using side residential streets to find our way home, tired after an already long commute. However, there are now signs strewing the length of the project advertising in beautiful black and orange the following notice: One is a diamond shape with the profile of a bicycle, below it a smaller square entitled "Share the Road". On the right side of both directions of traffic, from the intersection of Florida and Sanderson, all the way to Florida and the Ramona Expressway are stencils of bicycles every 100' or so. Presumably, we bicyclists are encouraged by the State to use up the right lanes on both sides of the street to make our way toward whatever errand we have in mind. However, no bicyclists are there—not now, not before—maybe never, because . . . we aren't stupid.
-Peter Putnam
Find your latest news here at the Hemet & San Jacinto Chronicle