Hemet & Lake Elsinore Teachers Selected
A high school math teacher from Lake Elsinore and a first grade teacher from Hemet were each selected to receive a $100 Teacher Grant from Division 33 of the California Retired Teachers Association (CalRTA). John Chung, who teaches math at Ortega High School in the Lake Elsinore Unified School District, and Nicole Flanagan, a teacher at Hemet Elementary School in the Hemet Unified School District were each randomly selected from nearly 40 applicants to receive the grant money.
Mr. Chung plans to spend the $100 on board games, such as the Game of Life, Monopoly, chess, checkers, and possibly Connect 4. All of these involve using the students' minds to choose the best ways to win the game and have fun at the same time. Some of the board games also give the students the ability to work with math when they are dealing with their play money. "I used to have some of these board games, but lots of pieces are missing and some of the games are about eight years old," Chung explains. Periodically, Chung sets aside time for his students to play these games. Chung says he usually treats his students "on rainy days, the last week of the quarter, when the students are done with all of their work, or other times when there is a shortened bell schedule."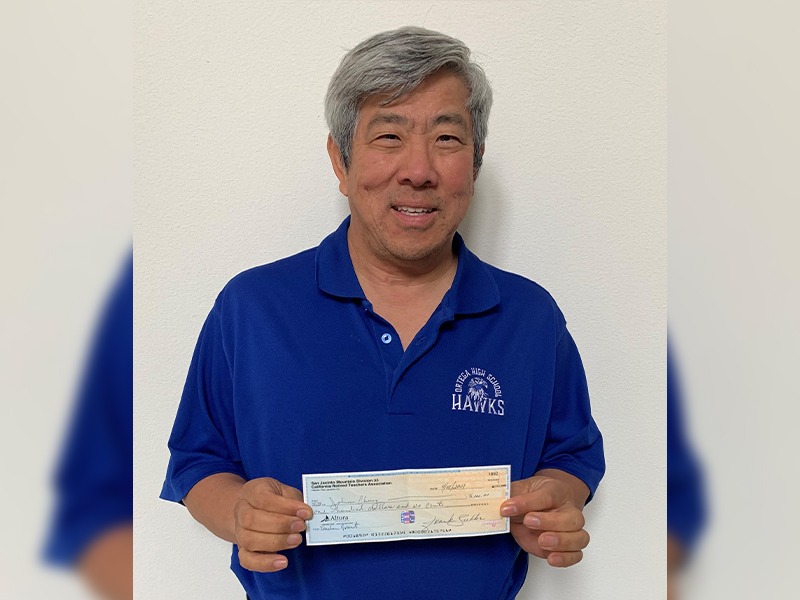 Always searching for ways to fund special activities in her classroom, Nicole Flanagan's focus is on motivating her students to improve and achieve. Ms. Flanagan has established a "scholar store" in her classroom, where students use "ClassDojo" points to purchase fun prizes. ClassDojo is a popular classroom reinforcement system that teachers can utilize to reward students for demonstrating positive behaviors. "I am going to use the money to buy more incentives for my scholar store. My scholars work hard to earn ClassDojo points, so I want to give them more options of incentives," Flanagan explains. And anticipating the return of students to the classroom, she also plans to purchase a class set of clipboards so she can take her students' learning outside. After a year of online learning, that will certainly be a welcome change for Flanagan and her students.
CalRTA Division 33, which covers Hemet/San Jacinto and surrounding areas, is in its second year of awarding grants to individual teachers. In addition to their teacher grant program, CalRTA Division 33 also offers up to eight $1000 scholarships to graduating seniors in the Hemet and San Jacinto school districts who are planning to become teachers.
For more information about CalRTA and Division 33, visit
https://calrta.org/ or https://div33.calrta.org/.
You can also follow CalRTA Division 33 on Facebook at https://www.facebook.com/groups/calrtadivision33.
Sue Breyer, Vice President, CalRTA Division 33
Find your latest news here at the Hemet & San Jacinto Chronicle