This past Saturday, Matt McPherson's Downtown Hemet Farmer's Market, hosted a car show in the back parking behind Team Quest Gym.
Not only is this a farmer's market, it is a variety of other activities, including hand-crafts of jewelry, sports logos, etc. However, the car show became of interest to this writer because of the vast variety of vehicles, from a 1932 Ford roadster to custom vehicles designed to catch the eye of anyone who appreciates classic cars. It was judged that the following were outstanding in their category: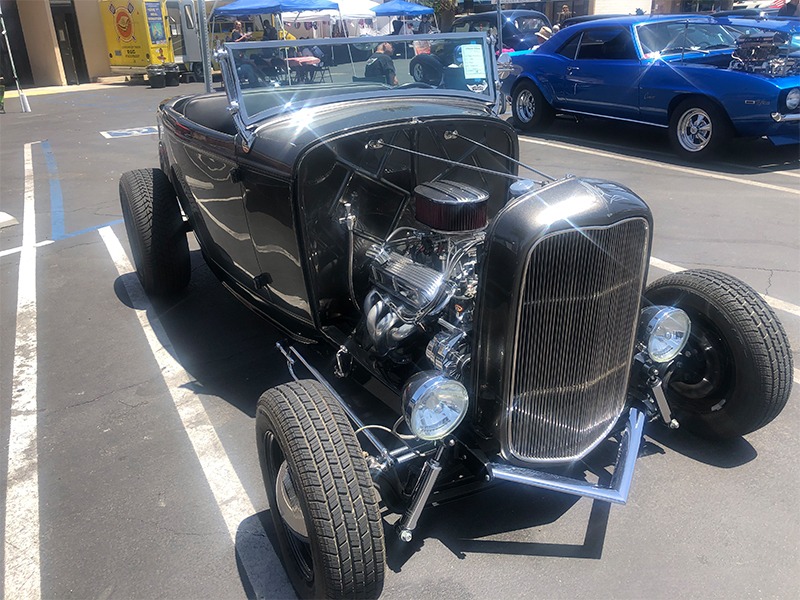 Original 1949 Mercury (see photo) – Larry Candelaria of Axle Draggers car club
Style – 1940 Pontiac Woody (see photo) – Larry Shaw – also Axle Draggers car club
Engine Design – 1969 Chevy Z-29 Camaro( see photo) – Mike Landin with 5150 car club
Oldest vehicle – 1932 Ford Roadster – Roger Ashford
Most fun – 1968 Corvette – Walt Healy – Valley Cruisers
In addition, a wide variety of custom and classic cars were on display beneath the swaying palms hovering high in the sky above. The aroma from the grilled cheese food truck tickled the hunger genes while D.J. Bryan Powell's speakers belted forth music of the classic rock era.
There were prizes and edible treats from the market, which soon disappeared as hunger pangs took over like lightning.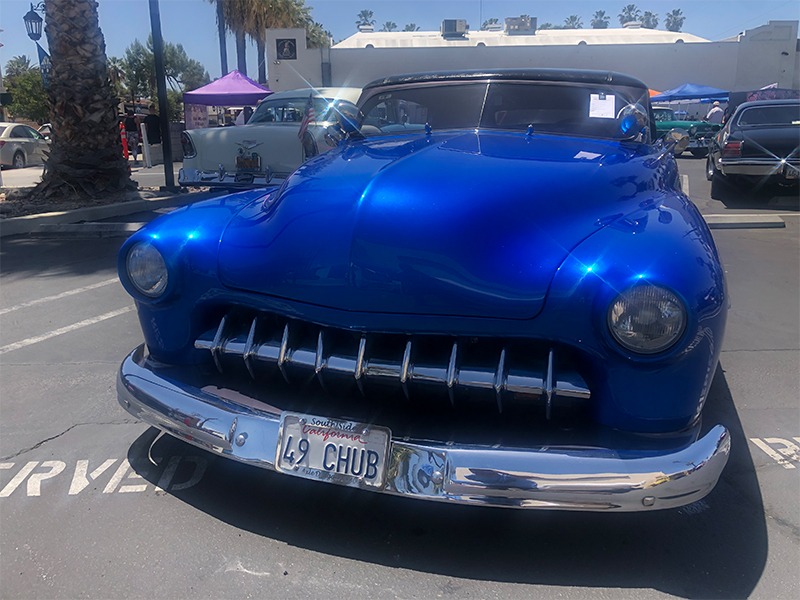 Not to worry if you missed this one because Shooter's Bar and Grill be hosting another car at the same location – Harvard & Florida Avenue in downtown Hemet on Sunday, May 30, 2021.
As an added attraction, more commonly known as an inducement, there will be an old-fashioned pin-up girl contest. There hasn't been one in Hemet in my memory but I do remember them and anybody past 50 should have no problem recalling them. Naturally, all the young guys will be on site for that. Some things never change.
With the State of California finally opening up from the long nightmare of COVID-19, this town will be rocking with entertainment from one end of Florida Avenue to the other, including all stops in between. I suspect the Destination Smokehouse probably has something coming up and your reporter will be on the scene to cover it if you can't.
Our goal is to provide our readers with the best of everything in town from City Hall to the Diamond Valley Lake and beyond. So keep tuned as they used to say in the golden days of radio. Just sayin' rustystrait@gmail.com
Rusty Strait • Senior Reporter
Find your latest news here at the Hemet & San Jacinto Chronicle