Reporting Deputy: Sgt. Sean Liebrand
File # TE200170162
Details:
On January 17, 2020, at 5:20 p.m., personnel from the Southwest Sheriff's Station were dispatched to the 44000 block of Festivo Street in the city of Temecula regarding an unresponsive male adult, later identified as 30-year-old Calin Sender. Sender was pronounced deceased at the scene. During the initial investigation, deputies located several M30 pills and Xanax bars in Sender's bedroom. The Sheriff's Coroner's Bureau determined Sender died as a result of fentanyl poisoning. In November 2022, the investigation was assumed by the Riverside Sheriff's Overdose Death Investigations and Narcotics Unit (ODIN). The M30 pills located in Sender's bedroom were sent for testing, and the results were positive for fentanyl. Over the next several months, investigators worked to identify the suspect responsible for selling the fentanyl that killed Sender. As a result of their efforts, the suspect was identified as Quinn McKellips, a 37-year-old resident of Winchester.
On September 9, 2023, the investigation was presented to the Riverside County District Attorney's Office, and charges were filed against McKellips. On September 15, 2023, personnel from ODIN and the Southwest Sheriff's Station's Special Enforcement Team (SET) located McKellips near the 29300 block of Cavalry Circle in Winchester and arrested him without incident. He was later booked into the Cois Byrd Detention Center for the murder of Calin Sender.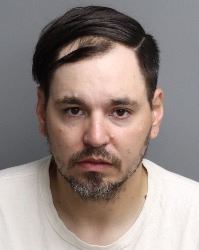 This investigation is ongoing, and anyone with additional information is encouraged to contact Master Investigator Cornett at 951–955–1700.
The Riverside County Sheriff's Office wants to remind citizens of the dangers of illicit narcotics, many of which may contain fentanyl. Fentanyl is a synthetic opioid 100 times more potent than morphine and can cause death or serious bodily harm.
For media inquiries regarding this incident please contact the Media Information Bureau.
Find your latest news here at the Hemet & San Jacinto Chronicle