(Reopening of Soboba)
Shortly after its first anniversary in March, the Soboba Casino Resort temporarily closed amid the coronavirus pandemic. The novel COVID-19 disease left people staying home and businesses closing their doors and furloughing employees. The Soboba Band of Luiseño Indians made the choice to reopen on May 27 and guests seem to be happy with their decision as they flocked to the casino to enjoy gaming fun once again. The Soboba Band of Luiseño Indians operates the SCR and the Soboba Springs Golf Course on its tribal land, and the Tribal Council said helping the community return to recreational activities they enjoy will help everyone heal as we all try to get accustomed to a new normal. The reopening also provides much-needed revenue to fund tribal resources that are essential to its members.
"We also made every effort to get our employees back to their livelihoods as quickly as possible," Chairman Isaiah Vivanco said. "We even reclassified some positions to bring back as many as we could, as soon as we could."
Chris Solis was a valet but in preparation of the reopening he was recruited to the environmental services (EVS) department as a member of the Soboba Clean Team. Many SCR employees, such as table games dealer Henry Bryant, returned to their previous jobs while others are working in different capacities until they are needed for a specific position once again.
"The Clean Team was put together to supplement EVS and focus on all high-touch point areas throughout the venue," said team supervisor Ronnie Bussell, who has been employed by Soboba for three years. EVS supervisor Karen Orman has been working at Soboba for 10 years and she said the protocol for her team to clean slot machines is to wipe it down with disinfectant from top to bottom and side to side as soon as someone gets up from the machine in order to have it ready for the next guest. Orman, who usually works the graveyard shift, was there during daytime hours on May 22 to help prepare for the reopening.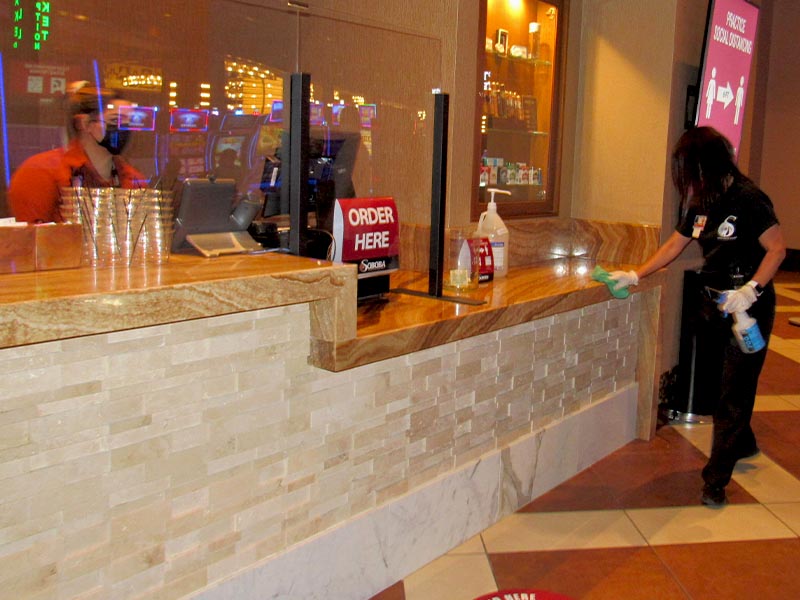 EVS crew member Clyde Brotherton was also working that day and excited about the reopening. He has been at Soboba for 11 years and worked about two weeks prior to May 27 to get things ready. Priscilla Frank has been with Soboba for about 18 years and has worked both the front and the back of the house during her tenure. She is currently the Player Services Manager and is a key person in the reopening. A Plexiglass divider is at the Rewards station which she oversees.
"We are opening with a smaller crew until we start to see the flow so we can gauge who needs to come back next," she said. "Masks are a mandatory part of the uniform for everyone that is a face to our guests. They can either wear a black or a red mask but all are issued as part of the uniform and need to be worn at all times. My team will also wear gloves since we will be touching members' cards; and we will change (our gloves) throughout the day."
The casino is currently adhering to a strict no-smoking policy on the casino floor but will have designated areas set up for smokers. During the facility's construction in 2018, planners opted to install sophisticated floor air exchangers that are designed to allow for outside air to come into the facility. Every 10 minutes the air handlers complete a cycle of replacing the air within the room with fresh air. This system has given the casino an added advantage during this time when cleaner air is so important.
In the days leading up to the reopening, Team Soboba employees were welcomed back with a mandatory COVID-19 property-wide protocol information session. Facilitated by Training and Guest Services Manager Kelley Carpenter Conign, she said the purpose of the video presentation and Q&A meeting was to help everyone understand the best way to utilize multiple PPE (Personal Protective Equipment).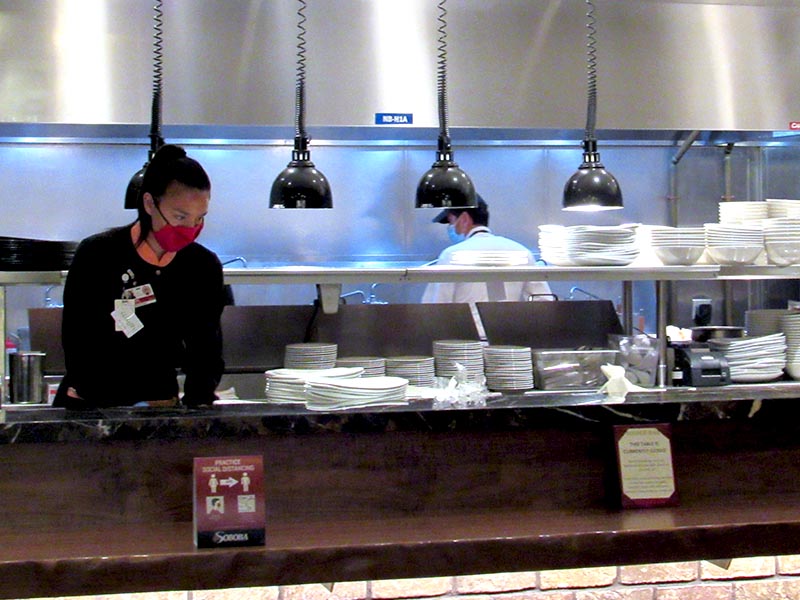 "It's not just about protecting yourself, but those around you," she said. "I felt it was important to go the video route for this training so as more employees come back, they will be able to get the same exact message. Resources for more information are accessible online through Soboba's internal website as well as other areas." Human Resources scheduled employees to attend the information sessions by department so they could meet with their supervisors afterward for more in-depth training specific to their areas.
Director of Table Games, Stewart Madden, has been with the casino for 10 years and said all his employees had to learn how perform their jobs with the new protocols in place.
"We are encouraging social distancing with only four players per table and spectators will have a line they will need to remain behind," Madden said. "We are trying to mitigate touching as much as possible and will be regularly sanitizing all the chips."
The new restrictions didn't seem to faze guests as they patiently waited in an area that was set up under the valet overhang at the main casino entrance. Excited conversations could be heard, such as: "I can't wait to win" and "I just want to get gambling again."
"It's one thing to plan for this reopening, but it's different to actively work with the protocols now that people are coming in," SCR Assistant General Manager Jason Cozart said on May 27. "So far, everything is going smoothly, and we have a lot of happy guests."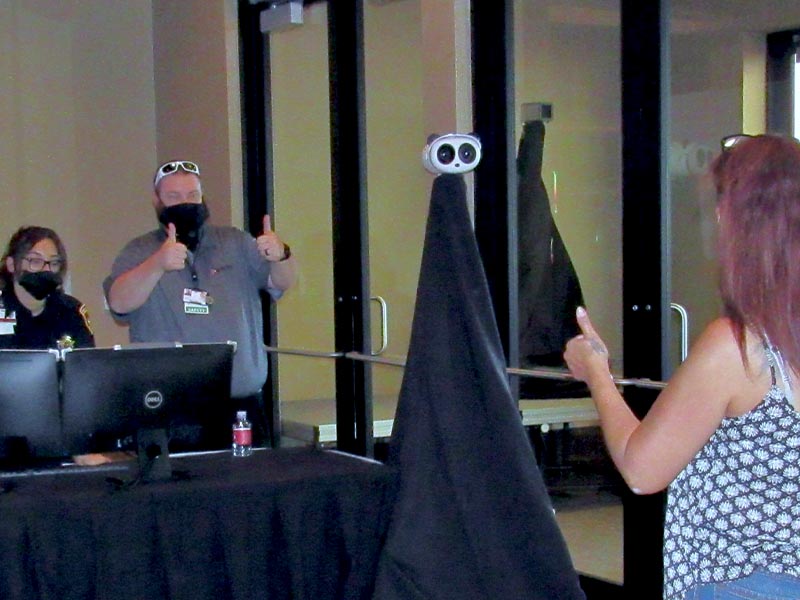 Soboba Casino Resort is at 22777 Soboba Road in San Jacinto. Information, www.soboba.com or 866-4-SOBOBA (866-476-2622).
Find your latest news here at the Hemet & San Jacinto Chronicle
Search: Reopening of Soboba