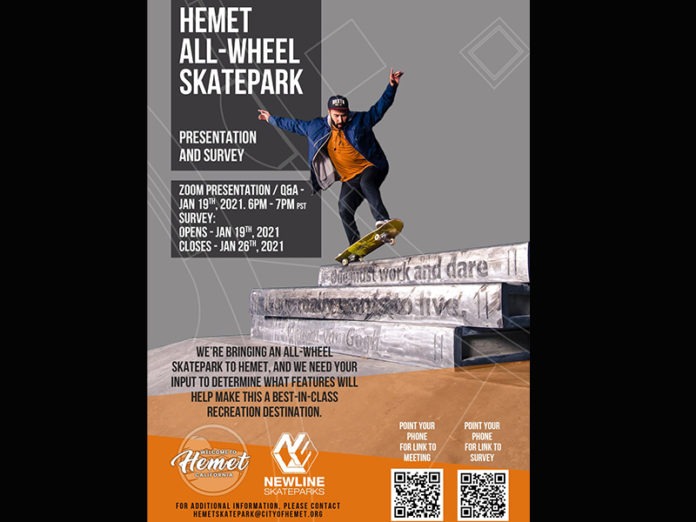 As a result of the Hemet City Council's action on September 8, 2020, the City will convene a planning meeting and survey to gather the community's input on the pending community skate park project.
In cooperation with its planning team from New Line Skate Parks, the community will be presented the forecasted project via Zoom with a live question and answer period. The public is encouraged to tune in and actively participate in the Zoom session and compete the survey that will be available online from January 19th until January 26th. "The community input phase of the skate park project is the most critical component because this project is for the youth and our community. We are extremely excited to engage with the community about what they'd like to see," said Mayor Karlee Meyer.
In September 2020, the Hemet City Council approved two resolutions to allocate $68,500 to complete the outreach process, finalize the skate plaza design scheme, and develop detailed construction drawings. Since then, City staff completed its application to the Statewide Park Development and Community Revitalization Program for a $1.95 million grant to construct the plaza. The initial design contemplates a 12,000 to 15,000 square foot skate plaza at Gibbel Park, with amenities such as a snake run, bowl, and quarter pipes.
Should the City be granted the funding, it will partner with the State of California Department of Parks and Recreation to receive 100% reimbursement of all costs expended, with all phases of the skate park project completed by March 2025. The survey can be accessed at https://bit.ly/3s0rjwe or by scanning the QR code on the flyers that are included with this release. Questions can be directed to [email protected] or by calling 951-765-2301.
Christopher Lopez • Contributed
Find your latest news here at the Hemet & San Jacinto Chronicle