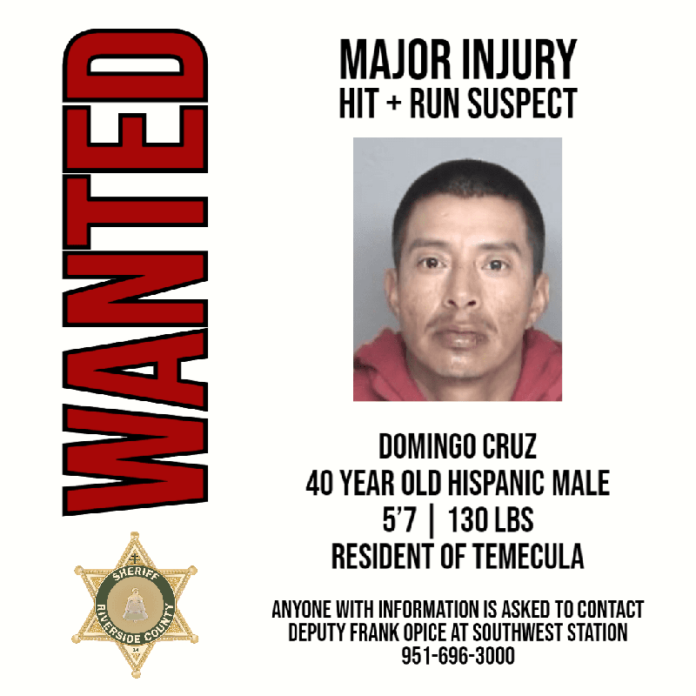 Update:
At 2:05 am, Wanted Suspect – Domingo Cruz was located by Riverside County Sheriff's Southwest Patrol Deputies in the 30000 Block of Rancho California Road, Temecula, and arrested for possession of a firearm and an active Felony Hit and Run warrant for his arrest. This is an active investigation and anyone with information regarding this case is encouraged to contact Investigator Gasparini of the Riverside County Sheriff's Southwest Station Investigative Division at (951) 696-3000.
Update:
Press release updated with suspect's photo.
Details:
On Tuesday, June 23, 2020, at 2:51 p.m. deputies from the Southwest Sheriff's Station responded to Rancho California Road and the I-15 Freeway, in the city of Temecula regarding a report of a two-vehicle involved traffic collision.
Upon arriving, deputies found one of the vehicles involved, a black Jeep Patriot, overturned in the westbound lanes of traffic on Rancho California Road, just west of I-15 freeway southbound off-ramp. The driver of the Jeep Patriot was extricated from the vehicle and transported to a nearby hospital for emergency medical treatment. The second vehicle involved, a green Toyota pick-up truck, with major front-end damage, was found unoccupied in the intersection, just east of the Jeep.
The preliminary investigation revealed the Jeep was exiting the I-15 Freeway southbound off-ramp and making a left hand turn onto Rancho California Road when the Toyota traveling westbound on Rancho California Road ran the red light at Rancho California and the I-15 Freeway overpass colliding into the driver's side of the Jeep. The driver of the Jeep sustained major injuries and was transported to a nearby hospital. The driver of the Toyota fled the collision scene on foot. The driver of the Toyota who fled the scene was positively identified as Domingo Cruz, a 40-year-old Hispanic male adult, 5 feet 7 inches tall, 130 pounds, brown hair, brown eyes, and is a resident of Temecula.
The Riverside County Sheriff's Department, Southwest Station's Traffic Team is actively looking for Mr. Cruz who has a warrant for his arrest on this case. Anyone with information regarding this hit and run traffic collision is encouraged to call Deputy Frank Opice at the Southwest Sheriff Station, 951-696-3000.
Find your latest news here at the Hemet & San Jacinto Chronicle