MSJC's Art Gallery
The MSJC Art Gallery is pleased to present "The Prototype," a very special sculptural installation by Gustavo Godoy. He will provide a public tour of the installation from 2 to 3 p.m. on Tuesday, Oct. 15.
"The Prototype" was originally installed at The Bakersfield Art Museum earlier this year, and this second installation will expand on the bright red explosion of form and content in our gallery. With this work, Godoy explores themes of how Latinx people have contributed to our constructed environment and how the world we live in is ever-changing.
Los Angeles artist Gustavo Godoy's (b. 1974, Ontario, Calif.) work is based on concepts of labor, construction, social systems, and traditions of formal abstraction. It functions in the challenging space between high and low culture, both modernist tradition and survivalist problem-solving. Whether made of lumber, metal or cement, and often of accumulated or found objects liberated from their initial intention, the objects are constructed through intuition and unified by paint.
"The Prototype" is a project about the physical barriers that humans put up to separate and control each other. The "Fast Forma-Object" is meant to be ominous yet enticing, playful, mysterious and engaging. It is an intuitive construction, where every bit of wood and metal is considered for its unique relationship to the logic of the larger accumulation. It is meant to be complex armature for ideas, asking the viewer to consider the politics of our time in relation to the production of structures that can serve to divide, protect, distinguish, and contain individuals and groups. As the son of a Mexican immigrant, Godoy has a unique perspective on how Latinx people contribute to American life and are perceived by society In many cases of constructing the built environment and grooming the daily lifestyle, the "day-laborer" is viewed as the lowest in society, yet essential to the workings of all industries and cities. Godoy's work pays tribute to the laborers and intellectualizes their sensibilities through the formal reference point of constructivism and minimalism.
Godoy will provide a public tour of the installation from 2 to 3 p.m. on Tuesday, Oct. 15. Gallery hours are from 10 a.m. to 4 p.m. Monday through Thursday. The gallery is on MSJC's San Jacinto Campus at 1499 N. State St., Building 1400.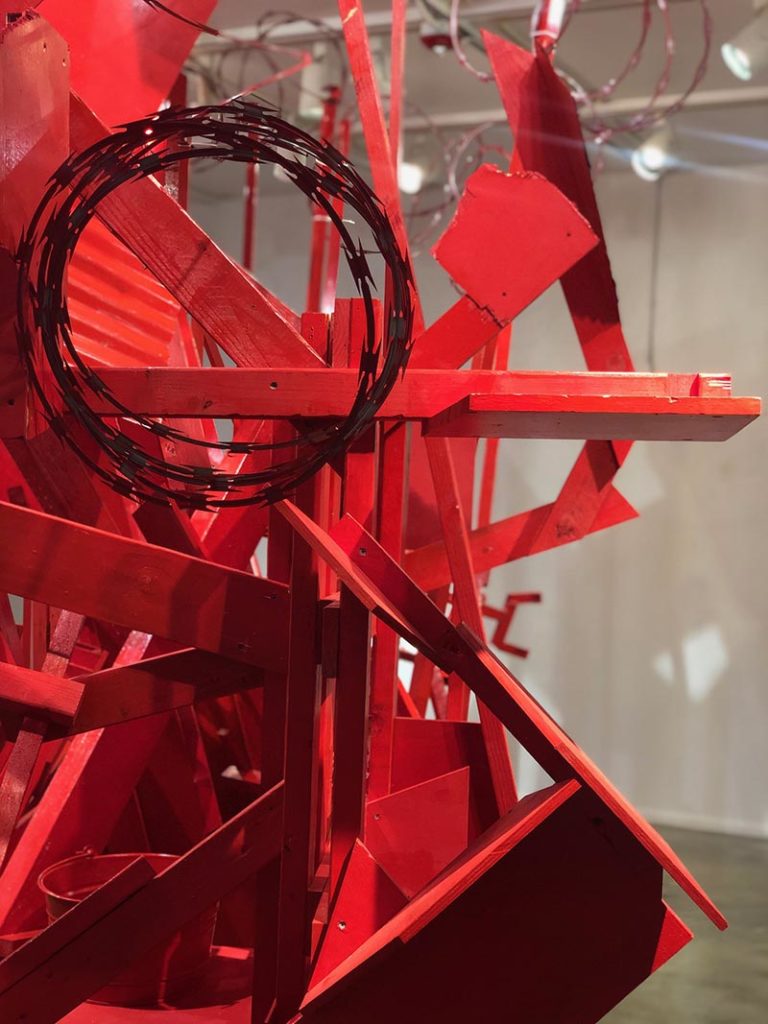 Learn more about MSJC's art gallery at www.msjc.edu/artgallery, call (951) 487-3585 or email jknuth@msjc.edu.
Mt. San Jacinto College serves about 27,000 students in a district covering 1,700 square miles from the San Gorgonio Pass to Temecula, with campuses in San Jacinto, Menifee, Banning and Temecula.
In May 2019, Mt. San Jacinto College awarded a record-breaking 3,314 degrees and certificates to 1,707 graduates.
Have a wonderful day and please follow MSJC on social media – Facebook, Twitter and Instagram.
Find your latest news here at the Hemet & San Jacinto Chronicle
Search: MSJC's Art Gallery