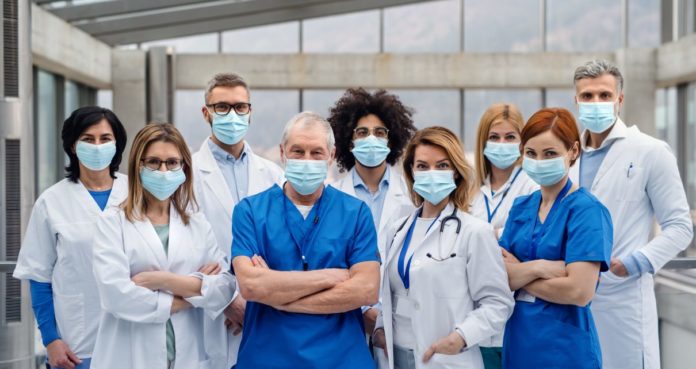 'Proponents are unable to cite a single example of a harm that could be prevented'
Katy Grimes | Contributor
When seeing a doctor in California now, it is important to understand that you are now visiting a servant of some politicians, not an evidence-based medical professional, a doctor posted on Twitter.
Effective January 1, 2023, Assembly Bill 2098 authored by Assemblyman Evan Low (D-Campbell), and signed into law by Gov. Gavin Newsom, is to circumvent due process against doctors over "Covid misinformation conduct." AB 2098 will punish physicians and surgeons for "unprofessional conduct" for advocating for the potential benefits of early treatment with off-label drugs, or those who dare to ask questions about COVID vaccine safety.
"There is no jury voting on this," Dr. Pete Mazolewski told the Globe in September. "This is a California Medical Board decision." Gov. Newsom could have vetoed the bill, which is likely unconstitutional. Assembly Bill 2098 would empower the Medical Board of California to go after the licenses of physicians who disseminate "misinformation" or "disinformation" regarding Covid-19. The bill in its latest iteration defines misinformation as "false information that is contradicted by contemporary scientific consensus contrary to the standard of care."
Who decides what is "Covid misinformation?" California's Medical Board, which is currently made up of 12 individuals: 6 Medical Doctors, 3 attorneys, a Public Relations consultant, an "Ethics Reformer," and a Life Coach. Under AB 2098, doctors would be subject to disciplinary actions by the Medical Board of California and the Osteopathic Medical Board of California if they do not adhere to the "approved COVID treatment consensus." Who approves the "consensus," Dr. Pete asked.
The medical board? Public health officials? Neither the members of the Medical Board nor all of California's public health officials are licensed medical doctors. Does the Centers for Disease Control and Prevention decide "approved COVID treatment consensus?" Even CDC Director Rochelle Walensky recently admitted her agency's failures during the COVID-19 pandemic during a message to her staff in August. ABC reported, "To be frank, we are responsible for some pretty dramatic, pretty public mistakes. From testing, to data, to communications," Walensky said.
As attorney Laura Powell of Californians for Good Governance noted, "Since AB 2098 explicitly restricts speech based on its content, it is presumptively invalid. The bill does not address the problem identified. The bill's authors and supporters point to the problem of doctors who widely amplify falsehoods about Covid-19, but silencing them would violate the Constitution. To remedy the constitutional problems, it would have to be pared down to the point that it would simply duplicate existing law. Proponents are unable to cite a single example of a harm that could be prevented." Dr. Mazolewski also addressed the threat to "Disseminating information" from doctor to patient.
"This 'unprofessional conduct' if the medical board disagrees with the information is the loss of a medical license." Physicians filed a lawsuit in November against the State of California over the new law, which attorneys say violates the 1st and 14th Amendments. The New Civil Liberties Alliance, a nonpartisan, nonprofit civil rights group, and attorney Laura Powell filed a complaint and motion for a preliminary injunction on behalf of five California doctors in Høeg, et al. v. Newsom, et al., asking the U.S. District Court for the Eastern District of California to prevent AB 2098 from going into effect.
"NCLA represents five physicians licensed by the Medical Board of California (MBC), most of whom treat patients on a regular basis. Drs. Hoeg, Duriseti, Kheriaty, Mazolewski, and Khatibi allege Assembly Bill (AB) 2098, signed into law on September 30, 2022, violates their First Amendment rights to free speech and their Fourteenth Amendment rights to due process of law," the NCLA said in a statement. "The law not only interferes with the ability of doctors and their patients to freely communicate, but it has already been used as a weapon to intimidate and punish doctors who dissent from mainstream views. Several Plaintiffs have experienced threats from other doctors and individuals on social media to use AB 2098 to have their licenses taken away, an obvious attempt to suppress the doctors' speech. They are being put between a rock and a hard place, fearing repercussions for acting in their patients' best interests by honestly giving them the information they believe their patients need in order to make informed care decisions."
Find your latest news here at the Hemet & San Jacinto Chronicle