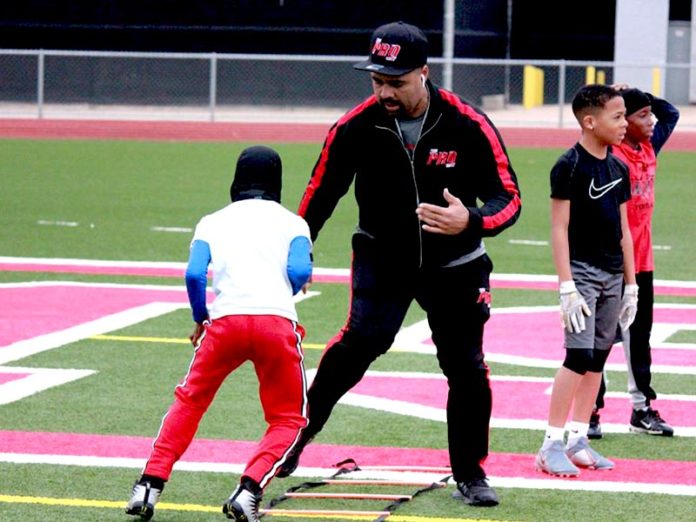 (New President)
Meet Juan Denny Sr, New President Of The Hemet Saints
Football runs deep in our valley and we have gotten the pleasure of watching some great athletes come up through our local youth teams. The Hemet Saints youth football program has a new President and he is ready to get to work developing the next generation's great athletes. Juan Denny Sr. has been a staple in the community for the past six years as a coach and a trainer. Denny is a certified personal trainer who specializes in everything from strength to agility, he also has a vast knowledge of rehab and recovery and knows how to help athletes perform at their peak level.

Denny has an impressive resume as an athlete himself: he played on the 1992 Olympic Baseball team, played baseball at Texas Tech, and was also a CFL running back. It's safe to say that Denny knows what it takes to compete at the highest level and enjoys helping kids get the chance to compete on that stage as well.
Denny is on a mission to make a difference in our community and is using sports as is a way of doing so. He wants to teach, train, develop, and instill confidence in the kids. Denny is planning on working overtime to help athletes out here get mainstream media exposure like they do in other places around the country. "We have a lot of really talented athletes in our valley who have the potential to compete at high levels. These athletes just miss out on the opportunity to compete due to a lack of exposure. I'm aiming to fix that."

Denny has a great philosophy when it comes to coaching, "it takes a village to raise a child." Denny said that learning that really humbled him and allowed him to seek help when needing it. He takes that and applies it to his coaching style, making sure to surround himself with good coaches who care about the kids and want to help them become the best version of themselves as they possibly can be.

With tackle football participation decreasing in youth all around the country, we asked Denny what he thought about it and what he would say to parents who are on the fence about signing their kids up to play tackle football this season. "We know football is a violent game, but allow us to teach athletes how to play with proper fundamentals. Yes, we want to win games. However, the bigger picture is to teach these kids about life, by using sports. Football is the best team sport there is. It teaches you to fight through adversity and never give up on your goals and dreams. Trust the process: our results don't lie and we know how to make great athletes."

Sign-ups for the next season of football are approaching fast. If you are interested in signing up, reach out to the Hemet Saints Facebook page for more information or you can give Juan Denny a call at 1(619) 592-2898
Find your latest news here at the Hemet & San Jacinto Chronicle
Search: New President