I met Gary Oakley for the first time while we were standing in line at the local office supply store. He was standing in front of me, and I commented on his on the positive message on his T-shirt, which ended with an upbeat, "Yeah baby." He turned to me and said, "That's become my motto. I run marathons."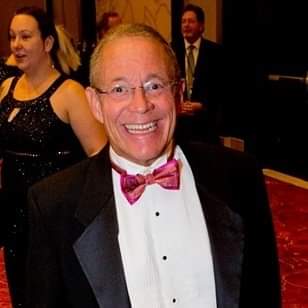 I almost laughed. You see, Gary has Cerebral Palsy, and his stance was not exactly stable. Then he smiled and said, "Some people don't believe me." Then I realized that Gary Oakley was extremely serious…and an incredibly positive person.
Gary, his wife Cheryl and I met again at the Tuesday's Ribbon Cutting Ceremony at The Destination Coffeehouse (see that story elsewhere in today's edition). "I was born with CP as a 3-pound premature baby in 1950. Far from holding me back, my parents did more than ignore my physical challenge…to them, it didn't matter. They truly made me realize that everyone has challenges…and I'm no different. In that, I'm just like everyone else."
If you need to laugh or get a daily dose of positive thinking, look up Gary Oakley.
"I wanted to play baseball…and my parents made sure I played baseball. I ran around the neighborhood with the other kids, just like every other kid. About the only thing that worried them is when I wanted to make some money by getting behind a gas-powered lawnmower," he jokes.
When Oakley finally decided to ask his mom some personal questions about his physical challenge, he was in his mid-40s. "She said, "Gary, you're the most amazing person I ever met. I know I'm your mom, but I mean it." They told me that when I was born, they had two ways to look at this: they could've looked at it as "This is Gary, our disabled son, "or, "This is Gary, our son. They looked at me as their son…and so, I didn't give a damn that I was a bit slower than the other kids. I just tried harder."
As a child, Gary didn't like school, and at age eight or nine, he found out that he could leave school at age 16. "Oh boy, that was for me," says Oakley, adding, "but my parents asked, "How are you going to support yourself?" "What they were trying to show me is that, no matter what I wanted to do…I had to be self-sufficient. My dad told me I wasn't cut out for diggin' a ditch. He meant I had to go to school and excel."
Oakley seriously pondered public service and even the Presidency. "My parents never once put a limitation on me…and I never have either. My parents encouraged anything that I wanted to do." One day Gary walked into his chiropractor's office and told the chiropractor he wanted to go rollerblading. "I usually don't hear the word can't very well, but he made me realize there's a difference between "can't" and "smart." I chose to be smart, but, it has always seemed to me that a lot of times, people say can't when what they really mean is "won't" because they're afraid of stepping out of your comfort zone."
While Oakley has learned to be smart with his "challenges," he never gives up stretching the boundaries of his mind and body. "When I went to medical specialists some years ago and told them that I wanted to get into distance running, they said to me, "What do you want to go and do that for? I felt like saying, "Why did you want to become a doctor?"
Since then, Oakley has run five full marathons, including 3 New York marathons. Yes, you read that right. "I could never have done that without Cheryl and the many others who have always supported anything I wanted to do," says Oakley, adding, "I call those people my "supporting cast."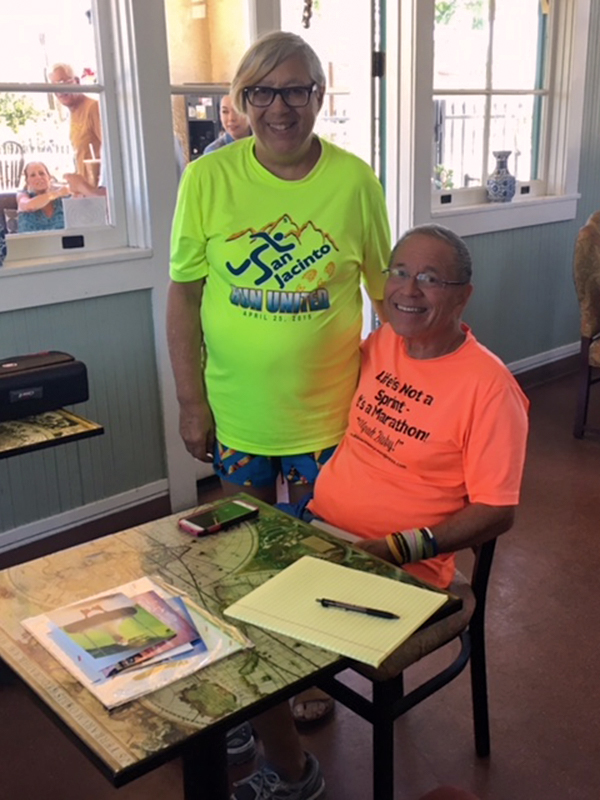 Oakley calls his wife, Cheryl his "Sherpa." "I carry the water, the toilet paper, and anything else he might need. He has a guide that runs with him, his "supporting cast" …but he does it all himself, and I'm there to be his support and cheerleader."
Oakley's last marathon was in 2010, "I could never have gotten through that without Cheryl." Oakley never says he has a "disability." "I'm just me. I'm at a point in my life where I can be thankful for every day and grateful to be able to give back to others. I'm also thankful that my parents set the bar so high.
Cheryl and I are a team, and we live our lives now trying to pay it forward. " Oakley has a list of things he wants to finish before he's done, but he doesn't call it a "bucket list." "I call it an "Opportunity list." It's all about creating opportunities, first for others …it's about making a difference. We've been married for ten years, and that's been the central theme of our lives. We're very happy in sharing our lives, and we want others to come along the journey with us. We both believe strongly in giving back, and we believe it's our purpose to give back. We've been through some interesting things together," says Oakley, adding, "I want to run out of life before I run out of list."
Oakley has been an inspirational speaker at many conferences, several of them as a keynote speaker at national conferences. Of their lives together and their mission, Cheryl Oakley says, "You never know the positive impact you may have. You might never know how you have positively impacted even one person, but, if that person impacts just one other person and they keep it going…you've reached hundreds and hundreds if not thousands of people. That's what we do with our card business. It's all about creating connections."
The Oakley's greeting card business, www.sendoutcards.com/yeahbaby has become "kind of, our ministry. With any cell phone, you can take a picture, and in 30 seconds you can have an order ready. The first card is free. You can send it anywhere in the world and then send it through the mail…and tell people that you're thinking about them," says Cheryl Oakley, adding, "First you think about them, and then, when they receive the card in the mail, they're thinking about you. It's beautiful."
Of their lives together, Gary Oakley says, "We love being able to share our lives with other people, and that gives me…gives us, a sense of purpose."
If you meet Gary or Cheryl Oakley once… you can tell right away that they live their purpose. And what a beautiful purpose it is.