Reporting Deputy: Sergeant Jeff Cryder
File# O232100018
Details:
On July 29, 2023, deputies from the Palm Desert Sheriff Station responded to a robbery that occurred in the area of Ramon Road and Thousand Palm Canyon Road, in unincorporated Thousand Palms. The investigation revealed the victim was contacted by a female suspect at an establishment in the 32200 block of Bob Hope Drive in Rancho Mirage and lured into a vehicle in the parking lot. Two additional suspects were in the vehicle and the victim left the area with the 3 suspects. The driver of the vehicle was described as a white or light-skinned Hispanic male, with several tattoos covering his head and body. One of the females was described as a Hispanic female adult in her 30's and the other was described as a white female adult in her 40's. After driving the victim to the area of Ramon Road and Thousand Palms Canyon Road, the driver of the vehicle brandished a black semi-automatic handgun and demanded all the victim's belongings. Deputies obtained a description of the suspect vehicle and were later able to identify the driver as Nicholas Tyler Young, a 31-year-old resident of Palm Springs.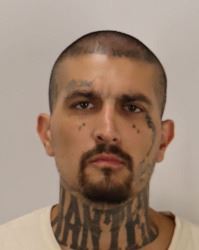 On August 2, 2023, the Rancho Mirage Special Enforcement Team located and arrested Young during a traffic stop in the parking lot of a business, located in the 68000 block of Ramon Road, in Cathedral City. Young was booked into the John Benoit Detention Center for a parole violation, robbery and conspiracy.
The Riverside County Sheriff's Office encourages anyone with information regarding the incident to contact Deputy Paull at the Palm Desert Sheriff's Station at 760-578-4275.
For media inquiries regarding this incident please contact the Media Information Bureau.
Find your latest news here at the Hemet & San Jacinto Chronicle