In this week's Player Profile we introduce you to Juan Denny, Juan is a San Diego transplant who moved to San Jacinto just a couple years ago. This boy plays Running Back for the Tigers. Juan has been playing football competitively since he was five years old and fell in love with the running back position at a very young age. I asked Juan what he loved about football. He said, "I love that it takes my mind off of everything around me, when I'm on the field it's just me and the ball. I don't even think about reality when I'm on the field; nothing else matters. It's just Instincts to me, and I feel right when I'm playing football."
That is a feeling most people who played football can relate with. The field almost feels like home, all your outside problems disappear, and all it's about is who can run faster, hit harder, or wants it more.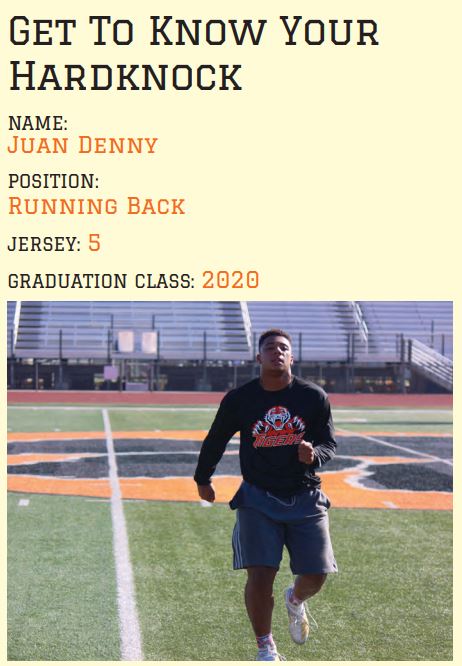 Last season Juan earned All-CIF honors as well as First-Team All-League. Juan wants to go down as San Jacinto's all-time rushing leader. A hard feat to accomplish, considering he only gets two full seasons to do so. Denny made great strides last season earning over 1,000 rushing yards and banking in 20+ rushing touchdowns. He will look to pick the pace up this upcoming season and has been working hard all off-season to accomplish his next goal. His off-season workouts are focused around boxing to help his explosiveness and endurance.
Juan is a good student, finishing his junior year with a 3.0 GPA; his favorite subject is math. He says that numbers make sense. They don't change, they are what they are, and it has helped him learn Coach G's playbook with relative ease. Juan dreams of playing in the NFL and would like to start that adventure by earning a scholarship to play football as a Longhorn at Texas.
Football or not Juan plans on graduating college and will do anything to achieve that goal. If he doesn't receive an athletic scholarship, he plans to join the Navy so they can help pay for schooling and ultimately wants to get a job as a sports broadcaster.
Juan is extremely thankful to his Grandpa for being a role model and a mentor to him. His Grandpa is always there for him when he needs to talk to someone and gives the best advice. Juan is also very thankful to his dad. For as long as Juan can remember, his dad has always been a grinder working hard for everything he has. Juan feels like that is the best thing his dad has ever taught him. The Value of hard work and how if you are willing to put in the work, you can achieve your dreams.
---
Come out this season to the San Jacinto High School football games and show your support for your valley Hardknocks as the aim to bring a CIF championship home this season.