Reporting Deputy: Sergeant David Koedyker
File # C231390036
Details:
On May 19, 2023, at 6:24 PM, Thermal Station patrol units responded to the area of Bay Drive and Miramar Drive, in the unincorporated county area of North Shore, for a report of a shooting at an occupied vehicle. The driver of the vehicle observed the suspect arguing with a female and throwing bottles at her. When the driver of the vehicle attempted to assist, the suspect pulled out a handgun and fired a single round into the vehicle, occupied by the driver and two additional juveniles. The investigation was assumed by the Thermal Station Special Investigations Unit.
During the investigation, the suspect was positively identified as David Lemus, a 20-year-old resident of North Shore. On June 15, 2023, a search warrant was served at Lemus' residence, located in the 70000 block of North Shore Drive, North Shore.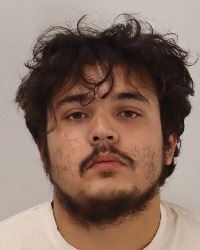 Lemus was taken into custody without incident and booked into the John Benoit Detention Center for three counts of attempted murder and two counts of felony child endangerment.
The Thermal Station Special Investigations Unit is asking anyone with additional information to contact Corporal McTigue at the Thermal Sheriff's Station by calling (760)-863-2813. If you wish to remain anonymous, call Valley Crimestoppers at (760) 341-7867.
For media inquiries regarding this incident please contact the Media Information Bureau.
Find your latest news here at the Hemet & San Jacinto Chronicle