On Saturday August 7th, Smooth Sounds of Santana hits the stage for the fourth time at the Historic Hemet Theatre. Past shows have drawn some of the fastest sellouts (and this appears to be no exception), so fans are advised to grab their tickets as soon as possible.
An odd phenomenon takes place when this band hits the stage. As usual, the dance floor is packed — but strangely, almost no one is dancing! The entire crowd is just staring at the band! This band performs with three drummers and the result is a show that will make your jaw drop!
"Smooth Sounds of Santana" recreates the look & sound of Carlos Santana, replicating the music, note by note, from the legendary early days to material from all eras of Santana's 30+ year history. The show features all the biggest hits as well as some lesser-known classics that will thrill even the most die-hard fans. Lead by Gary Albano, seven seasoned musicians recreate the sound that earned Carlos Santana eight Grammy Awards and induction into the Rock and Roll Hall of Fame.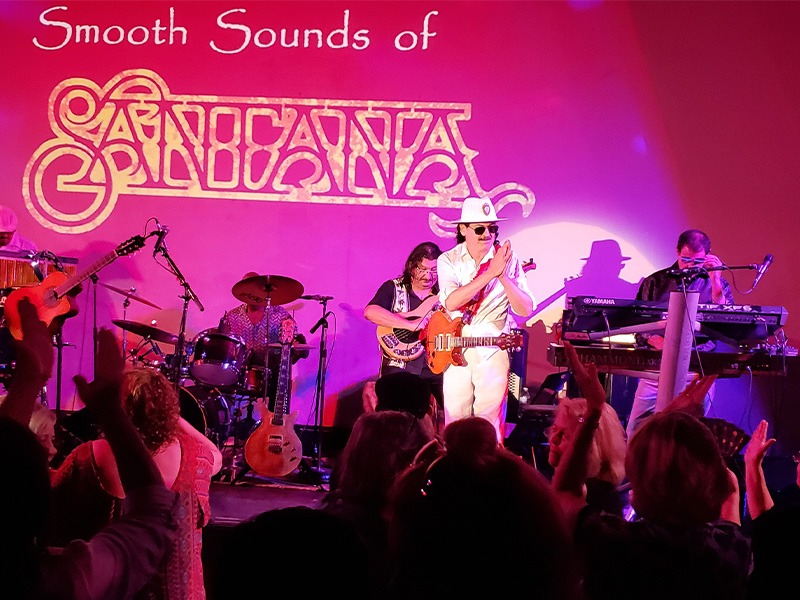 Santana was the first to bring Latin-infused rock, jazz, blues, salsa and African rhythms to rock and roll, and is widely regarded as one of the greatest guitarists of all time. Among Santana's greatest hits are "Black Magic Woman," "Evil Ways," "Oye Coma Va," and "The Game of Love."
Even if you were not a Santana fan "back in the day," this performance is one that you simply must experience for yourself.
The remaining shows in the 2021 Tribute Mania Concert Season are Tribute to Santana, with Smooth Sounds of Santana (Aug 7), Tribute to Tina Turner, featuring Debby Holiday (Aug 14), Tribute to Neil Diamond, with Hot August Night (Aug 21), Tribute to Led Zeppelin, with Led Zepagain (Sept 4), Tribute to Bob Seger, with Turn the Page (Sept 18), Tribute to Foreigner. featuring 4NR (Oct 2), Tribute to The Beatles, with Hard Day's Night (Oct 16), and Tribute to Fleetwood Mac with Mirage (Oct 23).
Tickets for Tribute Mania are $25, general admission. Showtime is 7:00 pm, with doors open at 6:15 pm.
Information on all theatre events is available at www.HistoricHemetTheatre.com or by calling the ticket office, (951) 658-5950. You can subscribe to the HHT email blast by enrolling on the website.
Event tickets are available at the theatre Box Office (Monday thru Friday 11 am to 5pm) or online at www.PurplePass.com. Tickets are also available at the Downtown Deli, 113 N Harvard St and the Harvard Street Music Exchange, 134 S Harvard St.
Emily Rand | Contributed
Find your latest news here at the Hemet & San Jacinto Chronicle