On July 27th, The Board of Supervisors authorized an increase in the budget for a major trail project in Riverside County, spanning 16 miles from Menifee to Hemet, two segments of which have already been completed and opened to the public.
In a 5-0 vote without comment, the board formally adopted an amendment to the original Salt Creek Trail Project budget, raising it by $157,000, all of which will be reimbursed to the county as part of an agreement with the Regional Park & Open Space District, one of several entities spearheading the development.
The total project budget is now $8,141,868, though it's uncertain whether all of the funds will need to be expended.
Work on the east-west Salt Creek Trail got underway in the first half of 2020, and since that time a four-mile segment between Goetz Road and Interstate 215 in Menifee has been finished, as well as a one-mile segment on the north side of Diamond Valley Lake in Hemet. Pedestrians and bicyclists are able to use the completed pathways.
According to the Regional Park & Open Space District, costs have been driven up unexpectedly by accommodations for nesting migratory birds, relocation of utility lines and habitat restoration. Curb and gutter improvements, rock slope reinforcement, concrete ramps, cable fencing, pipe gates, pedestrian crossing enhancements and flood control channel upgrades are part of the project, which former Supervisor Marion Ashley championed before retiring over three years ago. He lauded it as a future attraction sure to encourage more residents to enjoy the outdoors.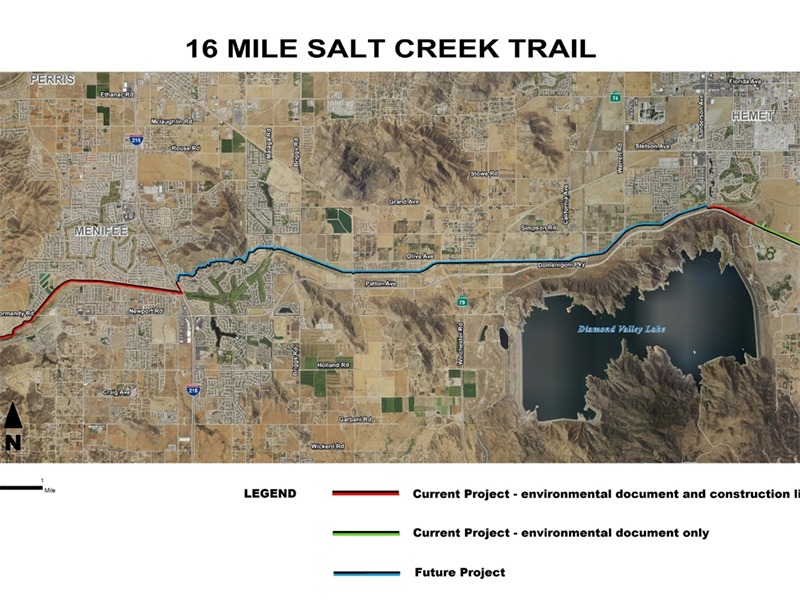 "The regional trail will provide the opportunity for expansion of local and regional trail systems, sidewalk and bike path connections from the trail to surrounding communities, schools, commercial areas and ultimately two key regional recreational facilities at Lake Skinner and Diamond Valley Lake," according to a statement posted to the board's agenda. "The trail will … significantly improve quality of life for residents."
Salt Creek is tying into an existing network of walking paths, offering a five-foot wide space for pedestrians, as well as a 14-foot wide space for bicyclists and other approved devices.
Most of the project budget is composed of federal grants and local development impact fee revenue.
Along with the Regional Park & Open Space District, the county Transportation & Land Management Agency is involved with the trail, along with the Riverside County Transportation Commission.
The project is part of the Southern California Association of Governments' "2035 Bikeway Network" regional plan unveiled in 2012.
All trail segments are expected to be finished over the next few years.
City News Services | Contributed
Find your latest news here at the Hemet & San Jacinto Chronicle