(A sting worth getting)
Riverside County's "Operation Pass Resolve" nets positive results
At a news conference held on November 20, Riverside County District Attorney Michael Hestrin announced the termination and total success of Riverside County's "Operation Pass Resolve," organized by the Gang Impact Team (GIT).

After DA Hestrin's opening remarks came comments from Beaumont Police Chief Shawn Thuilliez, comments from Banning Police Chief Matthew Hamner, comments from Palm Springs Police Chief Brian Reyes, comments from Riverside County Sheriff Chad Bianco, comments from Homeland Security Investigations Assistant Special Agent-in-Charge Robert Goetsch, comments from Riverside County Fifth District Supervisor Jeff Hewitt, and comments from Riverside County Third District Supervisor Chuck Washington.

These comments were followed by a question and answer session moderated by District Attorney Hestrin.

Also in attendance were Cathedral City Police Chief Anthony Yoakum, Desert Hot Springs Police Chief Jim Henson, the DAs Chief of the Investigators Joe DelGiudice, and Hemet's own Chief of Police, Chief Robert Webb.

The sting netted 174 arrests over the past 15 months and recovered 23 firearms from the pass area, according to Riverside DA Hestrin at the half-hour news conference, held in Beaumont.

Nineteen teams from local, sate and federal agencies made arrests at 65 locations in Riverside County, San Bernardino County and Los Angeles County. "The biggest thing is we need to get drugs, guns and criminals off the streets," Hestrin said.
Beaumont Police Chief Sean Thuilliez said he had volunteers from his department, as well as patrol officers, multiple law enforcement, the detective bureau and the public information officer working hundreds of hours on this investigation. "I'm so proud of the dedication of the men and women of the Gang Impact Team," Thuilliez said.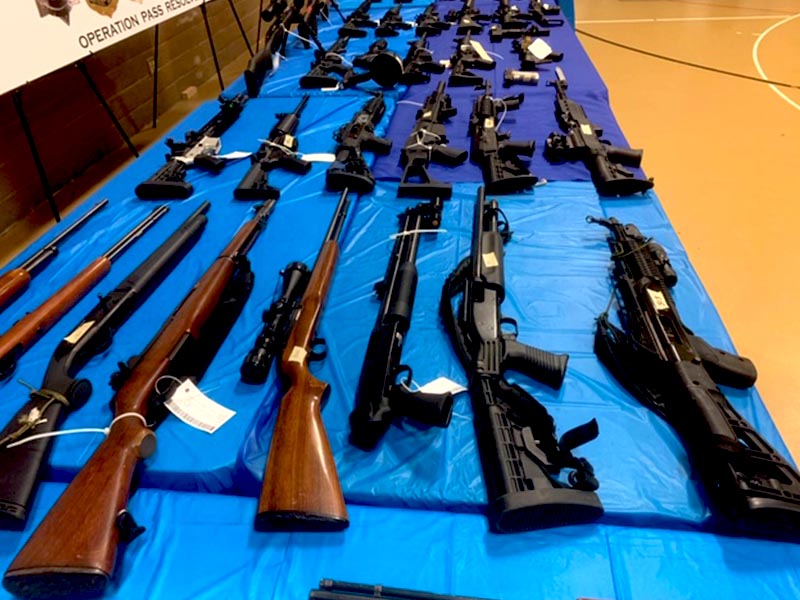 (A sting worth getting)
Banning Police Chief Matthew Hamner said that criminals in the pass area will, "learn from this investigation that they are not above the law."

At a location in Hemet during one of the probation searches, a man with an outstanding warrant for murder and vehicular manslaughter was arrested. The case involves a 2018 incident in which the assailant is charged with driving under the influence (DUI) when his vehicle struck a motorcyclist in Menifee.

One of the teams involved was assisted by Huntington Park Police Department serving a warrant in that Los Angeles County city where one man was arrested and six firearms and a pound of methamphetamine were seized.

The primary focus of Operation Pass Resolve has been to reduce crime and violence while targeting organized crime, wanted felons, and those trafficking weapons and drugs.
During the last 15 months, the Gang Impact Team (GIT) had previously made 18 arrests and recovered 23 firearms from the pass area during Operation Pass Resolve.

Since GIT's last major operation, dubbed, "Valley Vigilance II," in the Hemet Valley area, which culminated in August 2018, the team has been actively working criminal investigations throughout Riverside County under the "resolve" title, which have resulted in an additional 126 arrests and the recovery of another 197 firearms. Additionally, since Operation Valley Vigilance II, GIT has seized 71 pounds of methamphetamine, 55 pounds of cocaine, three pounds of heroin, and 1,100 Fentanyl pills. Fentanyl is much stronger than most other opioids—up to 100 times stronger than morphine—and is very dangerous if misused. Even a small amount can cause an overdose and death.

The Riverside County Gang Impact Team is supervised by the District Attorney's Bureau of Investigation and is made up of investigators and agents from the DA's Office, Homeland Security and Investigations, Bureau of Alcohol Tobacco and Firearms, U.S. Border Patrol, the California Department of Corrections and Rehabilitation's Special Services Unit, and detectives from the Beaumont, Banning, Palm Springs, Cathedral City, Desert Hot Springs, Corona Police Department, and our own Hemet Police Department.

The HSJ Chronicle would like to thank Hemet Eye News without whose pictures and consultation this article would have been impossible
Find your latest news here at the Hemet & San Jacinto Chronicle
Search: A sting worth getting