Adam's Arrangements florists is a beautiful petunia in the onion patch of tire stores and vacant land near State and Scovell Streets in San Jacinto. "We're glad that it's a free-standing store, it catches people's attention. That's also why we have our large Teddy Bear and large wreath outside, so we stand out," said Roxanna Bautista. The store's "curb appeal" is excellent. It's bright, beautifully clean and very inviting. Inside is everything you'd expect in an upscale floral shop-and much more.
"My mom took courses in floral arrangement and has owned several stores including a florist shop in Compton," said Roxanna Bautista.  "We know what we're doing," said Rosa Bautista. When Rosa relocated to the San Jacinto area, she noticed the lack of floral shops in the area. She started asking people where they shopped for their flowers. "No one that we asked shopped at a florist in San Jacinto. We decided to change that," said Roxanna.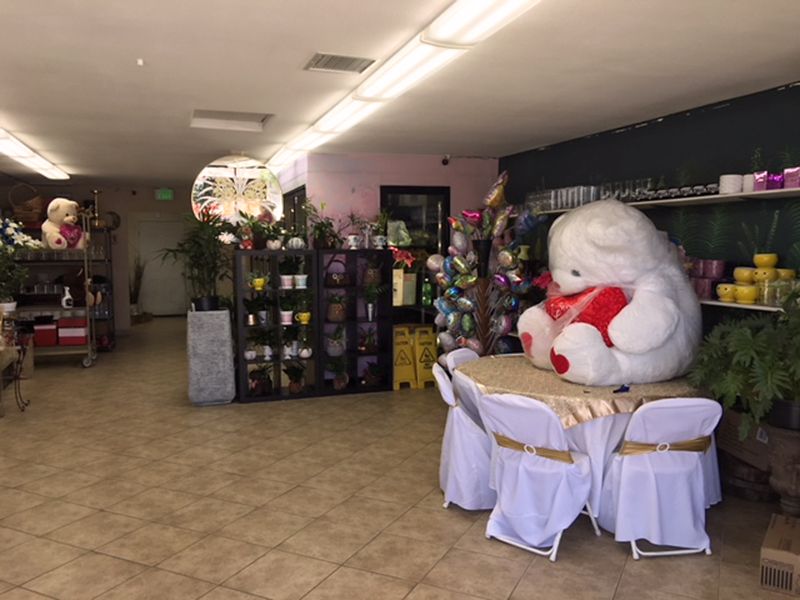 Adams offers arrangements for businesses and corporate plant programs to beautify any size corporation. "Along with our corporate work, we are also experts in funerals. Any personal floral arrangement or gifts, weddings, quinceaneras (a sweet 15 celebration), and we offer exotic arrangements as well. These services are something that very few stores can offer."
The store's sales have risen steadily in the four-plus years since its opening. "Business has been fantastic and is only getting better. We are always fully stocked. We always carry plants and flowers that other stores do not have. Mom always makes sure that we have a large stock of "baby's breath," for those people who like to raise their flowers and create their arrangements."
Same day delivery is another reason for the store's success. "We deliver to many points in Riverside including Temecula, Valle Vista, San Jacinto, Winchester, Beaumont, and even Perris." The store also carries a full line of party supplies including chairs, helium and a wide array of balloons. "Another reason for our success is our every day special, which is a $5 bouquet. We get many compliments for those, and we are always fully stocked."
---
For those who like the ambiance of a clean, bright, beautiful store with people who take pride in their work, you can't beat Adams arrangements, 420 S. State St., 951 254-6946. Please see their coupon located elsewhere in today's newspaper.