Rabbi Michael Barclay | Contributed
I will leave the issue of borders to more political commentators and focus on the other two values of culture and language. These are the roots of Western Civilization, and if we look even briefly, we can see how they have been co-opted by the far left into what is clearly destroying society, as we have known it for centuries.
Oliver Wendall Holmes famously said, "Language is the blood of the soul into which thoughts run and out of which they grow." The left has changed the English language over the last twenty years into a weapon for their agenda. They successfully shifted "pro-abortion" to "pro-choice", and now to "reproductive rights". The language changed the concept of supporting an operation that kills a fetus into a "right" to do so. The accurate and harsh term of "transvestite" moved to the more palatable "cross-dresser", and then to the joyous euphemistic label of "drag queen". From there, the left has now been working to label men with gender dysphoria as "women", to such an extent that a now Supreme Court Justice was unable to define what a woman actually is.
The crime of pedophilia is one of the most dangerous and psychologically sick actions a human being can do. It violates every moral value of humanity. And yet, the left is now attempting to legitimize this depravity by changing language. No longer do they want these criminals to be called out as pedophiles, but are now re-labeling a violator of children as a "minor-attracted person".
Savage was right. The left is not only attempting to change Western civilization through language, but they are winning that war currently.
We see more dangers in the left's attempts to destroy society in their attack on every aspect of our culture. Large corporations are embracing the left's anti-culture values with their acceptance of a value system that is antithetical to the traditional Judeo-Christian ethics that have built Western culture. Businesses, including banks, are attempting to evaluate loans and finances through ESG (environmental, social, and governance) ratings, determining large financial decisions not on financial feasibility, but on socialist values of the left. History is being rewritten to exclude and/or denigrate our historical national leaders. Monuments to men who founded this nation are being destroyed, and a new and inaccurate history of this country is being fabricated through programs like the 1619 project.
Most insidiously, war has been declared by the left on the family and on religion: the two institutions that historically have been the last obstacles to dictatorial authoritarianism.
Using the revised language as a basis, the left is attempting to remove the family unit as the primary influencer in children's lives. Laws giving young children the ability to mutilate themselves without parental knowledge are being proposed nationwide. The agenda of transvestite grooming of children is becoming commonplace in the public arena. Cross dressing is being promoted in large retailers and magazines. And the organization and traditional values of religion are being attacked at every turn.
Through language first, followed by extreme actions, the left is radically changing the culture of our world. What Dr. Savage predicted twenty years ago is happening now, and they seem to be winning the war.
But the war isn't over, and we can still reclaim this country, society, and Western civilization.
In the same way that the left took over language first in order to change things, we must reclaim the language. If we want to redeem our society, we need to make that first step, and make it loudly.
Those in favor of elective abortion must again be labeled for what they are, not as a pejorative, but for the sake of integrity and clarity. They are not "reproductive rights advocates", but proponents of abortion. A man dressing as a woman and being sexual is not a "drag queen", but a "transvestite" or "cross-dresser". While LGBT is an honest acronym for a sexual community, the "lgbtqia+" label is ludicrous and places child groomers on the same level as individuals who legitimately make other sexual choices. Child molesters are not "minor-attracted people"… they are criminal pedophiles when they act on their desires. Despite the vitriol that it will draw from the left, we must refresh Holmes's "blood of the soul" and use these more honest descriptive terms. If we insist on honest language, we have a hope of redeeming the language, and society as a result.
Words are the beginning, but not the summation. We must act. The recent reactions to the leftist agenda of Target and Bud Light demonstrate that our actions can make a difference. It is doubtful that the Los Angeles Dodgers, or any sports team, will ever again embrace an anti-religion group like the Sisters of Perpetual Indulgence given the powerful reaction and protest that occurred on June 16. Active and peaceful protests must be attended by progressively more people nationwide. We must campaign for political candidates of shared values, and protest against those who wish to rewrite American history. Actions in conjunction with reclaiming the language will ultimately win the war that the left has been waging.
And we must support each other in faith and family. An attack on any religion is an attack on all religions. I have stood as a Rabbi with Ministers and Priests when they have been attacked and have received the same type of support when needed by Christian brothers and sisters. We must support each other in faith: creating inter-faith opportunities of worship and action that focus on our shared values and beliefs. We all need to support the family unit, recognizing that parents are the most powerful influencers of children in a strong society. Whether you are a parent of not, it is mandatory that we all support parental choices for their children in the battle with the left for the souls of the next generation.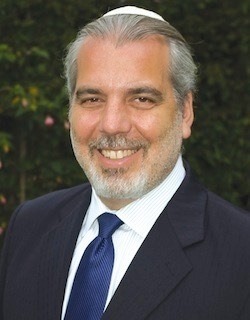 Faith and family. Action and protest. A change of language and terms. If we keep these concepts in our consciousness, we have a very realistic chance of winning the war detailed by Dr. Savage two decades ago. Only by focusing with intensity and consistency can we redeem the soul of this country and reclaim the values and strength of Western civilization.
In Judaism, there is a 2100 year old teaching by Rabbi Hillel. "If I am not for myself, who will be for me? If I am only for myself, what am I? And if not now, when?" Proponents of Western culture, language, and society all recognize the value of the first two of Hillel's sentences.
If not now, when? The time is now to stop the train of destruction that is coming through a reclaiming of language and culture. The "when" is now.
May we all be blessed to see the redemption of language and culture; and to see this country and the world blessed with a renewal of peace.
---
DISCLAIMER: The opinions, beliefs and viewpoints expressed by the various author's articles on this Opinion piece or elsewhere online or in the newspaper where we have articles with the header "COLUMN/EDITORIAL & OPINION" do not necessarily reflect the opinions, beliefs and viewpoints or official policies of the Publisher, Editor, Reporters or anybody else in the Staff of the Hemet and San Jacinto Chronicle Newspaper.
Find your latest news here at the Hemet & San Jacinto Chronicle