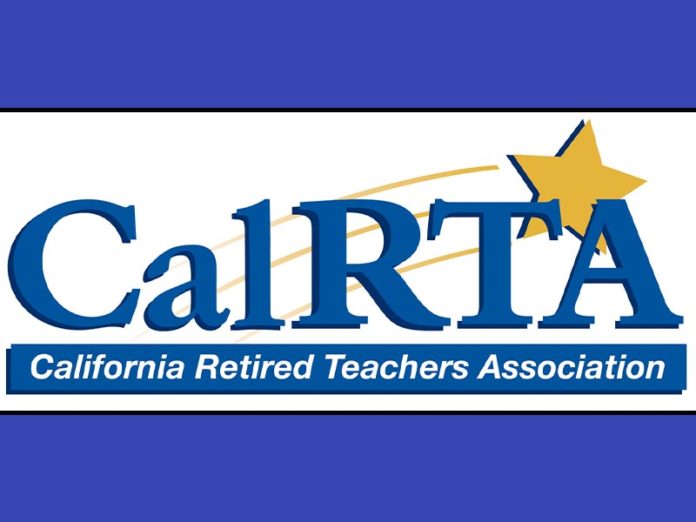 Teachers To Use CalRTA Grant Funds to Benefit Students
CalRTA Teacher Grants
Sue Breyer, CalRTA Vice President
We've all witnessed the glimmer of excitement in the eye of a child as the winter holidays draw near and their hope for that special gift brings a sense of anticipation. But that feeling of excitement isn't limited to young kids. Four local teachers experienced that same excitement when they recently learned that they were the lucky recipients of a $100 Teacher Grant from the California Retired Teachers Association (CalRTA).
Hemet High School's Kim Blair, Hemet Elementary School's Mekel Bromley, and Harvest Hill STEAM Academy's Lindsey Button each received a check for $100 from CalRTA's local Division 33 after being randomly selected from nearly 90 applicants. Kim Vannaman from Cawston Elementary School received $100 from the state CalRTA Teacher Grant program, but because she teaches at a school within the Division 33 area, she received not only the state $100 check but also a matching $100 bill from Division 33 President Gayle Mattson, for a total of $200.
Upon hearing that she had been chosen as one of Division 33's $100 grant recipients, Hemet High School 9th and 10th grade social science teacher Kim Blair said, "Thank you very much for the funds! In 2015 my AP Human Geography students began an outreach club which engages in fundraising and then uses the money to help those without homes in our valley. Once a month students plan, purchase, prepare and serve a meal at Hemet's Valley Restart Shelter. One Saturday a month the students plan, purchase and pack lunch bags for those on the streets of our town. This winter they also ran a blanket drive for homeless folks and the school gave generously! I hope you know how much this program, and the funds you've given, help our students to become good adults with compassion and care for those less fortunate."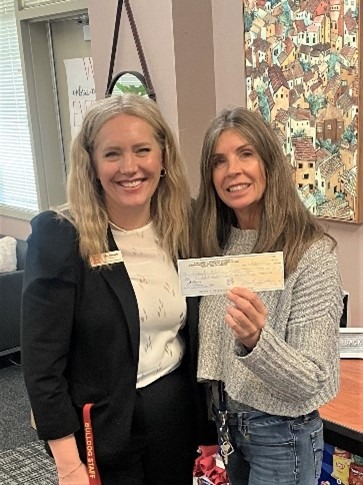 Mekel Bromley, a fourth grade teacher at Hemet Elementary School, plans to use the $100 to "purchase positive incentives for her students. We do a weekly raffle to reward students for completing assignments and for their positive behaviors. My weekly raffles typically include clay, slime, boxes of sour candy, small Lego kits, small stuffed animals, reusable water bottles, glow in the dark footballs, glow sticks/items, bubbles, coloring books, art supplies, popits and fidget toys. Thank you!"
Lindsey Button teaches math and science at Harvest Hill STEAM Academy in Menifee and was surprised and excited to hear she would receive one of the grants. "Thank you so much for selecting me for the grant this month! It was such a happy surprise. I will be using the grant money to plan an engaging hands-on science activity for my students. I taught summer school a couple years ago and we were given owl pellets to dissect as a class. It was one of the best activities I have ever done with my students. They were so excited to put together the bones of the prey they found. I love teaching science, and when the students are able to get their hands dirty, I can really see them light up. It's the best feeling in the world to share their excitement in learning. Thank you again for your generosity," Button said.
State CalRTA $100 Teacher Grant winner Kimberly Vannaman received her $100 check and crisp $100 bill from CalRTA Division 33 President Gayle Mattson at Cawston's staff meeting right before winter break. Vannaman said, "I want to thank CalRTA for this wonderful opportunity. With the $100 from the state CalRTA I plan to buy solar robots for students to put together as table groups. My goal is to inspire my students to want to enter STEM related fields in the future. I am so excited about the extra $100 from CalRTA Division 33 and plan to use this money to replace some broken headphones that I have been using in my classroom for years. With any remaining funds I will invest in some more flexible seating options (like with wiggle cushions) to better meet the needs of students who just need to move around more. Thank you again CalRTA for these grant funds. The money is going to enrich my classroom so much!"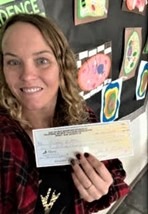 Round #3 of the State CalRTA Teacher Grant program will be open for registrations on January 25, 2023, and 35 California public school teachers will be randomly chosen on February 16th from the thousands of applicants. A grant application form can be accessed at calrta.org/teacher-grants. The next round of CalRTA Division 33 Teacher Grants will open on January 13th, and the names of 3 lucky winners will be drawn at their February 14th luncheon. Teachers in Hemet, San Jacinto, Menifee, Romoland and Nuview School Districts can access a Division 33 application form at div33.calrta.org/scholarships-and-grants. For more information about CalRTA, send an email to calrtadivision33@gmail.com.
Find your latest news here at the Hemet & San Jacinto Chronicle