---
(CRIMEWATCH)
Perris
DUI Saturation Patrol
1 Arrested During DUI Saturation Patrol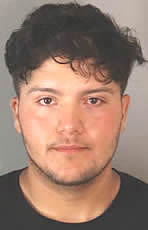 The Riverside County Sheriff's Department, serving the City of Perris, arrested Jerry Barba Jr., 19, a resident of Riverside, on suspicion of DUI while conducting a DUI Saturation Patrol on August 23rd, 2019.

Besides, Perris Station Deputies made 15 vehicle enforcement stops, cited 15 drivers for vehicle code violations and towed one vehicle.

Drivers caught driving impaired and charged with DUI can expect the impact of a DUI arrest to be approximately $13,500. This includes fines, fees, DUI classes, license suspension, and other expenses, not to mention possible jail time.

The Riverside County Sheriff's Department Perris Station wants to remind drivers that "DUI Doesn't Just Mean Booze." Prescription drugs, particularly those with a driving or operating machinery warning on the label, can impair and result in a DUI. Marijuana can also be impairing, especially in combination with alcohol or other drugs.

The Perris Station Deputies will be conducting another DUI saturation Patrol soon.

Funding for this DUI Saturation Patrol was provided by a grant from the California Office of Traffic Safety, through the National Highway Traffic Safety Administration.
Riverside County Sheriff's Department

---
Jurupa Valley
Shooting Investigation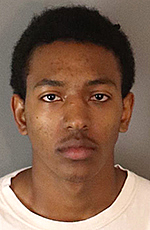 On August 27, 2019, at 11:25 a.m. Riverside County Sheriff's Deputies assigned to the city of Eastvale responded to a report of a shooting near the 6500 blocks of Gladiola Street in the city Eastvale. Several reporting parties called to report the shooting and that two males were hiding in a front yard. Deputies responded, and the suspects fled on foot into several backyards. A Riverside County Sheriff's police service dog was utilized to find the suspects who were taken into custody. Numerous items of stolen property were recovered in the area of the suspects to include a handgun. Deputies investigating the scene located several vehicles that were struck by gunfire and numerous spent shell casings were recovered in the street, sidewalks, and yards.
At this point in the investigation, there are no outstanding victims or suspects, and there is no threat to the public.
Bryce Anthony Mcdonald, a Black male adult, 18 years old, a resident of Corona, was arrested at the scene for possession of the stolen property, obstructing a peace officer and burglary.
The 15-year-old black male, a resident of Corona, was booked into Juvenile Hall

---
Lake Elsinore
Grand Theft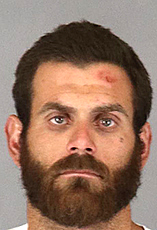 On Monday, August 26, 2019, at approximately 3:06 AM, deputies from the Lake Elsinore Sheriff's the station responded to the area of Dawson Canyon Road X Temescal Canyon, in the area of Temescal Valley, to reference a grand theft at the landfill.
Upon arrival, deputies located a red Chevrolet Camaro leaving the location at a high rate of speed without its headlights turned on. The Camaro collided into a light pole on the northbound entrance of Interstate 15 at Temescal Canyon. The driver of the Camaro, Dakota Shoup, age 31, a resident of El Cerrito, who was on felony probation for burglary, fled from the Camaro and was located at a nearby gas station. Deputies located stolen items inside the Camaro that were positively identified as having been taken from the landfill.
Dakota Shoup was arrested and booked into Cois Byrd Detention Center.
Riverside County Sheriff's Department
---
Jurupa Valley
Assault with a Deadly Weapon / Criminal Street Gang Membership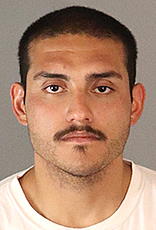 On Tuesday, August 20, 2019, approximately 10:00 PM, Jurupa Valley Deputies were dispatched to a stabbing that occurred in the area of Mission Blvd and Mintern in Jurupa Valley. The victim, who suffered a life-threatening injury, was taken to a local area hospital to be treated. Before deputies arriving, the suspect fled the scene.

Riverside County Regional Gang Task Force Opens in New Window Officers from Region-7, assigned to the Jurupa Valley Patrol station, assumed the investigation. During their investigation, Taskforce Officers were able to identify the suspect as 28-year-old Reynaldo Lopez, a gang member to a local criminal street gang. Lopez had just been released from state prison a few weeks prior and was on active parole.

On Friday, August 23, 2019, approximately 3:30 PM Task Force Officers located and arrested Lopez for assault with a deadly weapon, parole violation, and for committing a violent crime as an active gang member. Lopez was booked into the Robert Presley Detention Center.

The Region 7 Gang Task Force is one of five teams composing the Riverside County Regional Gang Task Force, which is a collaborative effort of 25 law enforcement agencies to combat criminal street gangs throughout Riverside County. The Region 7 Gang Task Force is composed of members from the Riverside County Sheriff's Department, California Highway Patrol, and Riverside County Probation.

Anyone with additional information regarding this arrest is encouraged to contact Sergeant Nathan Padilla from the Region 7 Riverside County Regional Gang Task Force at (951) 955-2734.
Riverside County Sheriff's Department
---
Find your latest news here at the Hemet & San Jacinto Chronicle
Search: CRIMEWATCH